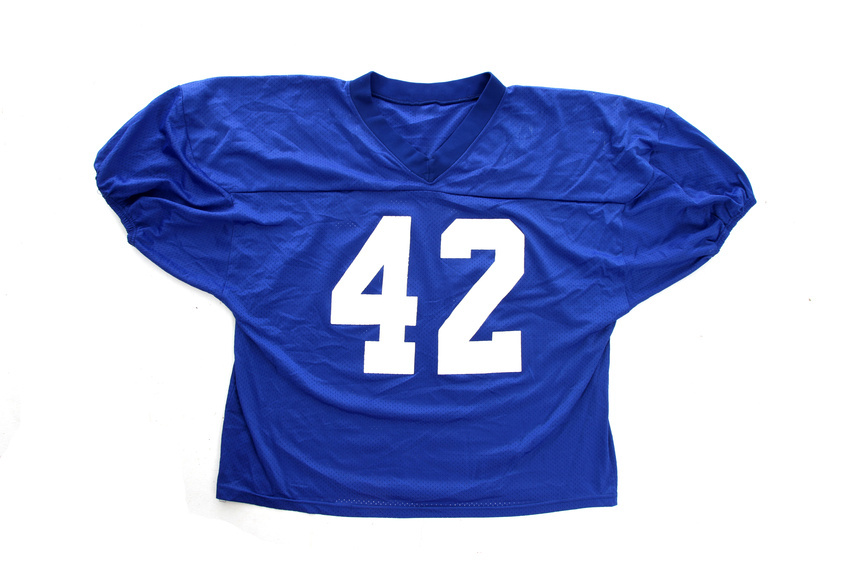 Football is an important part of British culture. After all, Britain's Football Association was the world's first professional football league. For evidence of the popularity of football in Britain, one need look no further than the booming trade in football memorabilia. One prominent area of this market is signed football shirts.. Many fans love to collect signatures of prominent players, and football shirts are popular items on which to collect these signatures. As a result, one can buy and sell signed football shirts in the UK.
Many of these items are available for sale on eBay,, making it a great source for signed football shirts. The size of eBay's marketplace also makes the site a good reference point for determining the value of your signed football shirt. Before visiting eBay, it is important to understand the factors that determine the value of a signed football shirt. You should also be familiar with other sales outlets that you can use to determine the value of a shirt. Being able to accurately price a signed football shirt is an important aspect of successful buying and selling of this type of item on eBay.
Factors that Determine the Value of Your Signed Football Shirt
Like any type of market item, supply and demand influence the value of a signed football shirt. In the case of signed football shirts, supply and demand depends on who has signed the shirt, the quality of the shirt, the condition of the signed shirt, and the availability of a certificate of authenticity.
The Signee(s)
The player who signed the shirt is the first factor influencing the item's value. The signature of a star footballer is likely to be more valuable than that of a less-renowned player, all other factors being equal. Fans generally prefers shirts signed by prominent players than those signed by footballers who perform on a lower level.
Another signee-related factor that influences a shirt's value is the frequency at which a particular footballer signs items. Some footballer's rarely sign memorabilia, lowering the supply of that footballer's autograph and therefore raising the price it commands. In the case of a deceased footballer, like George Best,, obviously no more of that athlete's signatures can appear on the market. Some athletes also charge signing fees. In addition to making these footballers' signatures more rare, the signing fee factors into the price of the autograph at market.
Multiple signatures on a football shirt could drive the shirt's value up or down. If all of the players are prominent or somehow related to one another, teammates or members of an achievement group, for example, the shirt's value can increase. If a more pedestrian player's signature accompanies that of a star's, the value of the shirt may be lower than if the shirt were to bear just the star's signature.
The Football Shirt
The shirt itself is another important factor in determining its value. Shirts may either be authentic or inauthentic. Licensed manufacturers produce the former, and unlicensed manufacturers produce the latter. Licensed manufacturers make all of the shirts that players wear in matches and practice. They generally also produce the exact same shirts for retail sale to customers. A signed, game-worn shirt is usually more valuable than one manufactured for retail with a signature. An unofficial shirt with the same signature can be worth less than either a licensed game-worn shirt or a licensed shirt sold in a shop. A signed unlicensed shirt can still be valuable, but it should have some kind of connection to the player that signed it. A Cristiano Ronaldo signed shirt is worth more if it is a Real Madrid or Manchester United shirt than if it is a Sheffield Wednesday jersey.
Condition of the Football Shirt
A signed football shirt in mint condition is worth more than the same signed football shirt in poor condition. Signatures should be clear and sharp, and smudge marks can lower the value of the item. The shirt itself should be in good condition as well. Holes, loose threads, dirt, and stains can all reduce a shirt's value. The exception to this is game-worn shirts. There is a greater expectation that the shirt bears imperfections as the result of use on the field.
Certificate of Authenticity
To fetch as high a price as possible, a certificate of authenticity (COA) should accompany a certified signed football shirt.. The COA is a document confirming the witnessing of the footballer signing an item or an expert analyst's opinion that a signature is indeed that of the footballer in question. Many consumers are wary of autographed football shirts that do not have a COA to confirm that the footballer actually signed the shirt. This lowers demand for the shirt and brings its price down.
It is possible to forge a COA, and there have been a few high-profile cases in which forgers produced fake COAs with holograms to accompany the fake signed items they were selling. To obtain a COA for a signed football shirt, make sure you use a reputable authentication service. Anyone who authenticates a signed football shirt should be a registered member of an association such as the Universal Autograph Collector's Club, the Autograph Fair Trade Association, or the Professional Autograph Dealers Association.
Testing the Market for Your Signed Football Shirt
Weighing the factors described in the previous section can help one gauge the supply and demand for a signed football shirt. However, it is still difficult to determine where an item resides in the large sports memorabilia market. Visiting football memorabilia shops, football memorabilia fairs, and auction sites can help you place a more precise value on a signed football shirt.
Football Memorabilia Shops
Visiting football memorabilia shops and looking at the signed shirts for sale is a good way to determine the value of a signed football shirt. However, there is a not a very good likelihood of the owners of these shops disclosing the market value of your particular signed football shirts. They are in the business of buying and selling football memorabilia and therefore want to make a profit off the items they buy from collectors. They are thus likely to offer below-market prices for items they buy in hopes that they can sell them for profit. Football memorabilia shops may also have limited stocks of signed shirts, making comparisons to a signed shirt difficult.
Football Memorabilia Fairs
Football memorabilia fairs bring together numerous dealers and collectors from across Great Britain. The larger stock of signed football shirts at these fairs makes comparisons with a signed shirt easier than they are in football memorabilia shops. The presence of many other collectors at football memorabilia fairs provides opportunities to interact with these collectors and gauge the value of a signed football shirt with them. The frequency of football memorabilia fairs can vary, and it may not be geographically feasible to attend many fairs.
Auction Websites
Auction websites can be very good sources to determine the value of a signed football shirt. These sites are always running, enabling one to check prices whenever it is convenient to do so. It may even be possible to track particular signed football shirts to see how the market responds. The amount of signed football shirts listed can vary from website to website, so it makes sense to find sites with large stocks of signed shirts available and use them to gauge the price of a signed football jersey.
Conclusion
Determining the value of a signed football shirt can be challenging. However, it is possible to succeed by understanding the factors that determine the value and by knowing how to gauge prices. The footballer who signs a football shirt is one important factor that determines value. The signatures of certain players are more in demand than the signatures of others. The shirt itself also influences value. Authentic, licensed shirts are generally more valuable than non-licensed shirts. The shirt should also be relevant to the signing player. A signed football shirt in better condition than the same shirt is likely to command a higher asking price. It is also important that a certificate of authenticity accompany signed football shirts.
Football memorabilia shops, football memorabilia fairs, and auction websites can help one assess the price of a signed football shirt. Some websites, such as eBay, are particularly large marketplaces that can make it easy to figure out how much a buyer may be willing to pay for a signed football shirt. Being able to accurately value signed football shirts helps collectors buy and sell signed shirts more successfully in marketplaces such as eBay.