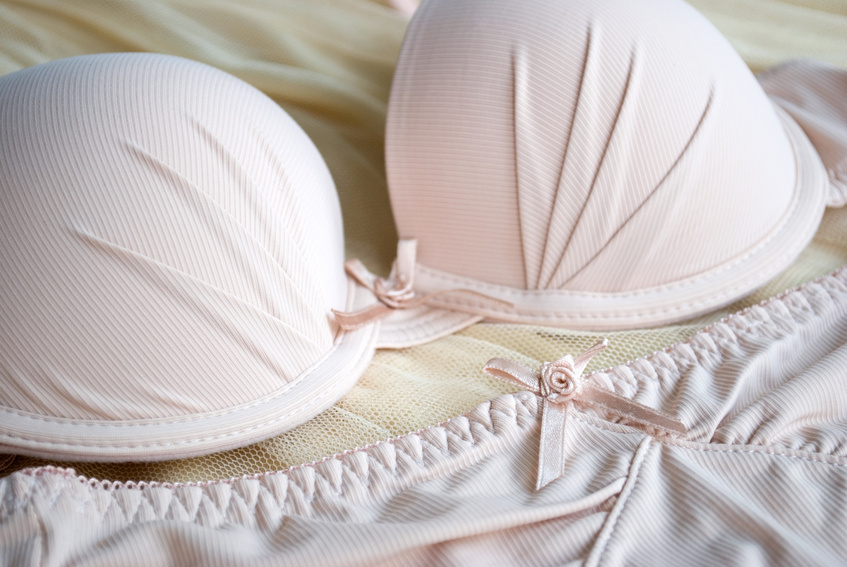 Push-up bras are women's lingerie items that deliver flattering and reliable support throughout the day. Given the rigid structure of a push-up bra's design and underwires, finding one that fits comfortably is a top priority for women. With a few pointers women can find quality versions of this essential undergarment for any outfit or occasion that are as comfortable as sports bras.
Getting the Fit Correct with a Push-Up Bra

The single most important factor in finding a comfortable bra is finding one that fits well. To get the right fit, women should take measurements for both the band size and the cup size of a bra. Using a soft measuring tape, measure the circumference of the torso just beneath the breasts in a standing position. Next, to get the cup measurement, put on a bra and measure the circumference around the breasts at the nipple line. Subtracting the band size from the cup measurement typically results in a number between 0 and 6, each of which corresponds to a cup size.
| | | | | | | | |
| --- | --- | --- | --- | --- | --- | --- | --- |
| Cup Minus Band Measurement | 0 | 1 | 2 | 3 | 4 | 5 | 6 |
| Corresponding Cup Size | AA | A | B | C | D | DD | DDD |
The band size and the cup size together make the bra size, as in 36C. A woman's bra size may fluctuate throughout the month as her body cycles through hormonal changes. Any woman fitting herself for a push-up bra should take this into consideration when taking these measurements.
Considering Strap Design

While bras in the past used the traditional over-the-shoulder strap, today's push-up bras feature an array of strap designs and even multi-functional straps that can switch from one setup to another with a few adjustments. These strap designs can also add more volume to the bust by pushing the breasts inward toward one another. A popular option for many women is the multiway bra, which comes with adjustable straps so that women can switch between an over-the-shoulder, razorback, or even strapless bra designs.
Choosing the Best Cup Design
The cup design of a push-up bra can also affect how comfortable a bra is. As a padded bra, a push-up typically features a bump pad at the outer lower region of each cup. This padding component provides extra support for larger chests and more volume for smaller ones. Finding bras in which the bump pad is removable can help women achieve ideal comfort, allowing them to adjust the cup as needed throughout the month. Push-up bras are available from high street stores, such as La Senza and Victoria's Secret, as well as online retailers including eBay. Women should also consider the overall cut of the cup; a contoured cup with a good deal of structure or a full cup with complete coverage can make wearing the push-up style a more comfortable experience. Women may also enjoy air padded bras for extra-soft cushioning.