In addition to cars, garages often house valuable items, such as bicycles, power tools, and gardening equipment. They are an attractive target for thieves, so failing to secure doors correctly could result in a break in, which is even more worrying if the garage has a door leading into the house. Garage doors typically have only a simple cylinder lock, which offers virtually no resistance to forced entry. Understanding the types of equipment available helps buyers to choose the best garage security for their requirements.
Garage Door Bolts and Hasps

Attach garage door locking bolts to either side of the door, vertically or horizontally. This is a good way to maintain basic security for up and over doors or sectional doors. A universal garage security door hasp is a slotted hinged metal plate that fits over a loop and is secured by a pin or heavy duty padlock. It allows you to add a second padlock for extra protection if your garage is in a high-risk area.
Garage Door Defender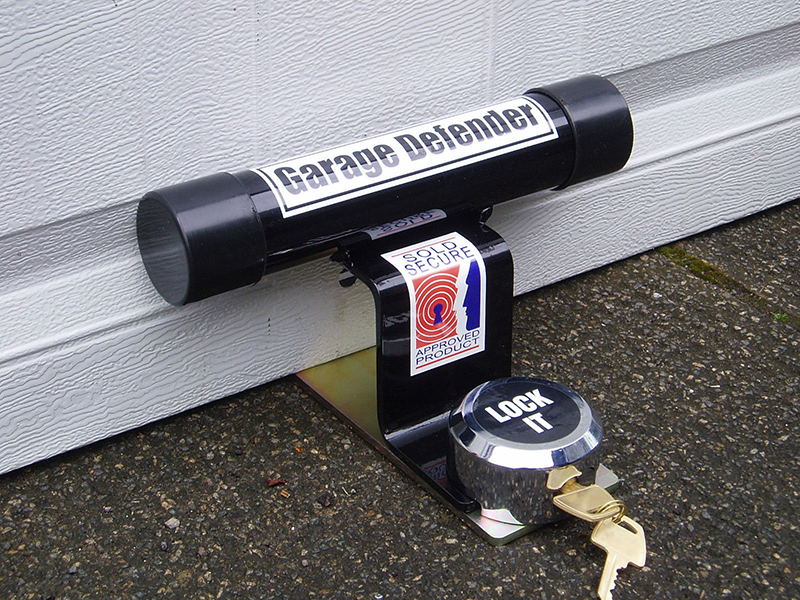 Secure an up and over garage door with a garage door defender. These locks have a base that is secured to an area of concrete outside the door. An arm is secured into the base with a padlock, which physically prevents intruders from opening the door. This is a highly visible way to secure any garage door, so it acts as a deterrent.
Garage Door Keypad Entry Device
A keyless entry system is a simple way to secure a garage door. A weather-resistant numeric keypad is mounted outside the garage door, with a control box inside the door. Users enter a secure numeric code to unlock the door. Look for keypads that shut down after five wrong entries. For added security, buy a device that does not activate the opener when the cables are cut.
Securing Garage Windows
Garage windows provide another point of entry for thieves, in addition to offering them a view of the contents of the garage. Cover or frost garage windows and add locks. Consider screwing them shut if they are not used, provided that does not create a health hazard. For added security, install strong window security bars to keep intruders from entering, even if they break the glass.