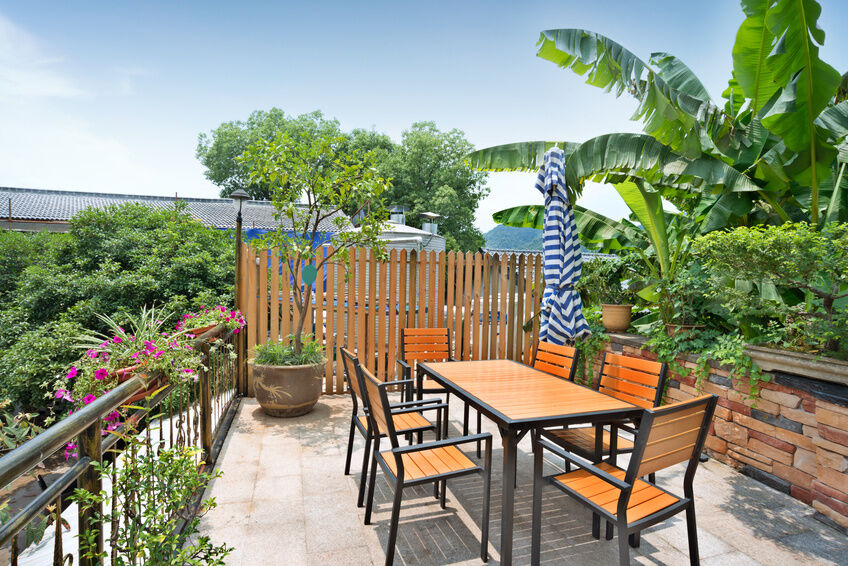 Just because you live in a flat that does not have a yard does not mean you have to go without a garden. A patio garden can be beautiful and productive, and add visual interest to your patio. Take steps to create an oasis on your patio by adding a small patio garden that is just the right size for a small space.
Pick Planters
Since space is an issue, you need to get creative with your planters. Make a cool garden using pallets for a vertical wall planter approach, or repurpose an over-the-door shoe holder to hold small pots of herbs. Use wine crates for patio gardening, or opt for troughs, or window boxes, to save space. If you are growing vegetables, select window boxes which have water reservoirs so your plants stay hydrated. You can use just about anything as planters, even plastic storage boxes or galvanised tubs. Standing or stacking containers are another good option for a patio garden. Grow flowers, herbs, or vegetables in sturdy wicker hanging baskets, and incorporate support for vine plants so they grow up instead of out. Avoid crowding too many planters on your patio, because you need to be able to access each plant to water it daily without frustration.
Seeds and Plants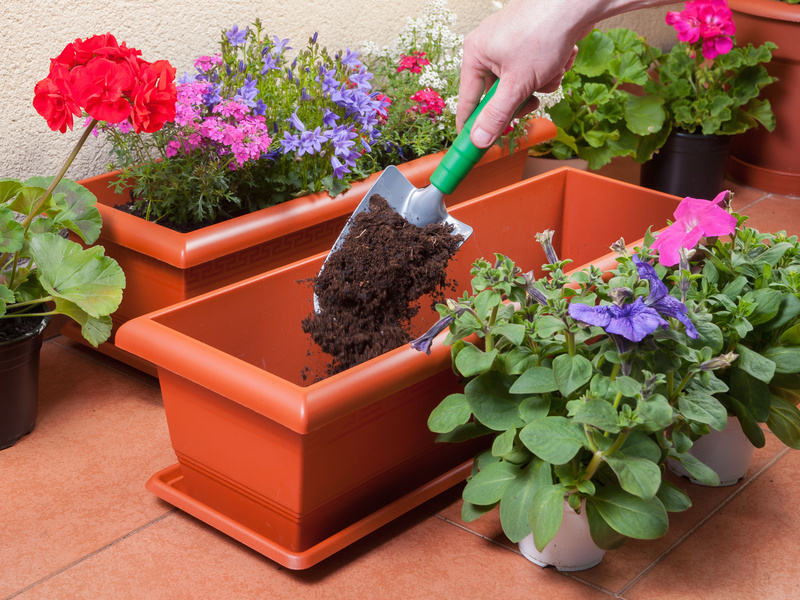 Once you have planters picked out, you need to decide what you are growing. Though it is common knowledge that herbs are the easiest plants to grow in container gardens, you are not limited. Fruits and vegetables make great patio garden options, too. Pick hardy plants, and start your garden after the winter freeze is over. Consider herbs like basil, rosemary, and thyme, and vegetables like lettuce, beets, beans, carrots, and tomatoes. Add colour with some flowers that are perfect for patio growing, such as geraniums, gardenias, and sunflowers. Fruits such as blueberries, figs, and cherries work well in container gardens, but fruits such as peaches or apricots may not. It is possible to grow a lemon tree on your patio if you desire.
Gardening Supplies

Maintaining your patio garden requires some gardening supplies. Start your garden with porous potting soil and make sure it is of high quality and not just traditional gardening soil. Have a watering can or water hose on hand for daily hydration. Purchase pruning shears to clip off dead leaves or stems, and avoid getting your hands dirty when you are gardening by wearing gardening gloves. Buy a slow-release fertiliser that fertilises all of the time so water does not compromise the fertilisation process. Liquid fertiliser works well for container gardening. Buy drainers to sit underneath planters, which look like plates and collect extra water. Mulch helps keep the soil cool, and gardening tools assist you with scooping up soil and harvest plants.