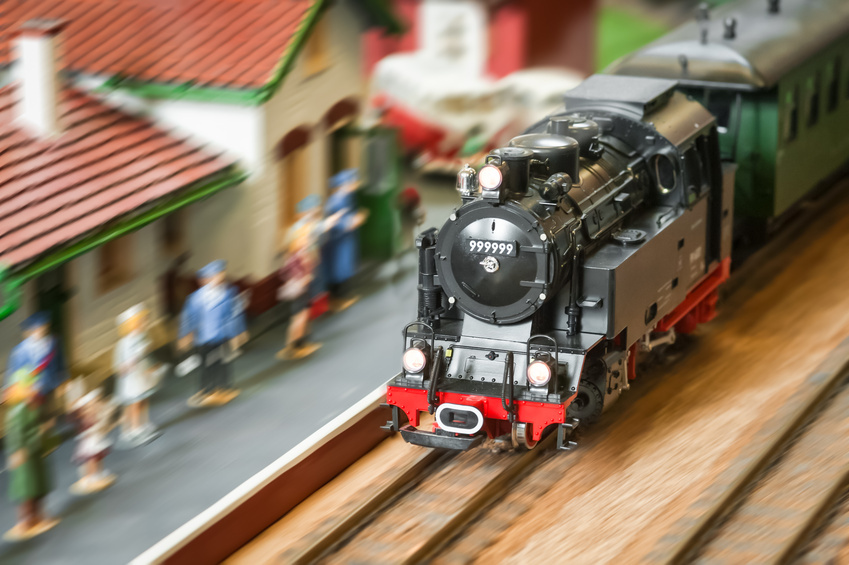 Train collectors that choose to focus on the Hornby Dublo series enjoy pieces with a variety of materials and track sizes. Popular locomotives from the series, such as the Duchess of Atholl, feature lifelike details that are popular among enthusiasts. Understanding the intricacies of each model and how it correlates to the real-world train enhances the overall collecting experience.
Hornby Body Material
Run from 1938 to 1964, the Hornby Dublo series was the first model train made with a cast metal body, a noticeable upgrade from the pressed metal used in the previous series. Many pieces were made of die-cast "Mazac" metal, such as the 4054 SR Coach. Following a complete halt in production in 1942 due to World War II, newer models featured more plastic components. In 1960 new building kits and many accessory reruns were also released in plastic.
Hornby Dublo 3-Rail Track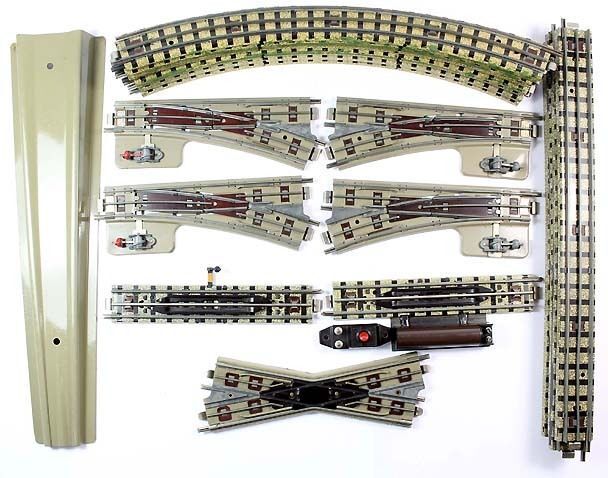 Hornby Dublo 3-rail tracks feature nickel-plated brass rails on a pressed steel base. The unique 1938 rail is the only one not nickel plated. In most models, a "paxolin" fibre sheet insulates the centre rail. In 1951, due to wartime shortages, the cardboard replaced paxolin, and steel replaced brass. The materials are less expensive; however, the trains perform similarly. Early models feature a tinprinted sleeper pattern base, and post-1940 models have a simple grey base. Tracks with a clockwork operating system were only manufactured from 1938 to 1941. Electric 3-rail tracks were produced from 1938 to 1964, with a six-year gap due to World War II.
Hornby Dublo 2-Rail Track
Originally released in 1959, the Hornby Dublo 2-rail track has a modern appearance. Plated in nickel silver, the rails sit on a plastic sleeper base that has no ballast detail. The 2-rail tracks were built with an electric operating system and include isolating rails, terminal rails, short rails, and diamond crossings, plus electronic and manual switch systems. The variety of rails allows you to create nearly infinite interesting track patterns.
Hornby Dublo LMS Duchess of Atholl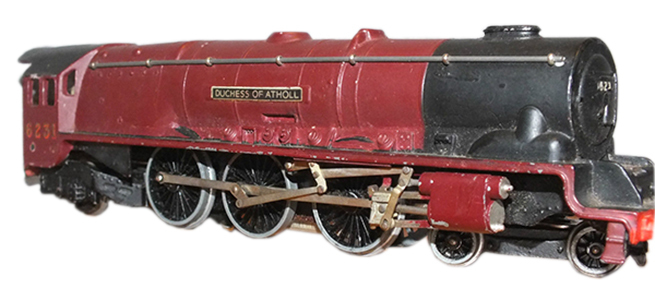 Originally advertised in 1939, the 6231 LMS Duchess of Atholl had enthusiasts eagerly anticipating its release for nearly a decade. Manufactured and sold in 1948 as part of the Hornby Dublo locomotives line, it is regarded as one of the most popular pieces. With an endorsement from one of the most famous British locomotive engineers of all time—Sir Nigel Gresley—the Duchess of Atholl is a prize piece. Rare versions feature a yellow nameplate on a maroon body.