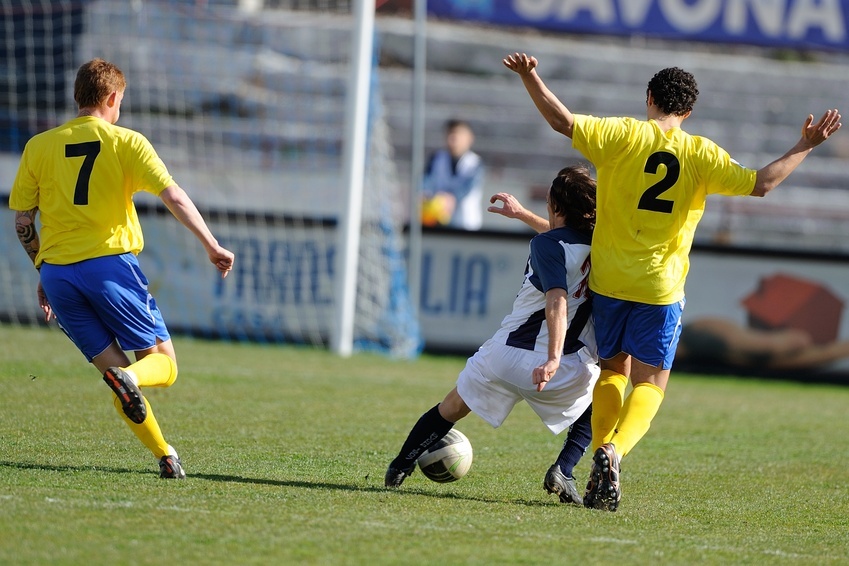 Football is a popular sport throughout Europe, and the United Kingdom is no exception. Fans of teams who are playing in the Isthmian League likely want a chance to watch their favourite players compete with other league teams. They want to see the action in person, not just on television. Various brick and mortar stores and online retailers supply football tickets to the Isthmian League games, either as regular sales or as promotional prizes. Buyers can also find tickets to Isthmian League games and other sporting events on eBay, a massive online shopping destination featuring a broad variety of products.
Before buying the tickets, it helps fans to familiarise themselves with the history and current status of the Isthmian League. They must also know what to bring with them to the game. With their tickets in hand and advance knowledge of what to expect, fans should be able to have an enjoyable and memorable experience at an Isthmian League football game.
About the Isthmian League
Semi-professional clubs and amateur clubs participate in the Isthmian League. The League covers London and South East England. Under the umbrella of the Isthmian League is the Premier Division, and within that are two additional divisions called Division One North and Division One South. These lower tiers feed upward into the Premier Division. Ryman, a British stationery company, sponsors the Isthmian League. The official title of the league is the Ryman League, although many fans simply refer to it as the Isthmian League. Teams that play for the lower divisions of the Isthmian League move slowly upward until they reach the Premier Division. From there, they continue to move through the ranks and compete against other teams of high calibre.
In the beginning, when the league began in 1905, it was devoted to amateur football. Their motto, "honour sufficit", represented their commitment to the simple joy of the game, without the pressure of the semi-professional and professional arena. If teams did not have deep pockets, they joined the Isthmian League instead of the more affluent Southern League.
Over the next several decades, the league slowly admitted additional members. Beginning in the 1970s, the league began to admit professional members, and in 1985, league champions were allowed to move up to the Football Conference. Since then, the Isthmian League has undergone periodic restructuring, with divisions being added or combined as determined by the Football Association. The Isthmian Youth League began in 2007 and serves to promote and encourage excellence amongst young football players.
Winners of the League Cup
Over the years, different teams have won the League Cup. The chart below shows the clubs that won each annual competition between 2005 and 2012.
| Year | Winning Club |
| --- | --- |
| 2005 to 2006 | Fisher Athletic |
| 2006 to 2007 | Ashford Town |
| 2007 to 2008 | Ramsgate |
| 2008-2009 | Tilbury |
| 2009 to 2010 | Leatherhead |
| 2010 to 2011 | Wingate & Finchley |
| 2011 to 2012 | Bury Town |
The 2011-2012 season was the sixth season for Division One North and Division One South. However, it was the Isthmian League Premier Division's 97th season.
What to Bring to an Isthmian League Game
Before setting off for the game, fans need to be prepared. Thinking ahead and planning appropriately are key to fully enjoying the game. Fans should remember to bring hats, sunscreen, proper clothing, water, and money for food.
Hats and Sunscreen
When fans attend an Isthmian League football game, they are likely to be outdoors for hours. If the day is sunny, fans may find themselves accumulating more than delightful memories of the game. They may develop a painful sunburn that sours the memory of their experience. To prevent this, fans should bring a hat with a wide brim to keep the sun's rays from the face. Applying sunscreen to the exposed areas of skin, such as the neck and arms, is a good idea. Fans wearing shorts and sandals should also apply sunscreen to parts of the legs or feet that are uncovered and are subject to possible sunburn.
Clothing
Comfortable, layered clothing is important, particularly if the game is outdoors in a venue that is not climate controlled. Fans need to be able to add a sweater or jacket if they get cold, or remove a layer if the sun becomes too hot. For venues that are likely to be cold, one should bring multiple layers to ensure comfort when watching the game. They may also want to bring a few stadium blankets along for extra padding and warmth.
Water
When spending long hours outdoors, hydration is key. Onlookers at Isthmian League games should bring along a bottle of water or an empty bottle that they can fill with water at the event. Many venues also have water fountains. However, these fountains can carry germs and bacteria, so one may want to avoid drinking from them unless it is absolutely necessary.
Food
One can expect vendors offering a variety of foods and beverages at any of the games. Meat pies are a traditional snack served at nearly every football game in the United Kingdom. Different varieties of the pies are usually available so that buyers can find flavours that suit their preferences. In Scotland, meat pies often come with Bovril, a hot, beef-flavoured beverage. Soda, chips, candy, and other products are also typically available at Isthmian League games. Attendees should bring enough money to purchase food, drinks, and souvenirs. However, they are well advised to avoid bringing large amounts of cash along.
Post-Game Activities
After a game, the nearby streets and pubs of the host town may become clogged with post-game revellers. Drinking, kicking footballs around, throwing balls back and forth, and heckling fans who wear their team colours are common occurrences. Elderly fans or fans with children should take care to avoid the particularly boisterous areas of town. Instead, they should stick to clear areas with a strong police or security presence. They should also refrain from antagonising fans of the opposing team.
Isthmian League Team Colours and Memorabilia
Many football fans like to show off their team jerseys or other Isthmian League memorabilia during the games. Fans can feel free to bring along blankets or jackets, jerseys, shirts, caps, hats, and other items with the team logo. They can shop for additional memorabilia from their favourite Isthmian teams on eBay, or find those items in sports stores and at venue shops. Signed footballs, jerseys, and photos are prized items. Autographed pieces often become family heirlooms passed on to future generations of football fans.
Due to the high level of hostility shown by some fans post game, attendees may want to think twice about displaying their team colours outside the event. They can simply change shirts or put on a jacket once the game is over. Team colours are likely to be more of an issue in some towns than in others. Before attending the game, fans should talk to family members and friends who have been to an Isthmian League game before. These individuals may be able to offer some insight regarding wearing team colours to the game or displaying them afterward.
Buying Isthmian League Tickets on eBay
If you are interested in attending an Isthmian League game, it is a great idea to check eBay to see if tickets are available through this website. Depending on the season, eBay may have dozens of listings for tickets. Start your search by entering "Isthmian League tickets" into eBay's search bar, located on the home page. You may be able to refine your search by selecting the number of tickets you need or the venue and location that you prefer. Some sellers may bundle several tickets together or supply a package deal that includes an item of memorabilia or some other useful product.
Saving an eBay search allows you to keep track of new listings for the tickets. If you save a search for Isthmian League tickets, eBay emails you every time a seller posts new tickets for sale. Getting frequent updates on tickets becomes invaluable as game day approaches.
If you want to be sure that the tickets you buy are genuine, look for tickets from one of eBay's Top-rated sellers. These sellers have accumulated a significant amount of positive feedback from previous customers and are therefore among the more reputed sellers on eBay.
Conclusion
Football is an action-packed sport, full of suspenseful moments. Fans enjoy watching the intricate footwork of players as they manipulate the ball. They feel the anticipation and excitement rising as a star player approaches the opposing team's goal. They enjoy the rush of adrenaline that accompanies each attempt, and they feel triumphant when one of those attempts finally results in a goal. Many fans treasure the game experience because it allows them to bond with friends and family members over a beloved sport.
An Isthmian League game is much more memorable when it is enjoyed in person. Fans can touch, smell, hear, feel, and see everything, so the memory becomes vivid and concrete, something to hold onto and remember fondly for years to come. With tickets purchased on eBay, fans of an Isthmian League team can treat themselves to an unforgettable day of laughter, excitement, good food, and high-quality football.