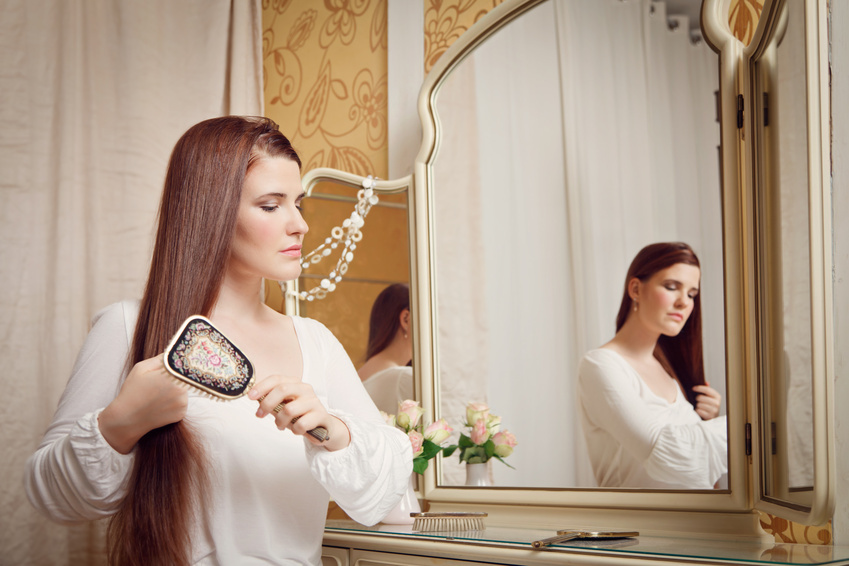 A vintage dressing table provides extra storage space while adding style to a room. Although dressing tables are traditionally pieces of bedroom furniture, you can create a table suitable for the bathroom, dining room, or any part of the house where a mirror suits the decor. Choose a suitable dressing table for your project, prepare it for restoration or redecorating, and return it to its former glory or turn it into a shabby chic masterpiece.
How to Choose a Dressing Table for Your Project

Look for a solid wood dressing table because wood allows the greatest amount of customisation. Pine dressing tables are affordable, and soft wood is easy to sand and paint. Check for signs of wood rot and damage to ensure that you know what type of repairs the item requires. You do not necessarily need a vintage dressing table. You can turn an old dressing table into a vintage style table by refinishing it to look aged.
How to Prepare a Vintage Dressing Table for Refinishing

Remove the hardware on the dressing table using a manual screwdriver to avoid stripping screw heads. Add a drop of oil to stubborn screws. Soak the hardware overnight in warm water with a teaspoon of dishwashing liquid before scrubbing away any remnants of dirt and paint. If the paintwork is in good condition, lightly sand it with fine sandpaper. If you want to remove the paint, use non-toxic paint stripper. Once you have removed the paint, sand the table to prepare it for finishing. Remove the drawers and mirror from the dressing table before painting.
How to Restore a Vintage Dressing Table
If you are painting over the old finish, apply a layer of primer to allow the new paint to adhere to the surface of the dressing table. Once the primer is dry, apply a coat of paint. Antique white, vanilla, and pastels create a classic look. Alternatively, choose a colour that suits the decor scheme of your home. Consider embellishing the table by applying a dark glaze over the paint. If you intend to use the table daily, seal the paint with a coat of polyurethane varnish. Do not apply primer if you want to varnish the dressing table. Simply apply the varnish according to the manufacturer's instructions. A light sanding and dusting between coats creates a silky finish.
How to Create a Shabby Chic Vintage Dressing Table
For a distressed look, rub candle wax over the parts of the dresser that would show wear, such as the edges and corners of drawers. This prevents the paint from fully adhering to these areas. Paint the dresser with water-based acrylic paint, starting with the mouldings and other hard-to-reach places. Allow the paint to dry, lightly sand the dresser, and apply another coat of paint. Rub the waxed areas with fine sandpaper to complete the distressed look.