Microfibre car cloths and pads find favour with a number of people who clean and wash cars, at home or professionally. You can find general purpose microfibre products, ones for polishing, as well as ones for drying. They typically sell in the form of towels, applicators, mitts, gloves, and pads. While medium grade cloths and pads work with most standard applications, use finely woven cloths for mirrored finishes.
Woven vs. Unwoven
Microfibre cleaning cloths and pads sell in woven and non woven variants. The latter tend to offer limited use or sell as disposable cloths. High quality microfibre car cloths tend to come with multi-stranded split fibres, which are more effective than non woven variants. They work well in absorbing liquids, and their structure ensures they trap and retain dirt. Irrespective of the kind you get, cut off all labels at the onset because they can scratch surfaces.
General Purpose

Good general purpose microfibre cloths effectively help remove thick dirt, grime, oil, and grease, and can also work in eliminating bacteria. You can use microfibre towels, cloths and pads on surfaces like plastic, vinyl, leather, glass, and paint on the interior as well as exterior of your car. These variants also work well with hard surfaces like marble, granite, enamel, steel, and wood. Given their electrostatic properties, they also make good dry dusting cloths.
Drying and Polishing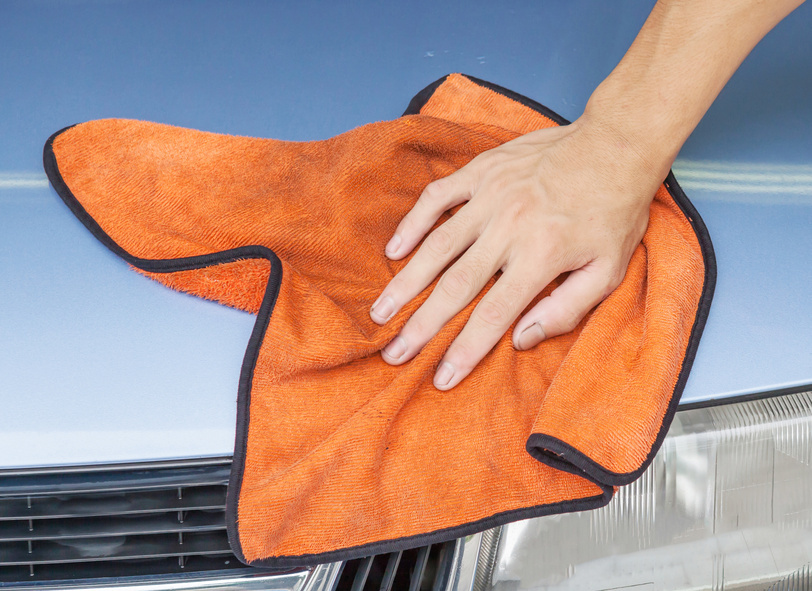 To polish painted surfaces and glass, use polishing cloths and pads that are 100 per cent lint free. Look for lightweight drying cloths, as wringing them when they get wet is easier. Detailing towels work well when it comes to wiping door posts, window cleaning, and interior cleaning. While you can find microfibre buffing cloths for the last step, you can also use general purpose variants to get the job done.
Care
Wash in warm water with detergent to remove oils, wax, and other hard-to-remove contaminants. With extremely grimy microfibre cloths, soak them in warm water for about an hour first. Avoid using very hot or boiling water, as it can have an adverse effect on the fabric. Aggressive wash cycles can also damage microfibre cloths and pads, so go with gentle or medium settings. When it comes to liquid detergents, use what you use with your regular clothes. For powder detergents, dissolve in water before adding to the washing machine, as this prevents powder granules from becoming lodged in the microfibre pads and cloths.