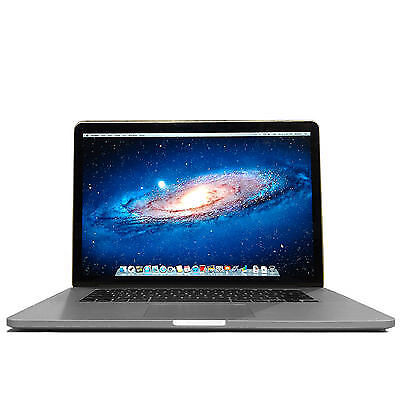 In the recent past, multimedia laptops offering superior video, audio, and gaming performance used to be extremely pricey. Always in the high-end of the line, Apple's multimedia laptops were no exception to the rule. As technology developed, both PC and Mac multimedia computers became more affordable. In fact, Apple has been quick to integrate superior multimedia capabilities into virtually all of its laptop products.
To provide an optimum multimedia experience, laptops need to feature a 15-inch or larger display. Whether users are interested in multimedia playback or content creation, a larger screen with a high definition and an integrated high fidelity audio system are essential to get the job done. Naturally, tasks like music recording and HD video editing require powerful multi-core processors, while watching films, photo editing, and graphic design can be done very comfortably on a mid-range laptop model.
Besides the multimedia hardware and software integrated into each Macbook and iMac, Apple also offers accessories, such as Airplay speakers and remote controls, and complementary products like Apple TV, to create a more comfortable multimedia experience. In this way, a large-screen multimedia laptop can replace a TV set, a PC, a DVD or Blu-ray player, and a game console with a single, stylish piece of equipment that can take up a fraction of the space needed to accommodate all of the mentioned components.
In order to make the best of an Apple laptop's multimedia capabilities and functions, it is important to understand how the iLife software suite works, what the advantages of Airplay speakers are, and how to use an Apple TV paired with a Macbook. Additionally, one must be informed about what the advantages of a retina display are and which other hardware specifications are relevant to multimedia content playback and creation.
Apple's Retina Display Generation Multimedia Laptops
Apple's ultimate multimedia laptop is no other than the 15-inch Macbook Pro with retina display. Combining superior performance, even when processing intense video editing tasks, impressive battery life, an ultra-thin design, and a fabulous display technology, this Apple laptop is a multimedia powerhouse.
Retina Display MacBook Pro
Hailed as the best desktop replacement laptop by PC Magazine when it came out in 2012, the retina display Macbook Pro can satisfy the needs of gamers, designers, video editors, and music producers alike. Photo viewing and HD video playback are simply superb on the retina display. In fact, users have observed that high resolution images uploaded from a camera look as good on this type of display as when laser-printed on high quality paper. Likewise, professionals using Final Cut Pro or any other similar video editing software that works with 1,920 by 1,080 HD video can appreciate the laptop's stunning playback, its speedy multi-core performance, and its adequate screen size.
Any state-of-the-art multimedia laptop needs to be able to play several hours of video after a single charge, and the retina display does not disappoint. Unlike earlier Macbook Pro models, these laptops do not heat up easily, as they feature a chassis that offers superior cooling. This ensures a smooth performance during extended multimedia playback and editing.
The retina models are also surprisingly lightweight when compared to other popular multimedia laptops in the market. For example, the 17-inch HP Envy 17 offers a full HD 1,920 by 1,080 resolution display, but it is extremely heavy and bulky. Moreover, the retina display MacBook Pro actually boasts a higher resolution, 2,880 by 1,800 screen. On the other hand, this powerful Apple computer has been known to outperform Samsung Series 7 laptops in terms of multimedia functions and capabilities.
Retina Display Technology
The liquid crystal retina displays have such a high pixel density that it is impossible for the human eye to notice any kind of pixelation. Also used in the iPhone, iPad, and iPod, retina displays present varying pixel densities depending on the distance from the eye at which each device is commonly used. Virtually eliminating pixelation altogether, retina displays can offer the same viewing quality as laser printing.
With a 2,880 by 1,800 resolution, text might look small on retina displays, but Apple has tried to scale font sizes, so they can be consistent with a real world experience. In fact, text on the Mac Pro's retina display looks as smooth from a short distance as from far away. In this respect, it is a great step forward from the latest Macbook Air.
One of the disadvantages of the retina display models is that some apps are still to catch up with the technology, and they are not yet prepared to make the best use of it. While Apple's own signature apps like Safari and Final Cut Pro look great, some other non-optimised apps may show jaggy fonts in uncomfortable sizes. Although this is only a temporary problem, it is currently still a problem nonetheless.
Multimedia Connectivity
People looking for a full-scale cinematic experience can easily connect a larger full HD display to retina laptops via their full-size HDMI port. Additionally, a MagSafe 2 port is available to connect LED Cinema and Apple Thunderbolt Displays. USB 3.0 ports are also available to connect other types of USB multimedia devices. Retina display models also feature an SD card slot, to easily upload multimedia content as well as audio jacks for connecting headphones and headsets.
External DVD and Blu-Ray Drives
One thing the latest retina display models do not include is a DVD player, a feature that has been sacrificed to keep the laptop sleek and slim. To solve this problem, it is possible to purchase a suitable external USB drive. These can be players and burners for either CD and DVD or Blu-ray. The standard Apple Superdrive works smoothly with retina models and Macbook Air, offering CD and DVD reading and authoring. An Apple Superdrive for Blu-ray is also available at a surprisingly affordable price. These type of USB drives are also available from many other manufacturers.
Apple TV is a digital receiver box that enables HD displays to play content from a computer drive or iTunes, Vimeo, iCloud, YouTube, Netflix, among others. Since 2010, Apple TV can also play content from Mac computers and other Apple iOS devices wirelessly, using the Airplay technology. The device also supports full HD playback.
A slim, lightweight box featuring HDMI, micro USB, optical audio, and Ethernet connection slots, Apple TV is quick to set up. After entering Wi-Fi information and preferred language, all that is needed to unlock the device's extensive multimedia possibilities is to sign in to the iTunes Store. The interface is very simple, allowing users to access streaming services directly, without the need for opening a Web browser.
Airplay Technology
Originally a wireless audio connection, AirPlay was initially known as AirTunes. Today, this technology allows wireless video, audio, and static image streaming between Airplay-enabled devices. It is available on all mid-2011 or newer iMacs and MacBook Airs, all early-2011 or newer MacBook Pros, and all 2010 or newer Apple TV boxes.
As Apple has licensed Airplay audio-streaming to other electronics manufacturers, many of them are currently offering wireless speakers that use the Airplay system. Besides the obvious advantage of being wireless, some Airplay speakers also offer the possibility of easily switching device input, and many of them boast an excellent Hi Fi audio quality.
No Apple laptop can realise its full potential without a set of state-of-the-art Airplay speakers. Top Airplay speaker manufacturers include Bowers & Wilkins, Klipsch, Audyssey, and JLB. Though high-end options are not cheap, they usually offer great value, turning a simple laptop into a full-fledged Hi Fi stereo system or home theatre.
iLife Suite
Included with every current Mac Laptop and desktop model, iLife '11 is a substantial upgrade from previous iLife versions. Essentially a combination of bundled web-ready applications, iLife currently includes three applications: the photo manager iPhoto, Apple's basic video editor iMovie, and the standard music production software GarageBand.
The logic behind iLife is to integrate these applications within the multimedia system itself, while also including many functions to enable easy online sharing. For example, iPhoto boasts an impressive Facebook integration, allowing users to update their profile pictures and upload images directly from the application, without the need to access a browser.
In terms of simple video editing, iLife '11 features a version of iMovie that includes instant YouTube and Vimeo exporting and has been optimised for full HD resolution with the new retina display. It also features People Finder, a face recognition function that can quickly identify video sections featuring people for fast scene selection.
For music lovers, GarageBand offers a large library of instrument sounds and effects. Additionally, it includes piano and guitar lessons, and a function that can test the user's music playing skills. As is the case with all other iLife components, it is possible to purchase either stand-alone or bundled upgrades for laptops older than iLife '11.
Conclusion
Apple currently offers some of the most powerful multimedia laptops on the market today. Integrating multimedia playback, creation, and web publishing into a single system, iMac, MacBook Air, and MacBook Pro computers have become virtually unbeatable at the multimedia game. By adding Apple TV, larger external HD displays, and state-of-the-art wireless Airplay speakers, it is possible to turn any modern Apple laptop into a stunning sound and video quality entertainment station.
After creating quite a stir with its latest laptop screen technology, namely, the retina display, Apple is currently in the lead in terms of multimedia laptop functionality and performance. Considered to be the best multimedia laptop in the market for 2012 and early 2013, the retina Display MacBook Pro combines the sleek design of the MacBook Air with the power of the Mac Pro line and the impressive, virtually pixelation-free image of retina displays.
All of Apple's new multimedia laptops include a bundle of apps called iLife '11. Integrating web-sharing with video, photo, and music editing, the latest version of the iLife suite can greatly expand the multimedia functionality of any iMac or MacBook. With an extremely simple user interface in all its applications, iLife can help users with little experience in video, music, and image editing create professional-looking content for distribution across a variety of platforms.