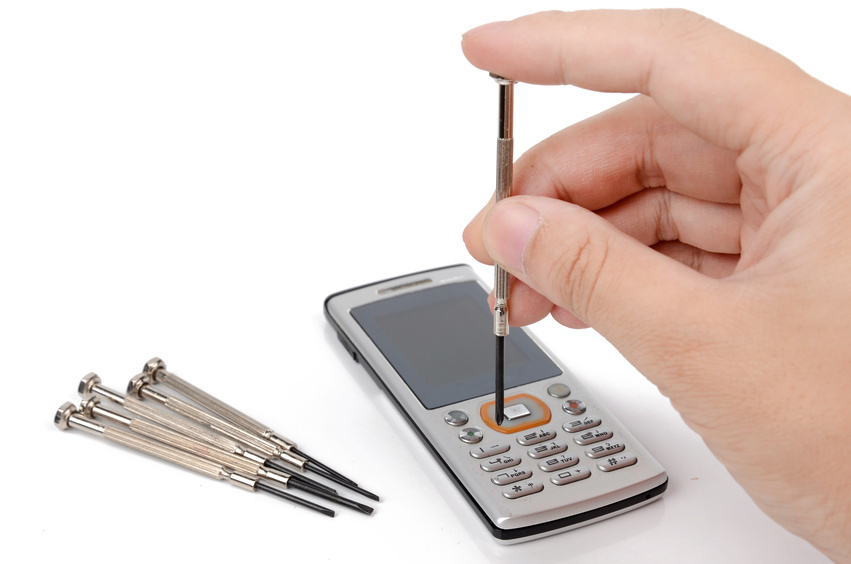 There are few things more irritating than going to use a phone to find one of the buttons doesn't work. Whether it is a matter of having to push it repeatedly several times before it flies into action or when it renders the phone completely unresponsive, damage of this type can be incredibly frustrating and very costly. And though professional repairs are effective for those that have a warranty or can afford to pay the possibly high charges related to mobile phone repair, once the phone is out of warranty, carrying out phone repairs with DIY Button Replacement Parts can save a fortune.
What Is a DIY Button Replacement Part
Almost all types of mobile phones and smart phones that have buttons can be fixed using a DIY repair. Whether this is the home button on an iPhone or the power switch on a Blackberry, there is a solution for almost every broken button. A DIY Button Replacement part is the actual item that will need to be purchased for the repair to take place. For some phones this will be a single key or button that needs replacing, for others the entire keyboard is fixed together and will need to be substituted. But with a few key tools and little expertise, each can be easily replaced, reducing the cost of the repair and making the phone ready to use again in no time.
Ways to Reduce the Cost of DIY Button Replacement Parts
Repairing a phone doesn't have to cost a fortune, but when money is tight, even saving a few extra pounds can make all the difference.
| | |
| --- | --- |
| Use the Warranty | If a mobile phone is still under warranty, then the cheapest way to carry out any button replacement is to send it back to the manufacturer. Though this may take time and can be quite convoluted, it can save a considerable amount of money in the long run. However, if the phone has been jail broken, the damage lies outside the warranty, or the warranty is no longer valid, then a DIY replacement will be by far the cheapest option. Professional repairs are likely to charge a premium price for replacement parts on top of the cost of labour, but making a home repair can be the ideal option when it comes to saving money. |
| Look For Cheaper Button Replacement Parts | As with most mobile phone replacement parts, there are many different ways to buy replacement buttons. Though new branded replacement parts can be costly, they will still cost less than having the phone professionally repaired. Furthermore, it may be possible to source generic parts specifically designed for the broken phone which traditionally cost far less than the branded alternative.. Alternatively, if branded parts are essential, then consider buying used replacement parts to carry out the repair. As the buttons of the phone are not usually connected to the overall functionality of the handset, it may be possible to buy a handset For parts or not working that is the same make and model as the one that needs mending and then use the original keypad from this to fix the broken handset. |
| Do Some Research | The most costly thing about carrying out a DIY repair is when things go wrong. If professional advice is required when a home repair creates more problems, things can get even more expensive. However, by doing a little research beforehand, it is possible to obtain all the knowledge required to carry out a full restoration and have the phone back in working order with very little outlay. The way each phone needs to be repaired will be very different, so try to find a guide that provides all the information required for each specific handset or one that uses a very close substitute which will provide the tailored advice required. |
| Borrow Tools | To keep the costs of mobile phone repairs at their very minimum, it is a good idea to borrow a mobile phone repair tool set instead of buying one. However, if there is no other alternative than to buy a tool kit for the job, then look out for second hand sets or used products that can, again, reduce the overall outlay required to get the phone back in good working order. Mobile phone repair tool kits do not have to be expensive and can be a good investment in the future in case any further repairs are required. |
Types of Phone Repairs that Can Be Carried Out with DIY Button Replacement Parts
There are basically two types of button used on most mobile phones, the QWERTY keyboard or the individual buttons, and the method of repair will depend on the type of buttons that need replacing.
| | |
| --- | --- |
| QWERTY Keyboard | Mobile phones with a QWERTY keyboard do have a higher propensity to need replacement as the tendency to bang on the keys when typing is much greater. The greater the pressure on the pads, the higher the likelihood is that the little pressure pads for each individual key will stop working and a replacement will be required. When this happens, the entire keyboard will need replacement, but this is still not an expensive item and can cost far less than a replacement phone. Simply source a replacement keyboard, open the phone, and replace the offending item with a new one. The intricacies of this process will depend on the type of phone that needs repair. However, with a little knowledge and a lot of patience, this type of fix could have the phone up and running in no time, and at a fraction of the cost of a professional repair. |
| Individual Buttons | Take a look at a mobile phone and it is possible to identify several individual buttons that may need replacement at some time. This can be a reset or home button, the on/off switch, or even volume controls. The key when replacing an individual button is to understand the exact connection that such a button creates within the phone. Take care when opening the phone so that it is possible to see exactly where and how this button links to other elements within the handset. There may be more than one connection and soldering may be required, so take full and complete notes from the outset so that the repair can be carried out effectively. Rather than replacing an entire keyboard, an individual mobile phone button replacement can be trickier and more intricate, but as the raw materials cost very little, the overall cost of a repair can be very cheap indeed. |
Conclusion
A malfunctioning mobile phone button can be frustrating and annoying, but getting it repaired professionally can be a cost too far. If the phone is out of warranty or the type of damage inflicted is not covered, then one single button could mean that it is time to invest in an entirely new handset. But carrying out phone repairs with DIY button replacement parts can stop this extortionate cost and get a broken phone back to normal in no time. Simply by finding the right instructions and sourcing cheap replacement parts, it may be possible to get a potentially useless phone back up and running and save a huge amount of expense in the process.