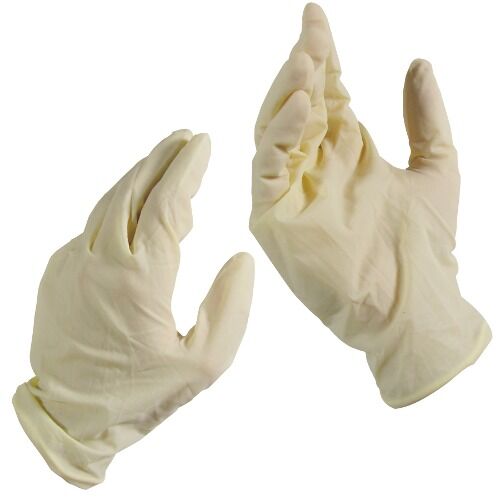 In all aspects of life, whether at home, at work, or anywhere else, there are dangers. In many cases, these dangers come from chemicals. Some chemicals can cause irritation or harm to the skin. However, exposure to these chemicals is absolutely necessary to facilitate a successfully operating society.
Disposable gloves were invented in order to shield the hands of those who might need to come into contact with certain chemicals from harm or discomfort. They can be made from a variety of materials, and to a variety of specifications, depending on their intended usage.
It is the intention of this guide to provide sufficient information about dispensable gloves, their attributes and their purposes to allow anyone needing to buy them to make the most appropriate choice. Further, the guide will explore the reasons why the auctioning website eBay makes such an appropriate platform on which to shop for disposable gloves.
The Disposable Glove
In order to choose the correct glove for a particular task, one must first understand the various properties of the disposable glove, and how those properties affect their usage. The following section of the guide is intended to provide that information.
History
Disposable gloves first entered practical usage in the late 1800s, when it was realised that surgical procedures could be performed more safely with a sterile layer outside of the skin. This minimised the risk of bacterial infection for both parties. It was not until the 1960s that disposable gloves began to be mass-produced, allowing them to enter the mainstream for use in a whole host of other activities. They have since become a crucial part of health and sanitation both in the workplace and at home, with many industries (particularly the food service industry) having laws in place requiring the usage of disposable gloves.
The Uses of Disposable Gloves
The following is a list of the most common professional uses of disposable gloves:
Surgeons
Doctors
Nurses
Chemists
Pharmacists
Policemen
Tattoo artists
Postmen
Paramedics
Chefs
Waiting staff
Cleaners
Refuse workers
Craftsmen
This list barely begins to cover the many and varied practical applications of disposable gloves. Any workplace in which contact with potentially dangerous chemicals, or any potential danger to the hand at all, is possible, disposable gloves are necessary.
Material
There are three main materials that disposable gloves can be made from, with one or two other more obscure ones also used. The following is a list of each of the main three types one is likely to need, and likely to find on eBay.
Latex – Latex was the first material used in the production of disposable gloves, and is still to this day considered one of, if not the, most effective materials. They are relatively strong, able to resist damage such as tears or punctures, and are flexible, which allows for decent dexterity in complex tasks such as surgery. These qualities, combined with their relatively low price, make them the glove of choice in hospitals, and also in the home environment (most gloves used for cleaning or washing dishes are made of latex). The major downside to latex gloves is the increasing frequency with which people suffer from latex allergies. This can obviously prove problematic. When considering latex disposable gloves, always ensure that the person who is intended to use them does not suffer from a latex allergy.
Vinyl – Vinyl gloves provide practical solutions to some of the problems that arise from latex gloves. Whilst it is true, on the one hand, that they offer both less protection from potential harm than the latex gloves, and are looser fitting and thus allow for less precise work, the benefits allow them to be used in a different market. They are cheaper to produce by far, which means that anyone considering disposable gloves, but not needing the higher levels of protection and dexterity that latex allows, would be much better off using vinyl. Further, vinyl does not cause allergic reactions in the same way that latex does, meaning that allergy sensitive workers will often need to use vinyl.
Nitrile – Nitrile is arguably the best material with which to make disposable gloves currently available today. It has all the beneficial qualities of the latex glove: strength and dexterity, without the drawback of allergies, as it is a specifically developed compound, made with the intention of reducing the potentially allergic effect of latex. However, the cost of manufacturing such an improved material is, naturally, considerable. This means that despite being high quality, nitrile is not as widely used in workplaces where budgets are tight, such as in the medical industry.
Colour
Disposable gloves can come in many different colours. The most common household colour is yellow, whilst professionals tend to use black, white or blue. The question of colour may seem a redundant one at first, but it is a question worth considering. One example is in the food service industry; brightly coloured gloves are used, so that if one were to fall into the food, it would be clearly visible and thus easy to retrieve. Further, in a hospital environment where cross-contamination is possible, the colour of a glove can be used to identify to which area the glove belongs, thus reducing the risk. Policemen often wear black to differentiate themselves from other emergency service operatives. There are many potential uses for gloves of specific colour, and when choosing gloves, colour is definitely an aspect that should be considered.
Lubrication
In the early days of the development of disposable gloves, it became apparent that they were difficult to pull on and off of the hand, tending often to stick to the skin due to their tightness and material. Soon after, the disposable gloves industry began looking for lubricants with which to ease the application of the gloves. Originally, they used talcum powder, but it was soon found that talcum powder could cause medical complications. They switched then to cornstarch, which prevented these complications. However, cornstarch powder has been linked almost inarguably to allergic reactions to the gloves. As such, the development of gloves began to change to allow powder free disposable gloves, making them easier to apply and less likely to cause allergies. However, this in turn made them more expensive.
When considering whether to use powdered or powder free gloves, then, two considerations are price and allergy. The gloves will be cheaper if powdered, but more likely to cause allergies.
Size
Disposable gloves come in numerous sizes. In order to know which size is required, the buyer must first know the size of the intended wearer's hand. The following is a table of information demonstrating glove sizes, which should enable the buyer to determine the correct size needed. The sizes are: XS, S, M, L and XL, and are different for women and men. The measurements refer to the width of the hand, measured fully around the knuckles on the dominant hand.
| | Men's Sizes | | | Women's Sizes | |
| --- | --- | --- | --- | --- | --- |
| | Inches | Cm | | Inches | Cm |
| XS | 7 | 18 | XS | 6 | 15 |
| S | 7 ½-8 | 20 | S | 6 ½ | 17 |
| M | 8 ½-9 | 23 | M | 7 | 18 |
| L | 9 ½-10 | 25 | L | 7 ½ | 19 |
| XL | 10 ½-11 | 28 | XL | 8 | 20 |
How to Buy Disposable Gloves on eBay
When seeking to purchase disposable gloves, eBay, the online auctioning platform, is the ideal place to shop. With its phenomenally large selection, and its intuitive and straightforward user interface, buying disposable gloves on eBay could not be simpler.
Disposable gloves, due to the hugely varied purposes to which they can be applied, appear in nearly all of the different categories on the eBay website. If a particular use is intended for the gloves, then navigating through the category pages can be an effective way to find what you are looking for.
The categories which contain the most disposable gloves are: Business & Industrial, Health & Beauty, Vehicle Parts & Accessories and Home & Garden, though as mentioned above, almost all of the categories contain disposable gloves of some sort. In this case, a simpler alternative would be the search bar, located at the top of the page, which allows users to arrive directly at the desired item listings.
Simply type 'disposable gloves' into the search bar and the listings are displayed in the centre of the page, along with a list of the various categories that contain disposable gloves, which appears in the left margin of the page.
Once the item listings have been arrived at, it is possible to filter the list using various parameters, such as condition, price and seller's location, as well as giving the options of bidding on the product or buying it instantaneously, using the 'Buy It Now' and 'auction' buttons. Clicking on the item's thumbnail image will take the user to that item's main page, where can be found more detailed information about the product, as well as other user's reviews and ratings of the seller, and a feature which allows the buyer to contact the seller directly with any questions they may have.
Conclusion
Disposable gloves are an absolutely indispensable sanitary tool for today's modern workplace. They have revolutionised health and safety in all lines of work, and have greatly improved the standard of living for many. It was the intention of this guide to provide all the necessary information for a prospective buyer of disposable gloves to make the right choice, and to demonstrate that the eBay platform is the ideal place to shop for them. The main factors for consideration when buying disposable gloves are:
Material
Colour
Lubrication
Size
Bearing these key elements in mind will allow the best results for both employer and employee. Using eBay gives a buyer a massive range of products, and a hugely customisable method of transaction, making it perfect when purchasing disposable gloves.