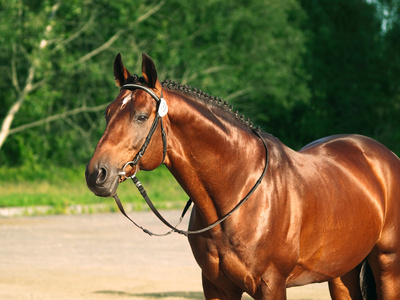 Flat work is a vital part of training and keeping a horse in top condition. The condition of the work area is as important as the horse's diet and other ways they are looked after. Surface stabilising fibres are added to an arena for a number of reasons, and they hold many benefits for horse and rider.
Simply putting down sand is not enough if the horse is to be jumping and doing a lot of heavy work. This guide aims to inform the buyer which equestrian surface stabilising fibres are suitable for their needs and how to purchase the right type on eBay.
What Are Equestrian Surface Stabilising Fibres?
Stabilising fibres are used to help improve the consistency of the arena. Sand is a good base for a riding arena but it can absorb too much water, and riders can find that the horse can end up 'riding deep', which means the horse is riding in sand rather than on top of it. Mixing stabilising fibres helps the horse work on top of the arena.
The fibres are made from synthetic materials that are mixed with the sand; these fibres can be made from recycled rubber chips and other materials. Stabilising fibres help to aid drainage and provide a good footing for horse during movement. Synthetic fibres also help retain some moisture, which is important because it helps keep the surface firm.
Advantages of Using Surface Stabilising Fibres
Fibres are used worldwide to improve the arena surface; many top class competitions and horse schools will use a certain bland of fibre and sand. These are some of the reason why a surface stabiliser is so useful:
· Horses will be less tired if working on a fibre mixed surface; if a horse is working on pure sand they can expend up to 50% more energy to simply keep balance and move smoothly.
· Arena with stabilising fibres will need less water over time as the fibres help to retain moisture.
· An arena can be used all year round especially with rubber chipping, as this makes the area frost resistant.
· The arena can look more uniform and presentable if the surface is maintained and cleaned on a regular basis.
· Recycled surface stabiliser offers the horse rider the satisfaction of helping the environment.
Different Types of Equestrian Surface Stabilisers
There is a wide range of stabilising fibres available and they have different uses, depending what they are needed for. Surfaces can be shredded, cut or blended to a certain amount. The table below outlines the different types available and what they are made from:
| | |
| --- | --- |
| Silica Sand | This is the basic surface that can be laid a few inches deep and be mixed with other surface stabiliser. Silica sand is made up from small, angular pieces of sand, which offers good drainage qualities. Rounded grains are to be avoided as these compact over time. |
| Rubber Chips | The chips make the surface very tough, which stops it from rotting. It also has good drainage properties and is frost resistant. This surface will be useful for lunges and galloping areas. Rubber chipping is good for use in conjunction with silica sand. |
| Waxed surface stabiliser | This is typical fibre that is coated in wax, which is said to help the fibre bind to the sand. |
| Polypropylene Surface | This type if made from 100% polypropylene and will have wider fibres, which help to provide a good surface. Some varying quality may have yarn fibres in them. This is often a cheaper, so a good option for larger areas. |
Many surface fibres are good for outside use, but for inside the buyer needs to consider other factors. An indoor arena will need a dust free stabilising surface fibre, as the dust could cause respiratory problems for the horse over a long period of time. A viable solution is to use dust free fibres, which contain products that have lower dust content.
Factors to Consider Before Buying
Before purchasing any surface stabilising fibres the buyer will need to consider a few aspects:
· What size area do they need to cover?
· What is the area used for?
· What is your budget?
· What is already laid down?
If the area is used for training and won't double up as a show or competition arena then the buyer won't need to select the finest quality of stabilising fibre. A good mixture of all round qualities will ensure a good practise arena that will last with good maintenance.
Those who work with horses on a professional level will need to research what is accepted and what is not accepted for a surface stabiliser. Those doing dressage and show jumping may need a high quality surface stabiliser.
The stabilising fibre is bought per tonne and is delivered to the site. The arena will need to properly prepped before laying anything down. It is generally advised to lay about 100mm of silica sand and then a further layer of 50mm of surface stabilising material of choice. The personal choice will also come down to the buyer's own experience with what they have ridden on over time.
A brand new area will need digging out to the correct depth and a membrane lying down before any sand based layer is placed down. The membrane will help keep the moisture in and keep the arena level.
How to Search for Equestrian Surface Stabilising Fibres on eBay
Trying to navigate the Internet for equestrian surface stabilisers fibres can be a long task, and so it is advised that buyer should first look to eBay. eBay has a worldwide database of sellers who stock a range of fibres.
To start looking on eBay for the right equestrian surface stabiliser the buyer should go log into the eBay homepage. They can select the 'Sports & Leisure' category, then pick then click on Sporting Goods, followed by going onto Equestrian.
As equestrian surface fibres are an unusual product on eBay, the buyer may need to try different combinations of words such as 'Equestrian Surface'. Based on the different types of surface mentioned before in the guide the buyer could try searching for 'Rubber chippings' or 'silica sand'. Another name for surface fibre is ménage. The buyer could conduct a few searches such as 'menage surface' to find different listings.
Tips for a Smooth Transaction
eBay is easy for anyone to use, but there are a few considerations to make whilst looking at listings and making a purchase. The following tips will make sure the buyer will be confident in their
Always read the description carefully. Ensure that the pictures show the texture of the surface stabiliser clearly, and the seller should list exactly what is in the stabiliser. If unsure, don't hesitate to contact the seller for more information.
· Look over the seller's history and feedback. Generally a seller who has been trading in a specific product for a period of time should have reliable feedback from other buyers. If there is a lot of negative feedback then it's best to avoid buying the product unless totally sure is it right one.
· Look at the other services the seller is offering. Some sellers may be offering a laying service or even a delivery service and this may be worth considering in order to save time and hassling arranging for the surface to be delivered via another courier.
How to Lay Down a Surface Stabiliser
Putting down the surface stabilising fibre is one matter; the next to ensure that it is well maintained over a long period of time. The following tips will help ensure a good surface for riding horses on:
· Where possible have an experienced person help with the mixing and laying of the sand/fibre as this will help save time redoing the job.
· If not using heavy duty machines to mix and lay, then a large team of people will be needed to break down the fibre and help spread it evenly.
· If purchasing bags or bales of the fibre, the surface fibre the arena needs to be broken into even sized sections and one bag/bail placed in each. This will ensure that the surface stabiliser is spread evenly over that area.
· The area will need to be wetted down between each stage and layer. Once all of the fibre has been laid down it next needs to be 'harrowed' or mixed in. Before that, the fibre needs to be compressed down, and this can be down with a large roller. Ideally a tractor with the correct attachment like a menage grader should be used, as this will cut down the time of the overall process.
· Once the arena has been laid down and used it is important to clear away any mess once the rider has finished. The arena should also be raked over regularly to prevent any clear tracks forming.
Conclusion
Sourcing and purchasing the right surface stabiliser for an arena is a difficult task for many horse owners. The range of surface stabilisers to choose from is wide, and when considering aspects, such as budget and what type of fibre is wanted, the buyer may not know where to start.
Stabilisers have many advantages when it comes to riding a horse. For example, the rider will often find that their horse will feel more confident on a firmer ground. Rubber chipping will allow the dedicated rider to ride all year round, even when there has been frost. Environmentally friendly fibres also ensure that the rider is doing their part.