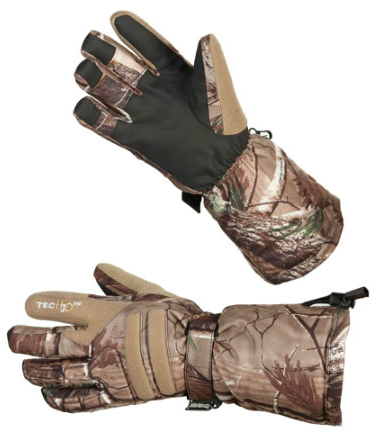 They may seem inconsequential, but for many hunting enthusiasts, gloves are an essential part of the whole hunting costume and clothing idea – not only for looks but also for working use. Whether into shooting, horseback hunting or even falconry, gloves will prove themselves to be a helpful accessory time and again. This guide will show buyers not only the variety of gloves in terms of type, materials and sizes, but also understand how to go about purchasing items on eBay.
Type of Hunting Gloves
There are different kinds of hunting gloves available, all suited for various tasks, conditions and uses as well as for different methods of hunting. The main types of hunting gloves available are:
Full Gloves
Full hunting gloves are the type of glove the buyer is most likely to encounter, and is designed to be as versatile as possible to cover the wide range of activities it may be required to do. Full hunting gloves can be made from many different materials, but often the pointer finger is made of a different material like neoprene – this allows for more manoeuvrability and touch sensitivity that materials like wool may not have.
Fingerless Gloves
Fingerless gloves are a favourite sports item for many people, mainly because of the way it can keep the hands warm whilst still allowing the fingers to perform complex, detailed work that would not be possible if they were encased in wool or leather.
Fingerless gloves can be made from simple materials or given extra additions like knuckle and palm guards, so the buyer should consider the kind of fingerless gloves they will need, as well as if fingerless gloves are the ideal type for them.
Mittens
Mittens may not seem like an ideal hunting glove, but they can bring many advantages to the wearer in their warmth as well as their versatility. These types of gloves are typically made from wool, though weave sizes can vary depending on style and brand.
A popular item for both hunters and regular people during winter are convertible mittens, where the rounded end can be buttoned back to reveal fingerless gloves. These types of gloves are ideal for buyers who need their fingers to be kept warm, but also want to do small or sensitive finger-work they could not perform with mittens or thick gloves.
Riding Gloves
Hunting from horseback requires an extra level of skill from both regular hunters and horseback riders, and it is necessary that the gloves worn aid the wearer as much as possible. Riding gloves are typically made of a warm material that must be thick around the fingers to protect hands from rubbing against the reins, and also typically elasticised around the wrist to prevent them from sliding off during activity.
Though riding gloves are usually made from wool or leather, there are other materials available and the buyer should consider what would suit their riding and hunting style as well as what would be comfortable for them.
Falconry Gloves
Hunting with birds of prey for business or pleasure has been a popular pastime for many centuries, and the glove used is a very important part of the experience. Falconry gloves all have similar design and features, though there may be variations in colour.
These gloves are typically made from thick, durable leather, with a guard the length of the forearm and a metal run on the wrist where the bird can be tethered to keep it secure. It is very important that the glove fits well – and is therefore unlikely to slide around as the bird moves – is thick enough to protect hands from claws and beaks, and is comfortable to have on for long periods of time.
When choosing between types of hunting gloves, the buyer should give some thought to which type would suit them, but also how and where they are hunting. If in a cold or wet environment, the buyer may wish to consider full gloves or convertible mittens, but if in a climate where it is likely hands will get warm and sweaty; then the buyer may prefer fingerless gloves. However, the final decision rests upon what the buyer will find most convenient and comfortable.
Hunting Glove Materials
There are many different types of materials used for hunting gloves, and each has its advantages and disadvantages as well as particular looks and attributes. The main materials used for hunting gloves are:
Wool
Wool is a natural material widely used in many types of gloves from regular cold-weather items to special sporting and hunting gloves, and it is available in many different sizes of knit as well as colour and thickness.
Advantages:
Wool is very good at keeping in warmth.
These gloves will be naturally quite water-resistant due to the lanolin present in the wool.
Disadvantages:
Though water-resistant, wool has quite a strong odour when wet.
Wool gloves will need to be occasionally re-treated with lanolin, as this will naturally wear off when worn or exposed to water.
Leather
Leather is another natural material that is very popular for use with sporting and hunting gloves, and can be bought in many different colours and designs.
Advantages:
Leather is very strong and durable, and if cared for properly can last many years.
Gloves made from leather, though initially quite stiff, will stretch to match the size and shape of the hands wearing them.
Disadvantages:
Leather can be quite costly, especially when compared to other items like fleece and wool.
Leather is not very breathable, and hands can become very hot quite quickly while wearing them.
Gore-Tex
Gore-Tex is a brand name for a man-made material that is becoming very popular as a very effective outdoor sports clothing material.
Advantages:
Gore-Tex is highly water-resistant, and does not require any treatments of waxes or sprays to remain so.
Gloves made from Gore-Tex are also breathable, meaning that hands are less likely to become hot or uncomfortable.
Gore-Tex is also very durable and highly resistant to any kind of damage.
Disadvantages:
Gloves made from Gore-Tex can be quite bulky.
Gore-Tex gloves, unless lined with a material like fleece, tend not to be quite as comfortable against the skin as other materials.
Fleece
The word fleece is actually a term for any soft material, but when referring to clothing it often means the synthetic plastics-based material used in cold weather clothing.
Advantages:
Fleece gloves are very lightweight and dry quickly.
It is extremely soft and comfortable against the skin, and for this reason it is often used for lining clothing made of harsher materials.
Disadvantages:
Water passes freely through fleece – which means that water can quickly soak into the gloves and quickly reach skin.
Gloves made from fleece cannot be tumble dried or ironed, as since it is a plastic it is vulnerable to high temperatures.
Size of the Hunting Glove
When buying gloves, it is important that the buyer purchases a size that is comfortable, yet workable – too much extra material and the buyer might find that picking items up is cumbersome and that their gloves may slide right off their hands.
Most gloves are listed in simple sizes such as S, M, L and XL, though some listings may provide palm and finger measurements besides each size, allowing the buyer to calculate the ideal size for them by taking their own measurements. If the buyer is on the edge between sizes, they should go up rather than down, giving extra wiggle room and a more comfortable fit. Ideally, the wearer should be able to clench their fist completely. Some materials like leather will eventually stretch to conform to the wearer's hand, but this may take some time and the buyer may be more comfortable simply buying a larger size in the first place.
Buying Hunting Gloves on eBay
Now that the buyer has seen the various factors they must keep in mind whilst purchasing, they can begin to start searching for the ideal pair of gloves online. Whilst searching for hunting gloves on eBay, the buyer should consider:
Price – when considering buying an item, for many people the cost is the final deciding factor and there are many hunting gloves on eBay available at a variety of prices. The buyer can adjust the search preferences to match their budget, and there are gloves available for both Auction and Buy It Now purchase.
Material – there are many materials used for hunting gloves, and the buyer should take into account the fact that some materials used in gloves are more costly than others.
Condition – with gloves available both new and used, the buyers should consider which condition they would prefer the items to be in – bearing in mind that the condition of items will affect their price.
Local Seller – purchasing hunting gloves from local sellers is the ideal way to keep shipping prices down.
Should the buyer require any further advice on how to search eBay, they should consult eBay's Search Tips page for guidance on how to achieve the perfect search result. If they have any questions about any of the items they see listed, they should not hesitate to Ask the Seller.
Conclusion
As a popular sport, hunting is supported by many manufacturers and brands providing items in a variety of styles, materials and designs to suit every kind of buyer – including those looking to buy hunting gloves from the many kinds available. With this guide, buyers will be able to pick out the perfect hunting gloves for them in terms of type, material and size on eBay.
When searching for hunting gloves on eBay, buyers should consider the added benefits of purchasing items using PayPal, eBay's preferred way to purchase with additional eBay Buyer Protection.