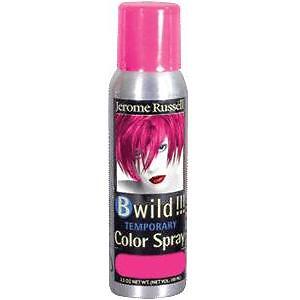 Hair colouring is the act of changing the colour of a person's hair by use of chemically developed dyes. Hair colourants can be temporary, semi-permanent or permanent. Temporary dyes are a lot gentler on the hair than other options. They also can be easily washed out by thoroughly shampooing the hair. There are many products available that can temporarily dye hair, and it is important for buyers to spend some time thinking about which product will be most suitable for them.
Using eBay to search for temporary hair colourants is a great idea, and the site has an extensive collection of products for sale at more affordable prices than those found in stores. The following guide shall investigate the best products that do this, and how to find an appropriate temporary hair colourant on eBay.
Temporary, Semi-Permanent and Permanent
It can be difficult deciding on whether to use a temporary, semi-permanent or permanent colourant, so the buyer should become familiar with what each of these will do to their hair.
| | |
| --- | --- |
| Temporary Colourants | Temporary colourants coat hair follicles with a chosen colour dye. The pigments of these dyes are too large to enter the hair shaft. A single shampooing leads to the dislodging of the coating or pigments, and these products do not contain ammonia or bleach, which means that the hair's natural colour remains once the colourant has been fully washed out. Temporary colourants are available as shampoos, rinses, sprays and gels. |
| Semi-Permanent Colourants | The pigment molecules used in semi-permanent dyes are smaller than those used in temporary products, and are able to partially penetrate the shaft. Semi-permanent colourants do not contain bleaches or ammonia and typically will last between four to five weeks. As they do not contain any bleach, semi-permanent colourants cannot lighten hair. |
| Permanent Colourants | Permanent colourants fully penetrate the hair shaft and change the hairs natural colouring by using a bleach or ammonia. These dyes bond with the hair thus permanently changing its colour. It is not possible to wash this type of dye out, and the only way to get rid of it is to either cut the hair or to grow the colour out. |
Why Choose Temporary Colourants?
People use temporary colourants for a number of reasons. The main one is that they want to change the colour of their hair for a very short period of time. Temporary colourants are the only products that do not penetrate the hair shaft, thus allowing the colour to be rinsed out with one wash. Temporary hair colourants are also used to give people an idea of what their hair would look like with a particular colour. They can then decide if they want to use a semi-permanent or permanent hair colourant to prolong this look.
Temporary colourants are used worldwide during festivities such as Halloween, or at birthday parties. This type of dye is gentle on the hair and is ideal for use with children. Temporary colourants are a lot cheaper than semi or permanent options, and do not require the same amount of attention to apply.
Temporary Hair Colourant Products
There are many brands specialising in temporary colourants, and it can be a bit confusing knowing what each product does. Some temporary colourants will create a more natural colour, whereas others will appear as a more obvious dye. Although a product may be labelled as temporary, this does not mean that it will not irritate. All buyers should test the product on their skin first to ensure there will be no reactions to it. The following table highlights the type of temporary hair colourant products that are on the market:
| | |
| --- | --- |
| Hair Rinses | Hair rinses deposit the colour onto the hair and can be used to deepen an existing colour or even out inconsistent areas. Although this type of colourant cannot be used to lighten the hair, it does come in a variety of colours including blue and red. The rinse is applied to damp hair that has been washed and shampooed. Hair rinse prices range from £10 to £100 for professional rinses. Many rinses are made from natural ingredients, but always check for synthetic chemicals in cheaper products. Hair rinses are ideal for people who want to test a colour before committing to a semi-permanent or fully permanent colourant. Popular brands that specialise in hair rinses include Stargazer, L'Oreal and Schwarzkopf. |
| Colour Mousse | Colour mousse is applied to hair the same way normal mousse is, but has a colouring ingredient that will temporarily affect the hair. This product is excellent at disguising grey hairs and will also straighten and smooth the hair follicles. Colour mousses last slightly longer than other colourants, and can take two to three washes to be completely removed. Prices start at around £15, but professional colour mousses can cost up to £150. Colour mousses are suitable for people who want to temporarily dye their hair for a longer period of time, as the mousse can be applied every second day without fear of damaging the hair. Buyers interested in colour mousses should search for products by Wella, Indola and John Frieda. |
| Hair Sprays | Hair sprays with colourant properties are the most popular form of temporary dying, and are readily available in shops and supermarkets across the world. Hair sprays coat the hair with a thick layer of colourant, and are the fastest way to change a hair colour. However, these hair sprays do not spread as evenly as the other products and can cause areas of obvious inconsistency. Colourant hair sprays are more suitable for use over very short periods of time, and wash out easily. This makes them the number one choice for parties and costumes. They come in a variety of colours, and prices start from as low as £2. It's important to note that the cheaper sprays on offer contain many synthetic chemicals and can dry hair out and cause damage if overused. |
| Hair Colour Stick | These products offer quick and easy ways to touch up roots, grey hairs or inconsistent areas. No water is needed and to apply the user simply has to rub the stick along the intended area a few times. These come in a variety of colours and are an inexpensive option. However they are only suitable for use on small areas and should not be used to dye an entire head. The colour will wash out within two to three washes. Hair colour sticks are popular due to their size and easy application, meaning they can be used anywhere at anytime. |
Removing the Colourant
In some cases, buyers will find that they want or need to remove the colourant immediately e.g. unsuitable for work. Although most temporary colourants will wash out with one rinse, if the colour is still evident within the hair after one wash, then try the following:
Fresh lemon juice naturally lightens hair and will help get rid of any stubborn colourants. Squeeze some lemon juice into a glass and coat the hair with it. Wear a shower cap and leave the juice in for ten minutes before rinsing with hot water.
White vinegar is also excellent at removing temporary colours, but requires a large amount to work. Cover the hair with a generous amount and leave the vinegar in for twenty minutes before rinsing with hot water.
If the scalp has been dyed, then toothpaste will help get rid of the stains. Apply a small amount of toothpaste to the affected areas and rinse off after five minutes.
Conclusion
Temporary hair colourants are a great alternative to semi-permanent and permanent options, and can change a hair's natural colour for a short period of time. There are many different products that can do this, so some time should be spent reviewing the various rinses, mousses, sticks and sprays on offer. Remember to always test the product on a small patch of skin in case of irritation.
eBay is a great place to search for temporary hair colourants, and the site offers a variety at value that would not be found on the high street or on specialist sites. Buyers should take their time when searching, and contact the seller with any questions they may have.