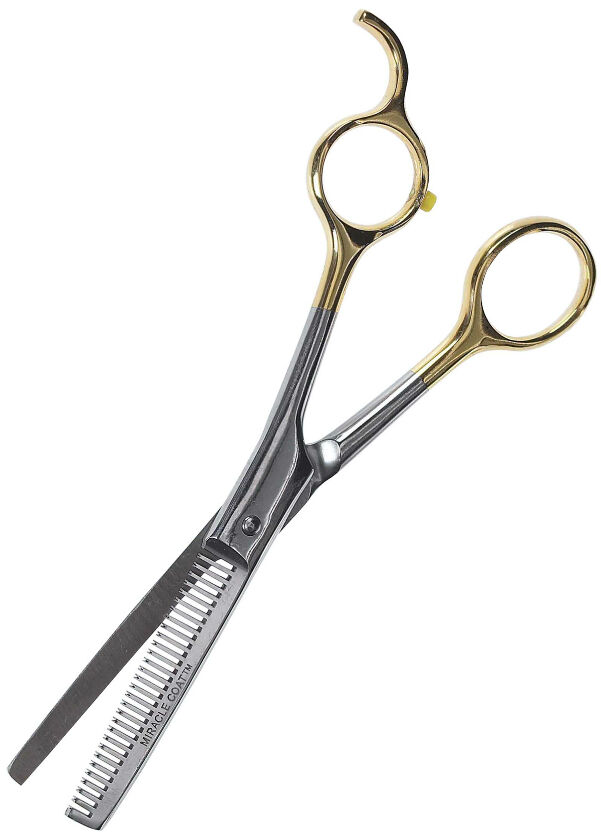 Having the right pair of thinning shears can mean the difference between having (or giving) a fabulously layered, textured hair style or ending up with the hairstyle of a frizzy poodle. Thinning shears are commonly used in salons, but they can be bought for use at home as well, with the correct information about the various types of thinning shears available, and having learnt how to use them.
This guide will take a look at thinning shears, their varieties, uses, maintenance suggestions and buying considerations, so that buying thinning shears on eBay is straightforward and easy.
What Are Thinning Shears?
Thinning shears are also called thinning scissors, texturising shears or chunking shears, and any of these keywords can be used on eBay to search for thinning shears, as each seller may have their own preferences. Thinning shears are special scissors that hairdressers and barbers use to reduce volume in thick and unruly or extremely curly hair to make it sleeker and more manageable.
Shears can also be used to create special texturing effects for edgier hair, or to blend layered hair so the layers look more natural. They look similar to traditional scissors, with the exception of one or both of the blades having a set of sharp teeth on the edge instead of a smooth blade. This toothed construction means that only a part of the hair can be cut in the blades, whilst the rest falls in the gaps. This results in a smaller, controlled portion of the hair being cut, as opposed to a single-blade design.
Materials
Most good-quality thinning shears are made from high-grade stainless steel, which is a corrosion-resistant alloy containing iron, carbon and chromium. It is therefore less prone to rusting and staining. Some shears may have cobalt added to the stainless steel alloy, which helps strengthen the shears even more, whilst high-quality shears are coated in titanium or bronze to increase the attractiveness, sharpness, durability and life of the shears.
Meanwhile, aluminium shears are lightweight, and can decrease the overall shear weight by 40%, reducing the stress on the stylists' hand. An addition of carbon, manganese and molybdenum in high levels can add hardness to the metal, allowing it to be sharper for longer.
Whilst good-quality shears do not need frequent sharpening, and over-sharpening can lead to damage, it must be remembered that all thinning shears will need the occasional sharpening, whether at the hands of a trusted specialist, or by yourself.
Most thinning shears have a convex outer edge, are hollow ground (the blade has been ground to create a characteristic concave inner edge and bevelled cutting edge), are triple hand-honed for extra sharpness and durability, and come with a razor sharp blade, ready to use for smooth, even cutting.
Types of Thinning Shears
There are several styles of thinning shears available, with their variations determining the purpose for which they can be used. The following are some guidelines outlining the types of thinning shears available, and their possible functions:
Teeth
Shears with lots of fine, close-set teeth can be used to blend thinner hair, creating soft textures. When used sparingly, they can be used to add volume or soften layers. These shears typically work best on straight or wavy hair.
Wide-set thicker teeth are typically used to thin thick or curly hair, especially in bulky areas, making the hair more manageable. The number and size of the teeth will determine the amount of texture the shears create.
Shears with thick teeth or teeth that vary in thickness are used to 'notch' the hair, cutting a lot of hair with each motion, removing curls and bulk. In thick, curly hair, this reduces volume and makes hair easier to style.
Thinning shears can range from 8 to 40 teeth, usually in even number increments, with 12, 16, 18, 24 and 28 teeth being common choices. Shears that have fewer teeth remove larger sections of hair, therefore are good for removing bulk from hair. They are also good for creating edgier styles.
Available Variations
General-purpose: these are most widely available, but, as they are not specialised, they may not always deliver the desired results, and it can be difficult to create any special effects.
The following are some possible features of more specialised thinning shears:
Japanese hardened stainless steel shears: are more durable and can give a more precise finish.
Ice-tempered stainless steel: gives extra sharpness.
Removable/fixed finger rests: for improved cutting control.
Finger Rings: available in different colours, these are soft and made from rubber, silicone and plastic. They adjust the fit of the shears, for the comfort of the stylist.
Adjustable Tension Screws: flexibility in changing the amount of resistance produced by the blades, usually using a special key.
Ergonomic Grip: designed with the movement of the fingers and hand in mind for low stress cutting.
Even/Offset Handles: Even handles have two finger holes that line up and are equal, whilst offset handle finger holes are slightly misaligned. Whilst offset handles are generally regarded as more comfortable, some stylists prefer even handles.
Silencers: available mostly in black, they eliminate cutting noises without limiting precision and effectiveness.
Thumb rests and Rotating Thumbs: can be added for convenience and comfort, and better control of the shears.
Custom Laser-Imprinted Logo: some models or sellers may offer these and they may come in an assortment of colours or even rainbow colours.
Mirror Polished: shears are usually highly polished and buffed to smooth out moisture-attracting (therefore rust-forming) rough edges caused during the grinding process in which the shears are shaped. This buffing process creates a mirror finish, and makes the shears less rust-prone.
Satin Finished: shears with a satin finish are well polished and soft.
Hand-Finished or Handcrafted: shears with long-lasting cutting edges for superior precision cutting, balance, control and comfort.
Blending Shears: have one jagged blade and one normal scissor blade. It is used for blending layers in straighter hairstyles, making the hair look less choppy and more natural.
Left-Handed or Right-Handed: Some shears are specifically designed for left or right-handed people. Shears must always be used in the dominant hand, so read the description carefully to get the best shears for your hand.
How to Use Thinning Shears
The following are a few simple pointers for beginners using thinning shears:
Section off the hair that needs thinning, and pass through with the scissors at least twice. Extra thick or curly hair may need a third pass. The hair must weigh the same on each side of the head after the thinning is finished, for a balanced look and feel.
Thinning shears must never be used near the roots or ends of the hair, as they will not work adequately or remove volume. It will only break the ends of long hair, creating split ends, or create uneven spikes at the roots that appear unsightly.
Too much hair must never be removed as it can cause an unwanted volume loss. It is recommended that thinning shears must only be used a maximum of three times a year for any one person.
Buying Considerations
When choosing a pair of thinning shears, consider everything from purpose (what the scissors will be used for), material (as different materials can deliver different results), price (this will be dependent on many factors including any special features of the shear), and comfort/aesthetics (it is important for the shears to feel comfortable in the hand for the stylist, and to look good for the client).
Invest more on shears that will be used frequently. They are often better quality, can withstand frequent uses without needing to be sharpened regularly, and can last for a lot longer than cheaper shears.
Always remember that thinning shears should be chosen by how much hair is to be removed from a hairstyle. The fewer teeth there are on the blade, the more hair will be cut and conversely, shears with more teeth removes the least amount of hair.
The packaging on the shears often gives a percentage rating indicating how much hair will be removed during each pass of the shears. The lower the percentage, the less dramatic the result. Choose a lower percentage if you are just starting out, or if you are unsure about the results or the shears.
Before buying from eBay, it is a good idea to visit a salon where you can ask the stylists for their recommendations, and try the shears in your hand, to ensure they are comfortable for you, your fingers fit into the finger holes and the handle is easy to use. Also check the weight of the shears and length of the blades to ensure comfort and usability. They may also have insider knowledge on quality and technique, and, as many eBay sellers are also specialised in their area of interest, asking the seller about their product before buying can also help you to make an informed decision. Take a look at their feedback rating and any relevant product reviews.
Check the listing's product description section for information, such as warranty and return policy.
How to Buy Thinning Shears on eBay
There are two avenues you can take on eBay to buy thinning shears. These are:
Use the search bar at the top of the home page for a general search for thinning shears. The following keywords may also yield relevant results: thinning scissors, texturising shears, chunking shears.
To search using the 'Shop by category' option, click on the drop down menu and find the Health and Beauty category by scrolling down through the list of categories that come up.
From there, scroll down to Hair Care & Styling and then choose from the subcategories relevant to the product. In the case of thinning shears, categories include: Bands, Clips & Styling Accs, Other Hair Care & Styling and Sets & Kits. Alternatively, you can scroll down to the Salon & Spa subcategory, then choose Scissors and Shears.
Within each of these subcategories, there should be a selection of sub-types that can narrow down and refine the listings. Some of these are: 'Brand', 'Type', 'Gender', 'Hair Type', 'Colour', 'Main Colour', 'Features', 'Shade,' 'Material', 'Formulation', 'Condition', 'Price', 'Format' (i.e. of listing) and 'Delivery Types'.
Along the top of the search results will be options to arrange viewing and sorting of results.
Some sellers will also sell bundles with their listings, which may include stylists' combs, an oil tube or pen for the shears to be working smoothly, and a leather case to store the shears. It may be worthwhile to buy the case and the oil individually if they are not sold with the shears, as they can greatly improve the longevity of the shears.
Conclusion
There is a wide range of thinning shears available on eBay, from single and double-bladed styles to a range of materials and special features. Being able to identify quality styling tools, and the tools that will work best for your salon is vital, and clients and personal preferences can help you make an investment that will pay off time and time again, in every hair styling session. With the help of the perfect tools and the know-how of a pro, you can achieve salon results at home, transforming an ordinary, messy, unruly or unmanageable head of hair into a stylish masterpiece.