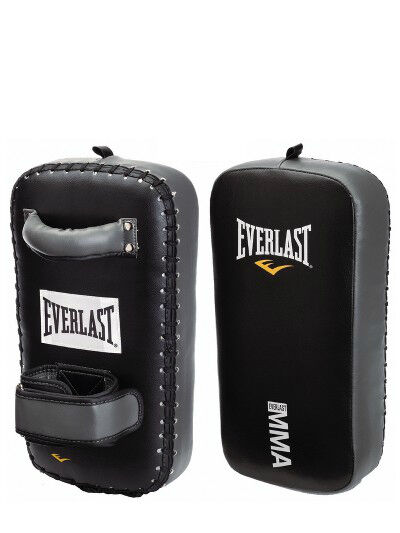 Boxing has been a sport that has remained popular for centuries and is commonly used as a perfect way to maintain a high level of health and fitness. Training using boxing can be done in a variety of ways and with heavy punching bags, speedballs and boxing pads forming part of what should be a well-rounded routine.
eBay offers large numbers of used boxing pads for sale at affordable prices with buyers benefiting from an enhanced level of service from the auction site's large number of sellers.
Below is a buying guide that will help buyers to choose, identify and then buy used boxing pads on eBay both safely and securely.
What Are Boxing Pads?
Boxing coaches use pads in order to train boxers in the art of boxing in a ring with the view to fighting at some point in future. Although this is the primary reason for usage, they can also be utilised as part of a health and fitness routine that will contribute towards both muscular strength and cardiovascular endurance.
Boxing pads are an ideal way to design a boxing workout that is specific to the individual, given that the coach can change what is being done depending on the ability of the boxer. Pads that are listed as boxing shouldn't generally be used for any other fighting discipline as martial arts pads are larger due to the kicking that is incorporated into the discipline.
Different Types of Boxing Pads
Boxing pads, or mitts as they are sometimes referred, generally come in two different types.
The table below looks at both different types with a description alongside:
Type of Pad

Description

Curved Hook and Jab

Pad is curved at the top and generally used to develop hooks and uppercuts.
Not particularly helpful when trying to develop straight punches and jabs.
Favoured by advanced boxers or those that have a firm grasp of the techniques involved.
More comfortable for the coach or person taking the punches.

Straight Hook and Jab

Pads are completely straight.
Older mitts were shaped like this and more used items will be in this shape.
Beginners will benefit from these pads when learning how to throw punches and act in the ring.
Take a while to be broken in and won't be very comfortable until this has happened.
Can be used for all manner of different punches and aren't just limited to hooks and uppercuts like the curved pads.
Condition of Boxing Pads
Buying used boxing pads means taking a lot more care over the condition of the product listed in front of you.
Below is a list of further considerations to take when buying used boxing pads:
Age – Used boxing pads can be any age and will differ in condition because of this. Be sure to meticulously check the product description for the age of the item. If the information isn't there, remember to use the Ask the Seller feature to find out the item's age.
Amount of Owners – Used items will have had a number of owners and finding out how many gives a good indicator as to the condition of the item. This, combined with the age of the item, will have the biggest effect on the price of used boxing pads.
Photos – Usually one of the easiest ways to confirm the actual condition of a used item is to look at the item's photo. Make sure the photo is the item actually being bid for and not a stock photo that has simply been downloaded from a search engine.
State – Some sellers will categorise items depending on how used they actually are. Used items will be listed by sellers as one of the following: Like New, Very Good, Good, and Acceptable
For Parts or Not Working – Used items for sale on eBay can also be listed as For Parts or Not Working. Buying an item of this nature will mean that it needs extensive repairs done to it or it's perfect for extra parts to repair a pad that is already owned.
Boxing Pad Training
Getting the most from a set of boxing pads involves being able to work out correctly to prevent injury. The following headings explain the different things to work on to ensure the perfect workout.
All-round Technique
Before starting a fitness regime that involves boxing, it's extremely important to develop the correct technique. Making sure the technique is correct will make sure all the right muscles are worked on and prevent any injuries occurring. It's recommended that straight pads be used to develop a technique, before moving onto curved pads once the boxer is at a more advanced level. The process of establishing a good technique means that correct balance will be achieved during the workout.
Defensive Moves
Defensive moves are usually dictated by the coach and will happen at various points during a workout. The coach will throw punches at the boxer in order to teach them how to block and dodge them correctly. This must be done in order to ensure a well-rounded workout and that all the appropriate muscles are being worked on in turn.
Offensive Moves
The main muscles that will be worked on during a pad session are done so during offensive moves. Offensive moves, combined with defensive ones, are the closest that a boxing workout comes to a boxing match. This is the best way to develop power in the muscles used for boxing in the arms, shoulders, hips and legs. The end game is to produce an offensive strategy that works during fights and training, and continual work will make the techniques and combinations become a lot quicker
Combinations
A key part to any boxer's repertoire is the combinations that are thrown during a bout. Pad training helps to achieve better levels of success when it comes to combinations. The coach and boxer will discuss combinations before them being implemented in a pad training session. Different angles and distances will be tried out to make sure that both offensive and defensive combinations are covered by pad sessions. Combinations will consist of a mixture of hooks, uppercuts, straights and jabs. It means that straight and curved pads will both be utilised during a workout that focuses on combinations.
Conclusion
A huge number of listings exist on eBay for all manner of exercise & fitness equipment with the site giving people the chance to develop their ideal home gym experience. Used boxing pads are an affordable way to add a different fitness element to any gym and provide a great way for experienced boxers to replenish their equipment store.
This guide, along with the site's experienced group of sellers, will help buyers to make the correct decisions when buying used boxing pads. When it comes to used boxing pads a number of specific things must be taken into consideration, including:
How many owners has the set of pads had?
How old are the pads?
How used have the pads been over the years?
The answers should help inform the buyer's decision, but remember the final choice always rests with you, the buyer.