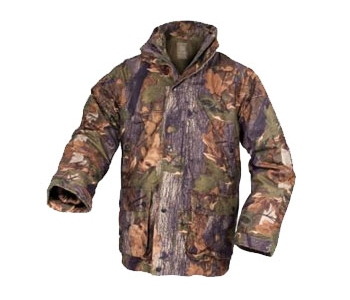 One of the most distinctive attributes of any sporting huntsman or hunting party is the jackets worn, from the traditional tweed and herringbone fabrics through to the modern iterations like Gore-Tex. This guide will help buyers not only understand the variety of hunting jackets in terms of materials, sizes and types, but also the other aspects such as comfort and convenience that they need to consider whilst searching on eBay.
Material
There are many different kinds of materials used for hunting jackets, and each has its own benefits and drawbacks, as well as special attributes and styles. The main kinds of materials used for hunting jackets are:
Material

Advantages

Disadvantages

Gore-Tex

Gore-Tex is a modern, man-made material now used by many outdoor and sports clothing companies as well as militaries.

· Gore-Tex is designed to be very water-resistant, with the water beading on top of the fabric rather than soaking in.

· Gore-Tex is also very breathable, preventing the interior of the jacket becoming too hot.

· Very durable and hardwearing, this material is resistant to the usual scratches and wear it might encounter.

· Gore-Tex, unless lined, is not as comfortable against the skin as some other materials.

· Jackets in this material can also be quite bulky and heavy, especially if lined or padded.

Tweed

A variety of wool, tweed is the traditional material for hunting clothing.

· Tweed is an incredibly durable, rough wool and very resistant to damage.

· Tweed jackets do not require much care and upkeep, apart from occasional dry cleaning.

· A very thick wool, these jackets are excellent at preserving heat.

· As most tweeds preserve the natural lanolin in the wool, tweed is quite water and odour-resistant.

· Although quite resistant to water, if these jackets become wet they can be extremely heavy.

· Tweed can be very costly, particularly if from a brand name or particular weaver.

Wool

Wool comes in many other forms apart from tweed, and is a popular material for jackets due to its natural properties.

· Wool is very good at trapping heat and keeping the wearer warm.

· The lanolin in wool helps to make the jacket very water-resistant.

· Wool can become very heavy when wet.

· Wool can also smell very unpleasant when wet, and requires dry cleaning to maintain size.

· Wool jackets will also periodically have to be re-treated with lanolin, as it naturally wears off when exposed to water.

Waxed cotton

Waxed Cotton is a very widely used material for creating an optimal hunting jacket for poor weather conditions.

· The wax on the cotton material makes the jacket very water-resistant.

· The wax is not costly, and so upkeep of the jacket is not very expensive.

· Waxed cotton jackets can be very vulnerable to scratches and the like, requiring wax to be reapplied in repair.

· The wax must anyway be constantly reapplied to maintain levels of water-resistance.

Quilted

Quilted polyester is a type of jacket that is serviceable both in town and in the countryside.

· The padded quilting design of this jacket is very good at trapping heat, keeping the wearer warm.

· The polyester, relatively water-resistant in itself, can also be treated with waterproof sprays.

· Polyester can hold onto smells, which may be a problem if out hunting with horses or dogs.

· As polyester is not very breathable, the jacket may become hot and uncomfortable depending on the weather.
When searching for hunting jackets by type, buyers should consider not only the type of jacket that would suit them, but also what would suit their hunting trip. Depending on the weather and environment, a waterproof Gore-Tex might be favoured over a polyester jacket, or warm tweed over a waxed cotton item. The buyer should take care to pick out the item they know they can care for as well as wear.
Size
It is very important for the buyer to consider size before purchasing any hunting jackets as, though some extra material can be bearable, some materials like wool can be very heavy – so buyers may not want too much extra material weighing them down.
There are some jackets listed on eBay by basic size descriptions – e.g. S, M, L, and XL – but many sellers on eBay indicate the size of their jackets by chest measurements in inches. If buyers are purchasing a jacket and they have already measured their chest size, they should add a few inches to their measurement to allow for a looser, more comfortable fit and full shoulder movement – e.g. a man with a chest measuring 38'' should opt for a size 40 or larger jacket.
Hunting Type
The type of hunting jacket required may depend on the type of hunting to be done, with certain jackets best adapted for different types of the sport. The main variations of hunting that necessitate hunting jackets are:
Horseback – black wool is a traditional hunting jacket for when riding horseback, and is incredibly good at preserving heat whilst outside. Tweed is another popular option, though the buyer should avoid using a material that holds odours, as the smell of horses can cling to materials like polyester.
Target Shooting – tweed is also a popular option here as, though it does not necessarily need to be water-resistant, it can be helpful to have extra warmth if the day is cold. Buyers should make sure that the jacket they purchase allows for a full range of shoulder movement – perhaps even to the point of buying a slightly oversized jacket.
Woodland Hunting – for these hunters it may be necessary to have a jacket with a full range of attributes, including water-resistance, durability and warmth. They may have to pass through thick woodland that may scratch or cut; they may get wet and have to stay still for long periods, necessitating garments that will keep them warm and dry.
Things to Consider
Apart from the aspects of material, size and type that must be kept in mind, the buyer should also consider the other factors that will affect their final choice, such as:
Comfort – this will vary from buyer to buyer, and also will depend on weather and environmental conditions. If buyers are going to be out on a hot day or doing strenuous exercise, they should opt for a lighter jacket, whereas if hunting on a cold and wet day then it will be necessary for the jacket not only to keep out water but also keep in warmth.

The buyer should pay attention to where and when they will be outside, as well as what kind of jacket would suit them.
Convenience – this is an important factor to consider, especially if the buyer is going to be out for long periods or needs to have as flexible a jacket as possible. Many jackets, such as Gore-Tex items, feature an internal lining that can be added or removed depending on the weather. It is frequently vital for wearers to have deep pockets as these remove the need for bags and are not too heavy. What is 'convenient' depends on buyers, and they should consider what exactly they will be using the jacket for so they can pick the best-adapted or most versatile one.
Upkeep – some hunting jackets require different levels of upkeep, from the occasional dry clean to constant maintenance, depending on the material and how frequently the jacket is being used.

If the buyer is going to be using the jacket frequently then a low-maintenance material like tweed might be better, whereas if in occasional use then the slightly more high-maintenance waxed cotton might be the one to choose. Items like waterproofing wax and spray are widely available on eBay.
Buying a Hunting Jacket on eBay
Now that the buyer has had a small glimpse of the wide variety available to them, they must begin to search for jackets online. Whilst searching for hunting jackets on eBay, the buyer should consider:
Price – for many buyers, it is the cost of items that decides the purchase, and there are many hunting jackets available on eBay at a variety of prices. The buyer can adjust search results by using the search preferences to match their budget, and with jackets available at both Auction and Buy It Now there is lots of flexibility when purchasing items.
Material – whatever material buyers choose, they should keep in mind the fact that material is often a deciding factor in the price of items.
Condition – with both new and used items available, buyers should consider in which condition they would prefer items to be – bearing in mind that the condition of the item will affect the final price.
Local Seller – purchasing hunting jackets from local sellers is the ideal way to keep shipping prices down.
Conclusion
Hunting is a traditional sport and pastime for many people, so it is no wonder that a specialised market for clothing has grown up around the culture – from gloves and hats to jackets and trousers. With this guide buyers should now be able to pick out on eBay their perfect hunting jacket in terms of material, size and type.
When purchasing hunting jackets on eBay, buyers should bear in mind the benefits of using PayPal, eBay's preferred way to buy with added eBay Buyer Protection.