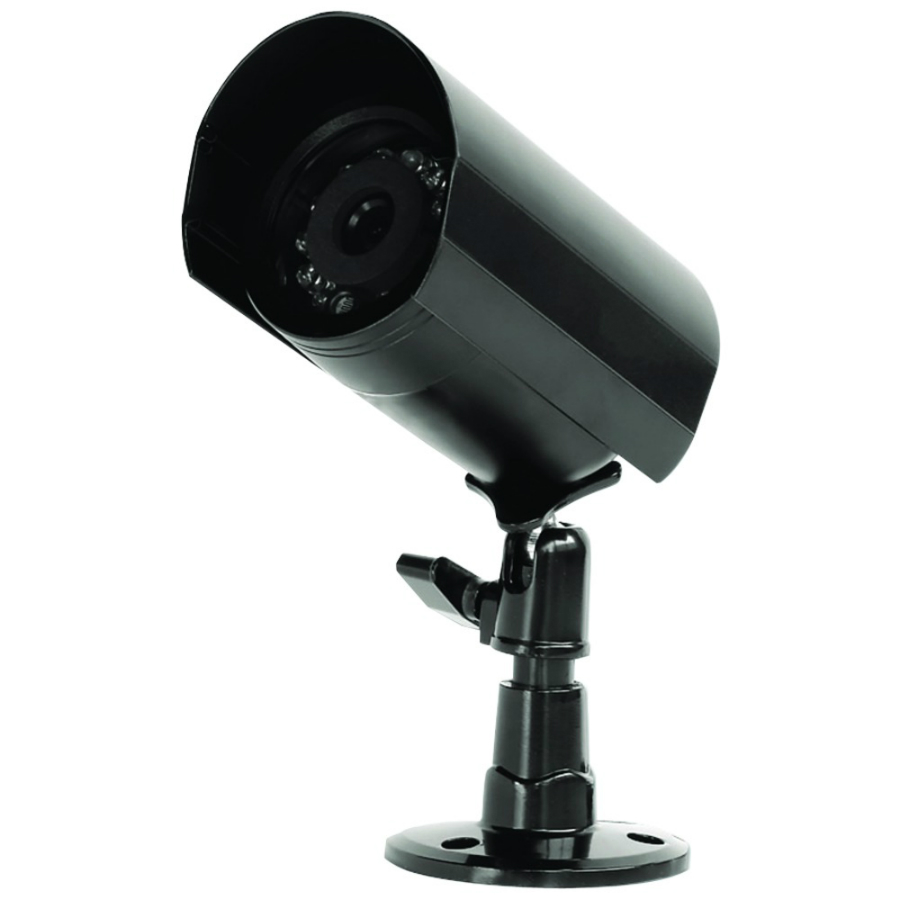 CCTV systems benefits large and small businesses alike, who need a bit of extra security for their properties. This network of cameras can be as large or as small as it needs to be for the business to monitor the activities taking place on their premises. In the past, an engineer was required to install the system, but with advances in modern surveillance technology, a CCTV system can easily be set up by the average person. With a little bit of research, a person can determine which type of system they need and find all of the equipment required for the installation. When buying CCTV systems, shoppers must analyse the layout of the CCTV setup, choose the types of cameras they need, and decide if they want to transmit using analogue or digital signals. No matter how large or small the CCTV system, eBay offers a wide range of CCTV products to meet anyone's needs and budget.
What Is CCTV?
CCTV stands for closed-circuit television. This refers to a system of cameras that sends signals to a specific set of monitors rather than being broadcast over a wide area. This type of camera system is most commonly used for security and surveillance. Both large and small businesses benefit from CCTV. The systems can range from a single camera to a large network of cameras. The most common reason to install a CCTV system is as a deterrent against crime. Cameras record all activities in the area to deter people from committing a crime or to catch people in the act.
Plan the Layout of the CCTV System
Before shopping for equipment, it is important to analyse the security needs of the business. There is no set number of cameras that work for all businesses, and the business owner has to use their best judgement to determine how many cameras they need. Every location is different, and while some can get away with a single camera, others need more cameras to ensure there are no blind spots. When contemplating their surveillance needs, a business owner has to decide if they want a single camera setup or a multiple camera layout, since different equipment is required to setup a multi-camera network.
Single Camera Layout
A small business may only need to monitor one area of the business. In a shop, a CCTV camera might be required to monitor the till or the front door. The setup for a single camera layout is very simple. The camera simply needs to be mounted to the wall, positioned in the right direction, and connected to the recording device and monitor. There is no need for an additional switch or multiplex since only one camera is connected to the recorder and monitor.
Multiple Camera Layout
If the business owner decides that they need multiple cameras to monitor their property, then they should walk the grounds and determine exactly how many they need. Cameras should cover the doors, and other sensitive or protected areas of the business. Setting up multiple cameras is a bit different than setting up a single camera. A switcher, quad, or multiplexer is required in order to connect all of the cameras to a single recording unit or monitor. This setup allows the viewer to switch back and forth between cameras.
Choosing Security Cameras
After the business owner has decided on the layout of the system, it is time to choose the security cameras themselves. The camera is the most important piece of equipment in the CCTV system. If the camera does not capture clear images, then the whole system might end up being a waste of money. The most important factors to consider when purchasing cameras for a CCTV system are resolution and light levels.
Camera Resolution
When evaluating the resolution of a camera, shoppers see that the resolution is expressed in terms of how many lines the camera is capable of producing, or TVL. The more lines the camera can produce, the higher the resolution. Those who need to be able to record moving objects in detail should opt for cameras with a higher resolution. Cameras with 500 TVL are considered to have the highest resolution, and work best for capturing moving subjects. Stationary objects can be easily recorded at a 380 TVL resolution. Anything under 300 TVL produces a low quality image that lacks significant detail.
Light Levels
In order to get a clear picture from the camera in a CCTV system, the light levels need to be suited for the position of the cameras. The light levels on cameras are expressed in Lux or the amount of light that strikes the lens in a given amount of time. Cameras that are used in full summer sunlight have a rating of 50,000 Lux. Cameras used at dawn or dusk have a rating of 1 to 10 Lux. When choosing a camera it is best to go with one that can accommodate the light levels it is exposed to.
Other Camera Options to Consider
There are a few other options to consider when shopping for cameras to use in a CCTV system. These can be evaluated based on personal preference and where the cameras to be used. The table below lists a few of the options available for CCTV cameras and what shoppers need to consider.
| Camera Options | Consideration |
| --- | --- |
| Internal vs. External | Outdoor cameras should be weather resistant or have a housing to protect the camera and connections; indoor cameras are less expensive, but also less durable |
| Colour vs. Monochrome | Colour cameras provide a clearer and more accurate image; monochrome cameras are less expensive |
| Day vs. Night | When night recording is a priority, shoppers can find infrared or night vision cameras |
When evaluating the additional options for CCTV cameras, it comes down to how much the shopper is willing to spend. Basic indoor, monochrome cameras that are designed to record during daylight hours are the least expensive. Shoppers have to assess their monitoring and recording needs to determine if more expensive cameras are worth the investment.
Analogue vs. Digital Setup
The last thing that shoppers must consider is whether to go for an analogue or a digital setup. Each setup has its own advantages, and each one requires different equipment in order to function. While the DVR setup is the most common, shoppers should take the time to weigh the benefits of an analogue system, too.
Analogue Setup
With an analogue signal, users must have a control unit to switch between the cameras, a monitor to view images from each camera, and a recording unit to make a hard copy of all images captured by the cameras. These systems are often connected directly to an LCD TV and a VCR or DVD recorder for easy operation. Because more and more security camera systems are moving toward digital setups, shoppers find analogue systems going for extremely low prices. The drawback is that the quality of an analogue image is lower than a digital image.
Digital Setup
The start up investment for a digital CCTV camera and recording system is higher than with analogue setup. The biggest advantage for a digital setup is that the videos can be saved to a digital video recorder or DVR. Such a device can save hundreds of hours of content on a single unit without the need to invest in recordable media like DVDs or tapes. These systems can also be connected directly to a computer. The image quality is also clearer and the resolution is much higher when compared to images transmitted on an analogue CCTV system.
How to Purchase CCTV on eBay
Once you have determined your CCTV needs, you can begin shopping for systems online at eBay.. This large online marketplace offers a huge selection of new and used CCTV systems to meet anyone's needs. You can find all of the equipment needed to connect and install the CCTV, including cameras, monitors, wires, cables, mounting brackets, housings, and more. In order to find the best deals on CCTV cameras and systems, you need to know how to search the site effectively and refine the results to find the ones that meet your needs.
Keyword Search
Use the search bar to enter keywords to describe the item that you're looking for. Be sure not to be too specific or you might have trouble finding any matches. Likewise, be sure not to be too general or you may receive thousands of listings that don't match what you're looking for. For example, a search for 'camera' is much too broad, but a search for 'CCTV camera&' is a good place to start. Once the initial set of results has been returned, select different options like the brand, features, or condition to narrow down the results. Additionally, specify a price range to only show listings that work with your budget.
Conclusion
A closed-circuit television system is an effective way to reduce crime and keep an eye on activities taking place on company property. The systems consist of a network of cameras, a control unit, a recording unit, and a monitor. Modern technology has simplified these systems to a point where engineers are not necessarily required to connect the systems to get them up and running. Business owners are able to save money by shopping for their own deals and installing their own systems. When purchasing a CCTV system, shoppers need to carefully analyse their needs. This includes carefully selecting the cameras to use and deciding whether they want to record digitally or transmit via analogue signals. Because there are so many options, shoppers can find CCTV systems to work with just about any budget. To find the best deals on CCTV systems in the UK, shoppers should search the thousands of listings on eBay.