Rattan tables and chairs are common indoor and outdoor furniture. Baskets, walking canes, and potting containers made from rattan are also widely available. The material is versatile and durable as it is, but proper care can extend its life.
The Making of Rattan Tables, Chairs, and More
Rattan is a genus of palms that includes more than 600 species. To create furniture from rattan, it is cut into sections and woven into shape. Despite its unique appearance and feel, it is still a wood and therefore it accepts paints and stains like other woods. However, many furniture manufacturers prefer the natural, earthy appearance of unstained and unpainted rattan, and this is what most people find in stores.
Buying Rattan Tables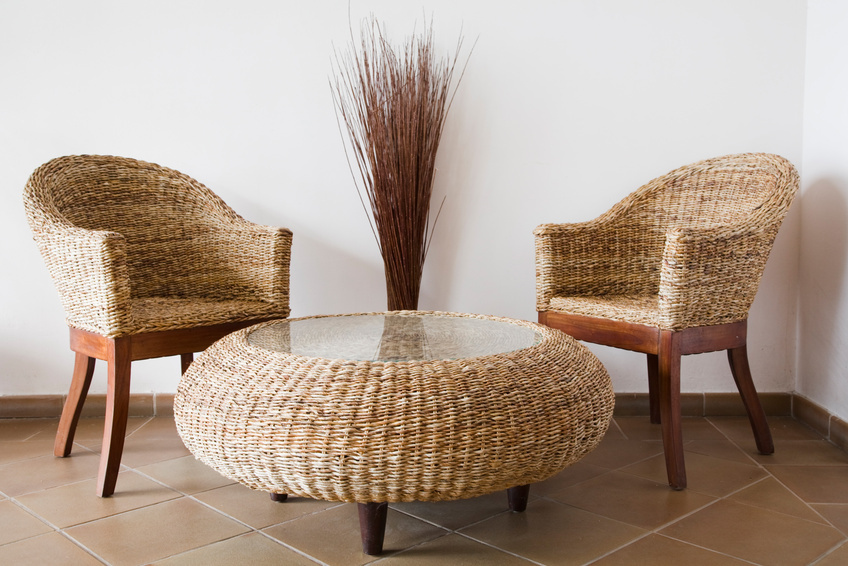 Like most rattan furniture, rattan tables are suitable for use indoors and outdoors. These tables are generally coffee tables and side tables. Some furniture manufacturers make rattan dining tables, but they are considerably less common than the coffee and side tables. Rattan tables occasionally come with a glass topper, which can help extend the table's life. Rattan is a wood, so it can experience wear and tear from being wet for long periods of time.
Buying Rattan Chairs
Chairs are popular outdoor rattan furniture, although some shops also sell rattan stools for sitting indoors. Shoppers can even find rattan chairs in common dining room styles. Many rattan chairs come with chair cushions, but if not, the buyer might want to invest in them. Rattan is a very forgiving wood when sat in, especially when compared to solid woods. However, guests and the homeowners alike sometimes feel more comfortable covering the rattan with a cushion.
Rattan Baskets, Plant Containers, and More

Rattan is resistant to splintering, making it a favoured material for basket weaving and planting. In the past, it was also widely used for staves and canes in martial arts. Even today, rattan walking canes and umbrellas are on the market due to the material's versatility and durability. In rural places, rattan is often used to build shelters. Such shelters are not limited to huts, but include sturdy houses that stand for years with proper maintenance.
Caring for Rattan Tables, Chairs, and More
To clean rattan tables or chairs, simply wipe the furniture with a damp cloth. Don't saturate the wood with water. If the paint or stain is fading, use linseed oil to restore a deeper luster. Oiled chairs must dry for several days, so be sure to set the tables or chairs aside for a while, or else you might get oil on your cushions and clothing. To preserve antique rattan furniture, just clean it as needed, and avoid painting or staining it if it is a natural rattan.