Recovery is an essential part of any kind of exercise routine as it allows your muscles to restore their capability to work out. Besides resting properly, you should feed your muscles protein that restores the tissue, promotes lean muscle growth, and improves general health. Whey protein is a staple for any athlete and you can easily mix it into your post-workout shakes.
The Essence of Reflex Whey Protein
Besides casein, whey is one of the two proteins that you can find in cow's milk. Whey is a by-product of cheese production that the cheese manufacturers typically throw away. The clear liquid separates from milk solids. After extracting and isolating whey, it goes through filtering in order to remove carbohydrates and fat. The more filtering it undergoes, the purer it becomes. After spray drying, it then achieves its powder-structure. Dietary supplement manufacturers add colouring and flavouring and thus produce a wide variety of protein drink powders. Whey protein is a complete protein source that contains all nine essential amino acids. It is soluble in liquid environments and over varying pH ranges. Reflex has its own type of protein called Native Protein. The company extracts the proteins directly from skimmed milk at a low temperature by using membrane technologies. This results in a pure protein, which is also a biologically active protein.
Benefits of Reflex Whey Protein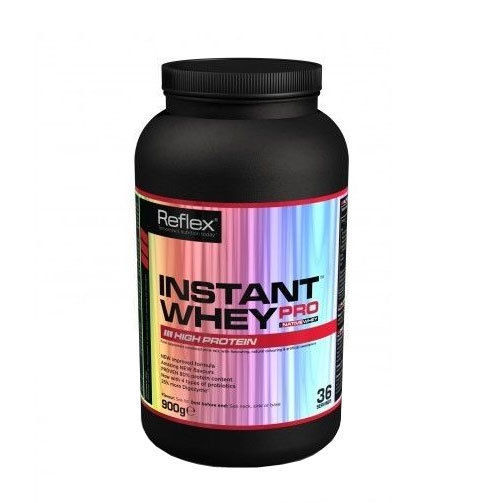 As a complete protein, whey works better than casein or soy to cultivate muscle growth. Your body absorbs it quickly and the protein synthesis in muscles is rapid. The substance also increases anabolic response to resistance training, helps to maintain muscle mass, and prevents muscular atrophy, the degeneration of muscles. During prolonged aerobic activities, it can provide anti-catabolic properties. As this protein boosts metabolism, it enhances fat loss.
Types of Reflex Whey Protein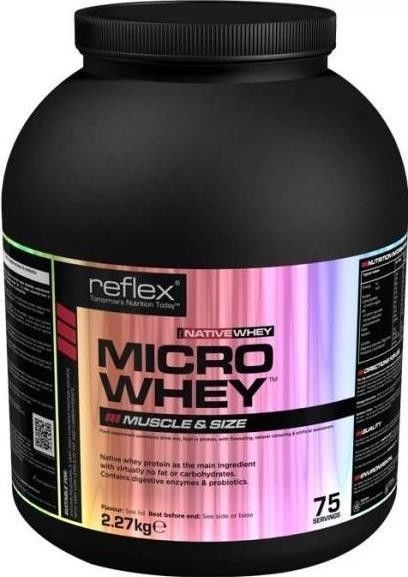 Reflex whey protein falls into different categories according to its objectives. When recovering from endurance activities, such as cardio exercises, use Instant Whey, Natural Whey, and Micro Whey as they all contain Native Whey. For losing weight, choose the same products or go for Diet Protein as it also has CLA, which helps your body to use fat reserves for energy. Build muscles with Natural Whey, Instant Whey Deluxe, Instant Whey, and Micro Whey.
Using Whey Protein
Use whey protein powder to make yourself a post-workout shake. For the exact amounts, check the instructions on the package. Use a blender to mix the powder with milk, yoghurt, juice, or water. You can also include it in smoothies or milkshakes with berries and fruit. Whey protein comes in many flavours from chocolate and caramel to strawberry and banana, so you can easily find one you like.