Whether making a special greeting card or completing a massive scrapbook, the addition of text to your rubber stamping project is often a must. However, the complex nature of text stamps and the time-consuming process of stamping individual letters is truly daunting, especially to the beginner. There are two main ways to use rubber stamps with text: create your own, or use premade text blocks. Learning when each method is most appropriate is the key to successful rubber stamping with text stamps.
When to Create Your Own Text

The availability of individual alphabet rubber stamps in a variety of fonts means that it is possible to write anything and everything from names and dates to personal notes with rubber stamps. The best way to prepare for these projects is by choosing one or two font styles that appeal to you personally and read easily, and then applying them to your projects as needed. These sets work wonderfully for personalising greeting cards or putting dates in scrapbooks. As long as the text lines are short, you can even write out longer sentiments. However, the time-intensive nature of this process makes it really only appropriate for short bits of text or special projects.
When to Use Pre-made Text Stamps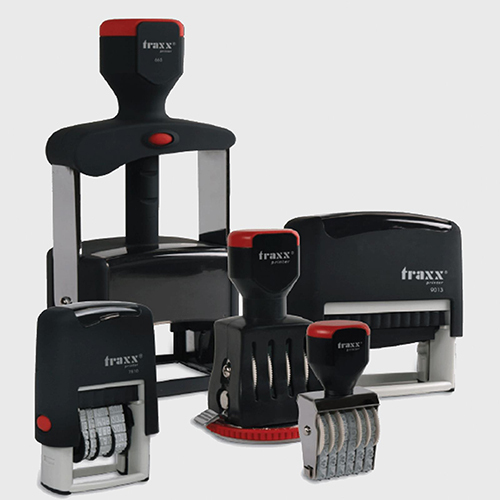 Pre-made sayings and sentiments are the most logical alternative to individual alphabet stamps. Great for card-craft makers, buying a few rubber stamps with holiday-specific or other popular sayings such as 'Happy Birthday', 'Merry Christmas', or 'Thank You' saves a lot of time in the long run. There are many different stamps that contain these popular sayings which may include additional decals, such as a birthday balloon, and which use different fonts and patterns that are more ornate and 'script-like' than is possible with individual letters. Pre-made rubber stamps are not limited to short sayings, either. If you have a favourite sentiment, for example a line of verse, customised or personalised rubber stamps are easy to find.
When Not To Stamp, Alternatives
No matter how much you love to stamp, however, there are always times when the expense, either monetary or in time, is too much to bear and you need an alternative to stamping. This is especially true in scrapbooking when you want to record the memories that go along with the pictures. In this case, a popular alternative is using computer-generated text embellished with rubber stamps. Popular fonts such as Comic, Goudy, and Marker Felt still add a more personalised look to the project. Using stamping supplies and techniques such as tearing the edges of the print out and adding craft ink or adding other stamps around the text provide a rubber-stamp look to the piece overall, despite the printed words.