Sectional buildings are the easiest way to add working space to your home. Adding a garden office or workshop can free a spare room in the house, often without any planning permission. Choosing a pre-designed office, workshop, summerhouse, or garden shed allows for rapid selection and construction. Bespoke sectional garden buildings allow the creation of exactly the desired new space.
Garden Sheds

Sectional garden shed packages make it possible to assemble the right space quickly for garden equipment storage. Depending on space requirements, a tiny shed of 6 by 4 feet may be sufficient, or a larger 12 by 8 shed might be essential. Garden shed packages may use timber, weatherboard, metal, or plastic for the exterior walls. Some are framed to look like log cabins. Windows usually are not included, making the finished shed more secure. Home assembly typically requires basic skills with hand tools or power tools. Wood kits may require paint or stain. Some roofing systems require felting in.
Summerhouses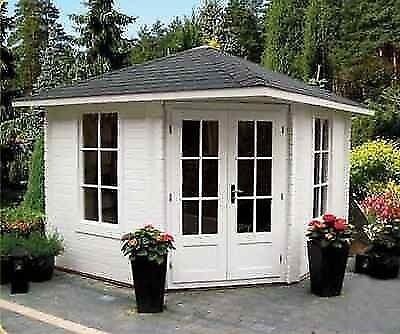 Retreating into a summerhouse makes it possible to enjoy nice weather comfortably. Summerhouse designs vary from traditional peaked-roof rooms to contemporary flat-roof structures, but what they have in common is plenty of windows. Some incorporate a small shed to reduce the number of needed outbuildings in a garden. Others fit into a corner of the garden to save space. Insulated summerhouse packages make it easier to enjoy this relaxing space in the garden year-round.
Garden Workshops
A workshop shed is one of the most traditional outdoor spaces. With windows for light, which may be shuttered for security, a solid door lock, and electricity to power tools, this shed provides the kind of space needed for woodworking projects.
Garden Offices and Garden Pods
Garden offices help home-workers stay focused, away from the busy main household. Unlike sheds, they have windows and may be insulated for cool-season comfort. Garden offices may be as small as 2 by 2.5 m, just large enough for a workstation, chair, and some shelves, or larger, making room for a sofa and chair that allow for comfortable client seating. Many are flat-roofed, but some have pitched roofs. At the high end, spherical garden pods made of spruce, steel, and polycarbonate span diameters of 3 m and may be outfitted as dining rooms, lounges, or offices that may even rotate in place.
Planning Considerations
Sectional garden buildings used for sheds and offices generally do not require planning permission. The few rules related to building placement, number, and size are common sense and may be found in planning portals online. Outbuilding used for sleeping, however, face additional regulations.