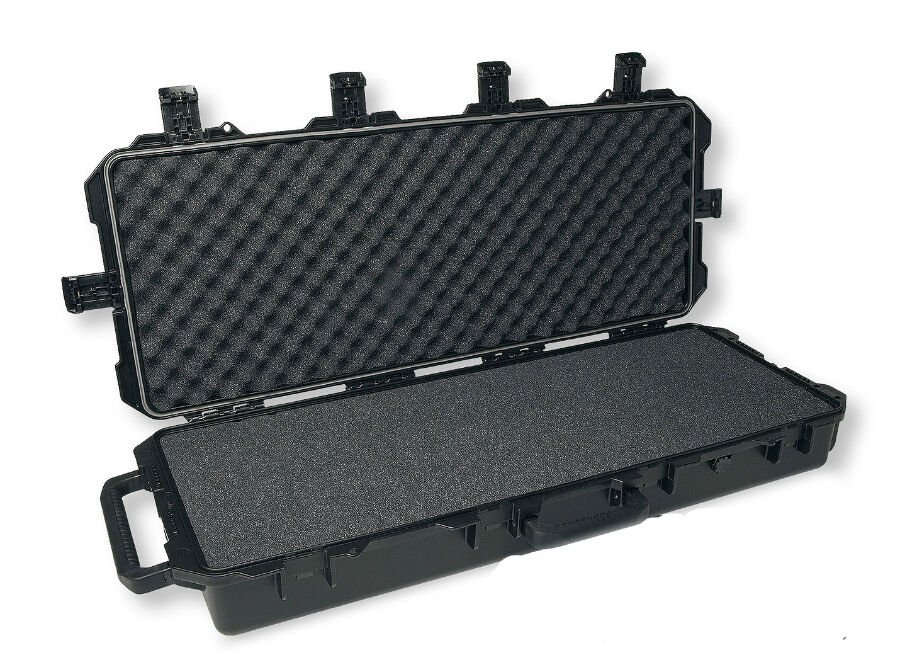 For the sportsman, the game hunter, the law enforcer, collector or home defender, shotguns are a popular and powerful firearm. With that in mind, proper care for these weapons is very important. Gun accessories enable the owner to safely store, maintain and transport their firearm. View shotgun accessories on eBay here.
Shotguns come in many guises; from the classic break-action, the more iconic pump-action, the collector's preferred lever and bolt action rifles and the modern semi-automatic and automatics, shotgun accessories are as varied as the guns themselves.
This guide will explain the relevant purchasing considerations for the following accessories. Sights, Straps, Cleaning Kits, Cartridge belts/bags, Gun cases and Storage. This guide will provide you with the information needed to make an informed purchasing decision from eBay.
Sights or Scopes:
You can fire a shotgun without a scope however, at range a scope provides much greater accuracy. With a variety of scopes available, selecting the right one is really a matter of preference.
Traditionally, hunters have favoured the high magnification and tube length, mirror variety. These sights come with a variety of light adjustment, thermal and night vision options useful in darker locales or for night hunting, these scopes allow for total precision over long distances.
Some enthusiasts are likely to favour the laser guided sights or the ever popular fibre optic ruby bead scopes that makes aligning a target on a rifle much easier on the fly, though personal preference plays a role in the final decision.
Straps:
Historically there were two standard kinds of straps. The traditional full length varieties was used by hunters and soldiers to allow for easy shoulder carrying.
The tactical slings were introduced by law enforcement. These allowed the wearer to carry the weapon across the side or front of their body in a flexible harness, letting them get to or switch from their rifle to a secondary firearm. The versatility of the sling strap has made it by far the most popular shotgun strap on eBay.
Both these straps often require a special sling attachment on the lower front of the barrel as well as on the stock or along the side (as preferred).
Cleaning Items:
A good standard cleaning kit is an essential accessory for anyone who owns or hopes to own a gun. Most novice gun owners overlook the care and storage of their firearms. This mistake can not only cost them the use of the item when they need it, it might also lead to hefty bills to repair or refurbish their tools.
To keep a shotgun in good working order it should be cleaned within a day of being fired. To this end having a cleaning kit at home is unavoidable for anybody who shoots frequently. The casual gun owner more interested in the safety of their home can always take their weapon to a local gun shop or outdoor specialty store that will clean their weapon on their behalf.
Cartridge belts/bags:
In order to get the most use from a firearm the owner will often want to be able to carry around extra ammunition. Shotgun cartridge bags/belts come in all different sizes and makes.
From leather to hide, from 10 shells up to 26 or more. The most important consideration is what kind of shells the bag/belt is designed to take. The purchaser will want to ensure that this matches the ammunition his/her gun requires. The table below gives you an idea of the different kinds of cartridges available.
Table of American Standard Birdshot Size
| Size | Diameter | Pellets/10 g Lead | Pellets/10 g Steel |
| --- | --- | --- | --- |
| FF | 5.84 mm (.230") | 8 | 12 |
| F | 5.59 mm (.220") | 10 | 14 |
| TT | 5.33 mm (.210") | 11 | 16 |
| T | 5.08 mm (.200") | 13 | 19 |
| BBB | 4.83 mm (.190") | 15 | 22 |
| BB | 4.57 mm (.180") | 18 | 25 |
| B | 4.32 mm (.170") | 21 | 30 |
| 1 | 4.06 mm (.160") | 25 | 36 |
| 2 | 3.81 mm (.150") | 30 | 44 |
| 3 | 3.56 mm (.140") | 37 | 54 |
| 4 | 3.30 mm (.130") | 47 | 68 |
| 5 | 3.05 mm (.120") | 59 | 86 |
| 6 | 2.79 mm (.110") | 78 | 112 |
| 7 | 2.41 mm (.100") | 120 | 174 |
| 8 | 2.29 mm (.090") | 140 | 202 |
| | 2.03 mm (.080") | 201 | 290 |
Table of Buckshot Size
| Size | Diameter | Pellets/10 g Lead |
| --- | --- | --- |
| 000 or LG ("triple-ought") | 9.1 mm (.36") | 2.2 |
| 00 or SG ("double-ought") | 8.4 mm (.33") | 2.9 |
| 0("one-ought") | 8.1 mm (.32") | 3.1 |
| 1 | 7.6 mm (.30") | 3.8 |
| 2 or SSG | 6.9 mm (.27") | 5.2 |
| 3 | 6.4 mm (.25") | 6.6 |
| 4 | 6.1 mm (.24") | 7.4 |
With the large number and necessary knowledge of gauges (US) or bore (UK), shotgun owners should be aware of the ins and outs as well the different legally acceptable measurements available on the open market.
Shotgun cabinets:
Gun safes, gun cases and cabinets as well as other firearm cupboards and storage bins are advisable for all gun owners. They not only provide safe and sensible locations for firearms, they also allow for storage of gun accessories at the same time.
A prospective purchaser will do well to keep in mind many things. Consider the accessories he/she has or may wish to procure, the amount of guns he/she owns and the type of cases—which range from the practical to the decorative and even the high security variety.
Collectors will often select wooden, decorative brands that favour aesthetics over safety. These decorative cabinets also come in display styles, which have large glass doors, velvet backgrounds and allow the weapons and accessories to be lain out in horizontal and ornamental fashion. Gun safes are certainly more secure but can still be attractive however, many are designed to look like large metal safes or cabinets from the 40's and 50's.
Most cases hold anywhere between 8 to 18 guns. There are more than a few cases that are made of various solid types of wood and look like proper cupboards and armoires. These cases have many accessory attachments as well as cigar humidifier compartments, hunting tools, knife racks and bag storage. These gun cabinets typically hold anywhere between 8 to 10 to 12 rifles, though some go up to 20.
For the more security conscious, there are a variety of less striking and more functional looking gun cases. Similar to the cabinets you see in films, many cases have metal and steel alloy frames, strong mesh grating and strong locks. Most of the more common cases have barred or wired door frames, with optional glass instalments. Glass does keep the cabinet clean but not all cases come with them. Most of the metal cases also close completely, sealing the weapons in airtight and environmentally optimal conditions. Many of these cases come with stack-on accessory cabinets which allow you to keep your equipment, kits and attachments close by and in equally safe and secure compartments.
Other Attachments:
Barrel magazines and shell carriers are useful for either hunters or urban warriors. These allow you to place shells along the barrel or stock make it easier to reload and keep track of your ammunition.
In the case of difficulty gripping the shotgun, pistol grips can be attached to the stock, allowing for more accurate aim and control of the shotgun.
For pump action shotguns, there are even extra pump attachments that increase friction and grip. These help to minimize slippage when pumping a used shell out and a fresh one into the chamber. Like the stock, a front grip pistol handle can be attached to ease the pumping action as well as increase control and accuracy in the shotgun.
Buying your gun accessories online.
Once the buyer has decided which accessories will be required all that remains is to peruse the available options and pick the precise items. Go to eBay and type shotgun or shotgun accessories into the search bar then you can refine your search using the categories on the left hand side.
Make sure you include postage in your calculations and that you know exactly how eBay and PayPal protect you as a buyer.
It's always safest to use PayPal for transactions wherever possible, as other methods of payment such as western union can be unsafe unless you know the buyer. PayPal is covered by eBay's buyer protection plan which automatically protects you against fraud up to the value of £500. PayPal lets you pay safely without the buyer ever seeing your card details.
Research your seller to know who you are buying from and make sure you feel confident in the transaction. If you are spending a lot of money then it might be prudent to ask if the seller has delivery insurance to make sure the item arrives in top condition.
Conclusion
If you are interested in purchasing a shotgun, or if you are the owner of one, having a shotgun accessory case will enable the owner to safely store, transport and maintain the quality of the shotgun. There are various things you can place inside the accessory case, from sights, straps, cleaning items, shotgun cabinets, shell carriers and pistol grips. Selecting one will depend on what you intend to store inside the case. eBay is a great place to find shotgun accessory cases, and the sellers may be able to provide further information on the range of products available. Safety, security in transport and good maintenance are all important for owners of shotguns, which is why purchasing a shotgun accessory case is recommended.