Residents of Ireland began using postage stamps from Great Britain. Their new government began printing its own in 1922. Stamp collectors can unravel the mysteries of pre-Republic cancelled stamps and Irish overprints of British stamps or search out series of definitives and special commemoratives. The Stanley Gibbons and Hibernian catalogues are the best guides.
Before 1922
Ireland used the same stamps as other parts of Great Britain from 1840, when the world's first stamps were printed there, until 1922. The only way to recognize that these are Ireland stamps is the cancellation. These stamps are described as "Used in Ireland." If the stamp and cover are no longer together, the cancellation may not be complete and readable, even if some text or numerals are visible.
A New Government's First Stamps
Some of the most valuable Irish stamps are Ireland overprints of British postage stamps from the beginning of the Republic. Those overprinted "Rialtas Sealadach na hÉireann 1922" by the provisional government beginning 17 Feb. 1922 are prized, with value highest for 10d stamps in best condition. Irish Free State overprints "Saorstát Éireann" were issued 11 Dec. 1922. Identifying overprints by year and printer is considered a challenging puzzle in Irish stamp collecting.
Definitives

The fundamental postage stamp series issued by Oifig an Phoist and its successor, An Post, the first Irish definitives were issued on 6 Dec. 1922, although the full value series was not complete until 8 Sept. 1937. These Eire Stamps used "Eire" for the state's name even before the 1937 constitution made it official. The next full set of designs, the Gerl definitives, based on early Irish art, were completed in 1968. Subsequent definitives featured Irish architecture and Irish cultural heritage. The first definitives to be printed in full colour for all values was the 1997 Irish birds series. In 2004, a native flowers series was issued, followed by a series featuring animal photographs in 2010. Collectors sometimes focus on a recent series of definitives, in part because it can be difficult to locate high values in early series.
Commemorative Stamps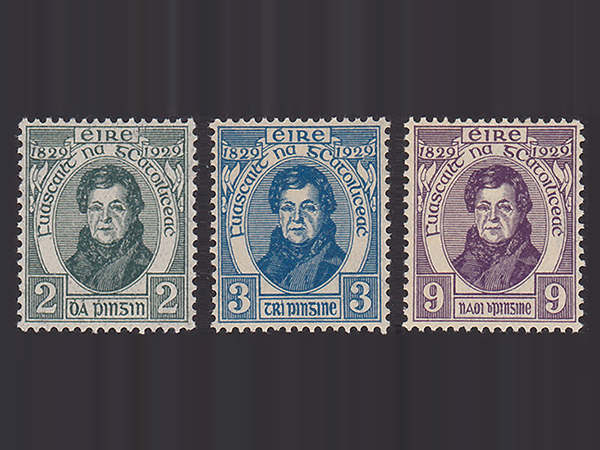 The first commemorative Irish postage stamps were issued in 1929 to honour Daniel O'Connell, "The Great Emancipator". Commemorative stamps honour events, anniversaries, famous cultural and political figures, and even such international events as the bicentennial of the American Declaration of Independence. Christmas commemoratives are issued annually. Commemoratives have been issued with increasing frequency and in larger volumes in the 2000s, making more mint Ireland stamps available to collectors.