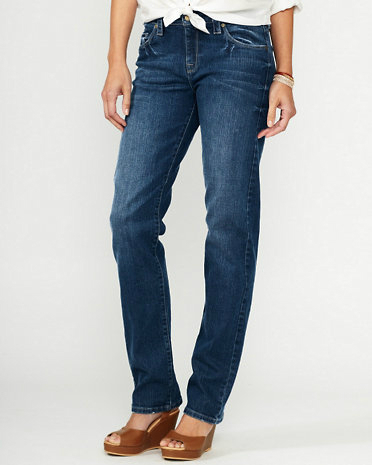 Almost everyone owns a pair of jeans that are considered to be a favorite selection, that is used more often than other pairs of jeans. Most jeans, however, are made of fabric that tends to wear out over time if they are not taken care of properly. Taking care of your jeans, whether purchased on eBay or through a traditional local store, involves a wide range of washing routines. Many people argue over what methods of jean care work best, but deciding what type of jean is right for the occasion is the first step. A heavily faded pair of jeans are more likely to be sought after by a younger age group. In comparison, a colour rich pair of jeans, that looks just like it did on the shelf, might match the wardrobe of an older, more mature crowd. Determining what is desirable in a pair of jeans is the first step in selecting a quality pair of jeans. There are many tips and tricks to help make any kind of jean last longer. This guide will provide valuable tips, tricks, and methods to help take care of a favorite pair of jeans.
The First Wash for Faded Jeans
One of the most important elements in taking care of jeans is the first wash. Taking care of jeans throughout their lifespan is important, but making jeans last longer can depend upon immediate care after purchase. Many old wives tales and urban legends exist in relation to the first washing of a pair of jeans, but few of them are actually factual. Below are some detailed strategies that aid in extending the life of a pair of jeans.
Patience is Key
Faded jean enthusiasts believe three years of wear, and constant maintenance, are essential in creating a quality pair of jeans. The truth, however, is much less frightening, and foul. One of the most dependable "rules of thumb", is to hold off on introducing new jeans to detergent for about six months. The wait time does, however, vary depending on use. Consider waiting until the jeans are bunching up behind the legs as well as losing a little bit of their original colour. Without the right techniques, however, this method can end in a serious stench.
Hang Up and Air Out
Waiting for six months to wash a pair of jeans can do wonders towards keeping a particular colour fastened to jeans, but it may cause a somewhat undesirable smell as a result of the initial wash. In order to avoid this inconvenience, make sure to hang up the jeans after every use instead of letting them lay on the floor to potentially hold in odor. Those who find that their jeans smell after just a short period of time should consider washing them. Although a perfectly worn and faded pair of jeans is nice to have, it may not be worth it to have to smell a malodorous stench three days out of the week.
Wash Jeans Carefully
Once the jeans are ready to be washed, which can be a process that takes anywhere from three to six months, be sure to avoid using commercial washing and drying services. Even a home washer and dryer can prove to be a damaging instrument when washing a new pair of jeans. One of the best ways to wash a pair of jeans is to first turn them inside out and hand then hand wash them in a sink to ensure preservation. Using just a small amount of detergent such as Woolite Black and washing by hand, is a great way to avoid an acid wash look that stems from excessive washing machine usage.
The First Wash for Non-Fade Enthusiasts
Those who wish to actually preserve the original shelf colour of their jeans, should take the previous advice lightly. Yes, waiting a while before washing is a good idea, but waiting too long could possibly add to the faded quality of a jean. Don't wait until some of the blue dye begins fading away to wash them, but one should wait until you have worn the jeans for at least a few days first. Once the pair of jeans is actually washed be sure to avoid automatic washers and dryers as these devices may damage the jeans.
Additional Tips
In order to avoid losing the original colour of your jeans, one might try washing them in a solution of vinegar and water before placing them inside of a washing machine. This technique will help to effectively seal in the blue dye of the jeans before they are set to be washed. If you do, however, have to wash your pair of jeans in a washing machine, make sure to choose the hand-wash or delicates setting to avoid alteration to the jeans. These settings tend to be a bit more gentler with clothing, and thus make a perfectly suited cycle for washing a new pair of jeans. No matter what the option, be sure to wash your jeans inside out, in cold water, and air dry them upon completion. Although these strategies might seem optional, they are vital in the process of taking care of jeans.
Avoiding Rips
Again, several schools of thought battle over methods to avoid rips. Both sides, however, agree on the following rip prevention techniques. The first step towards avoiding rips is to buy a durable pair of long-lasting jeans. Jeans that are designed with a little bit of extra room are able to move with the wearer in demanding situations. Potential customers should look for jeans that are made not entirely of cotton, but instead have a bit of elastane or polyurethane in them. Quite a few individuals have an aversion to anything other than all-cotton jeans, but a little extra stretch in the right place can make all the difference.
One of the easiest ways to avoid a rip in the fabric is to wear jeans that have been recently washed in a delicate manner. Situations that may call for sitting in an office chair, driving, or other low impact tasks are often acceptable times to wear a recently washed pair of jeans. Once the pair of jeans have been adequately stretched out, the likelihood of a rip is now quite low. Be careful with recently washed jeans in order to avoid a rip or tear of any kind.
Long Term Care
Whether individuals are looking for a faded or a colour rich pair of jeans or simply a faded pair, long term care is absolutely of the highest importance. Faded or not, springing for dry cleaning or home dry cleaning kits is a good way to extend the life of any type of jean. Do not dry clean any type of clothing too often because the chemicals that may exist in many dry cleaning solutions tend to be harmful for fabrics. Even simply ironing a pair of jeans with starch can make an enormous difference in the way a pair of jeans look and feel.
Repeated Washing
If at all possible, only wash jeans after every five uses at the minimum. In order to avoid smell and stench during this time period, wear the jeans only every third day or so to accommodate. Changing out jeans just like shoes is a sure fire way to make certain that this particular pair of jeans will last quite a bit longer than normal. Obviously, cleaning a pair of jeans is a necessary activity, but abusing them over and over again in a washer may cause irreparable harm to even the most durable of jeans.
Understanding Your Price Range
Many of the tips throughout this guide are geared towards higher end, quality jeans. Although buying an inexpensive pair of jeans can be tempting, having jeans that are more fashionable and "hip" are often the trend. We all have that one pair of jeans we cherish more so than any other pair, so try to gear each purchase of jeans towards buying something one might actually enjoy wearing for a long time to come. Once a person finds a pair of jeans that manages to fit perfectly, caring for this pair of jeans is now the task at hand. Try to buy a pair of jeans that won't just sit in a drawer but rather a pair that will become a new favorite pair that is worn often.
Brand Name Jeans
Although quality brands do tend to last longer than many store name brands, brand name is not the be all end all requirement of jean purchase. Searching for the right colour and fit should be the first element in shopping for jeans. Trying to save a colour that is not attractive can be a pointless endeavour. Yes, shopping can take quite a bit of time, however using online marketplaces such as eBay give users a wide range of choices to search through. Brands that range from Levi to Abercrombie & Fitch can be easily found through use of online marketplaces such as eBay.
How to Buy Jeans on eBay
Searching from store to store and struggling to find the right pair of jeans can be an incredibly frustrating ordeal. Finding just the right fit and colour of jeans can be a process that leaves many begging for mercy. There is hope after all, online marketplaces such as eBay offer authorised sellers a platform that gives access to hundreds of types of jeans old and new. For those who prefer a perfectly broken in pair of jeans, local sellers often offer used jeans that have been broken in by other users. Local sellers also tend to offer faster shipping times and even some local pickups.
Searching through eBay is also quite convenient due to the many different filters and advanced search options that buyers can utilise when attempting to make this purchase. Searching for men's clothing and setting your filter to show jeans, will provide shoppers with thousands of options from all over the globe. Narrowing it down further by size, colour, and fit style will quickly whittle down the search results. Before purchasing jeans, however, make sure to find the right seller for you based on the intricate seller's ratings used by eBay.
Conclusion
The first step involved with taking care of jeans is to find the right pair for the occasion at hand. Once a person has discovered the right pair of jeans, making sure to wait awhile to wash them can only aid in making them last for a longer period of time. Although some people tend to wait as long as eight months to wash their jeans after purchase, waiting for a period of three months or simply through five wearings can go a long way towards keeping the colour, and fit of the pair of jeans, in tact. In order to extend the life of the fabric of jeans, try to avoid washing jeans in an automatic washer. For high-quality results, people should wash their jeans by hand after turning them inside out while using colour safe detergents. Make sure to buy jeans that have a little bit of give so as to avoid rips in the fabric. Keeping jeans in good condition allow individuals to have more than one favorite pair of jeans to pull off of the hanger on any given day.