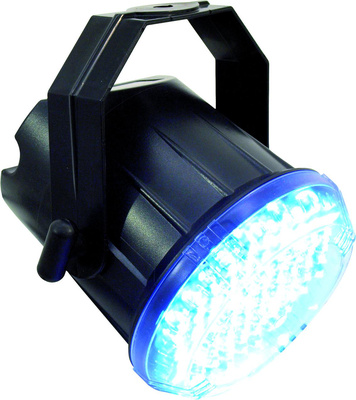 From holiday lights to headlights, LED bulbs have revolutionised the lighting industry. Even disco lights are switching and taking advantage of LED technology. LED lights, unlike incandescent bulbs, are long-lasting, consume less energy, and remain relatively cool during use. It is no wonder that DJs, musicians, and club owners are willing to pay a higher price upfront to save some money in the long run. Strobe lights come in LED and non-LED options too.
DMX controllers allow users to customise their lights, even syncing them to the beat. Buyers should also consider purchasing cases to carry and store their fixtures. Most DJs and musicians need portable stands to hoist their lights, while lights purchased for a permanent position can be mounted and wired in. Get the most for your money by effectively selecting lights that fit your needs and your budget. Furthermore, before getting your hands on some new lighting, you should become familiar with the types available and the accessories you need to keep them safe and effective.
LED Lights
Disco lights have been using incandescent and halogen bulbs for decades. The downside to incandescents is they have a reputation for getting hot and guzzling electricity. LED lights make up for their outdated competitors' shortcomings by staying cool and sipping less energy. Moreover, they have a long-lasting bulb life and burn brighter. LED disco lights have now set the bar for the industry, and there are many styles of disco lights available with LED bulbs.
Using Different Types of LED Lights
In order to properly light up a dance floor, a venue, or a room, you must have an assortment of styles and colours to choose from. Laser lights have concentrated beams, some with patterned designs. LED panels can be installed in walls and the floor, and they preprogrammed to flash at intervals. There are various styles of LED lights with moving heads. The motorised fixture gives the lights the ability to travel across the dance floor. Scanners are a step above moving heads, and they use mirrors to reflect and refract lights to create patterned images. The section below details the various models of LED lights.
Lasers
LED lasers are dance floor favourites. Easily recognised by their bright, single beams of light, LED lights are taking lasers to the next level. There are two types of lasers: cluster and animation. Cluster laser lights cover a large area with hundreds of tiny beams. They can be either single or multi-coloured. Animation lasers display a pattern or image; many animation lasers are motorised and can move across the floor. "Intelligent" lasers can be programmed to spell out messages. Although red and green once dominated the laser light market, blue and white are becoming increasingly popular.
LED Panels
LED panels are comprised of LED lights encased in a flat, typically coloured plastic. They are often used to light up walls and sometimes even dance floors. They can be wired to flash at preprogrammed intervals or be hooked up to a DMX controller to flash in time with the music. Wall panels are constructed differently than floor panels, and buyers interested in LED panels need to buy for their individualised needs. For example, wall panels cannot handle the weight a floor panel can.
Moving Heads
A moving head refers to any disco light with dual axis motorised lights. Moving heads allow for a 360 degree horizontal spread and can be vertically tilted to cover a vast area. These multi-coloured lights can create an infinite array of patterns. Although moving heads have been expensive in the past due to their high-tech design, many models are dropping in price and becoming more affordable.
Scanner
LED scanners have built in motorised mirrors that can reflect and refract light. Like moving heads, lights can move across the room, but the angle and placement of the mirrors control the light display. Although many scanners use multiple beams for a multicoloured effect, scanners can use a single beam of light and split it into geometric patterns.
Strobe Lights
LED strobe lights are an essential lighting fixture for all audio and visual shows. Strobe lights create a stop-motion effect. They can be potentially dangerous, and there is a fine line between putting on the ultimate light show or causing an outbreak of epileptic seizures. Even many strobe lights are now using the uber-efficient LED bulbs instead of incandescents. White is the most common strobe light available although there are other colours. The best way to stretch your dollar is to buy a white strobe light with several different coloured filters. The chart below offers a summary of the various types of LED disco lights, and it is designed to help buyers choose the right combination of lights.
| Type of LED Light | Description |
| --- | --- |
| Laser | Narrow, concentrated beams of light; animation and cluster lasers are most styles |
| LED Panel | Heavy duty, coloured plastic panel and LED light designed to light up at programmed intervals |
| Moving Head | Two axis motorised system with multiple lights; lights have maximum mobility |
| Scanner | Use mirrors to create patterns; images can move across the room |
| Strobe Light | Creates a freeze-frame effect; flashes at programmed intervals |
The best light shows incorporate several different styles of lights, but more is not always better. A few strategically placed lights in various hues can go a long way.
DMX Controllers
DMX controllers are devices used to control lighting effects. There are many software programs that can convert a laptop into a DMX controller. The simplest controller can program each light to flash on fixed intervals. More complex models have a tiny, built-in microphone that separates high, mid, and low frequencies and responds by syncing the flashing lights to the beats.
Transporting and Storing LED and Strobe Lights
When LED and strobe lights are not in use, it is best to have them stored in secured places. Owners should have a special carrying case for each fixture. Lighting bags and cases are typically padded, soft cases that have compartments for both the lights and the cables. Lights can also be stored in hard cases and bins. Since LED lights do not get hot like other bulbs, users do not need to wait for lights to cool; fixtures can be stored right after use. Disco lights should be stored in cool, low humidity environments when not in use.
Setting Up LED and Strobe Lights
Most LED and strobe lights are not free-standing entities; they require a lighting stand and a power source to operate. Lights used in permanent settings can be mounted to pre-existing structures and hardwired to a DMX controller or laptop. Portable DJs and musicians may have to set up and break down their lights for each show. Some LED and strobe lights can be mounted on poles and stands. DJs with certain types of deck stands can conveniently hold several lights.
Buying LED and Strobe Lights on eBay
Finding LED lights, strobe lights, and all the fixings on eBay is a cinch when you perform succinct keyword searches. For even more help limiting the scope of your results, check out eBay's Search Tips page.
Sorting Results
eBay is conveniently designed to let you customise your sorting options. For example, if you are looking to cut down on shipping costs, arrange results by distance from seller to see who is close enough for an in-person pickup. If you are looking for a used LED light, you can list all the used items first. You also have the option to arrange from highest to lowest price, new items first, and time left in auction.
Payment Methods
Before making a purchase, you must look at the listing to see the seller's payment preferences. There are four methods of payment to choose from. The first is PayPal, which most users and sellers prefer since it is both quick and secure. Other sellers accept debit and credit cards as payment. For people purchasing expensive items, such as vehicles, escrow may the best option. Finally, there are a handful of sellers that accept cheques, postal orders, and wire transfers, but that is not common procedure. For a complete list of advantages of each payment method, look at eBay's Choosing a Payment Method page.
Conclusion
No matter what you are using LED and strobe lights for, the key to a superior visual experience is variety of style and colours. If you feel moving heads are too expensive, consider buying scanners to achieve a similar effect. You should also have an assortment of lasers in several hues and patterns. Strobe lights, which were once only offered in white, are now sold with different coloured bulbs. For an even less expensive option, consider buying a strobe light with various coloured filters.
Sync the audio with the ultimate visual display by rigging your lights to a DMX controller. These controllers can separate various frequencies and have certain lights flash when theses frequencies are heard. If you are afraid of over stimulating the audience, program lights to flash with bass beats. LED lights used for portable gigs need to have the appropriate carrying cases to keep them safe during transport and storage. Knowing how to safely operate LED and strobe lights before setting up in a public setting makes it an enjoyable experience for both you and your spectators.