Model airplanes existed long before the Wright brothers flew the first real plane. The first known aircraft dates back to 200 BCE, based on a plane found in Egypt during an excavation in 1898. It was approximately 16 cm long with wings and aerodynamic properties that led historians to believe it was a glider. Modern craftsman have designed toy planes for adults and children for many decades, and many collectors enjoy adding these vintage planes to their collections.
Vintage Model Airline Planes

Although most people think of the Wright brothers and their impressive history when they think of early flight, commercial airlines have a long, impressive history, as well. Many hobbyists enjoy adding vintage model airliners to their collections. The first commercial aircraft flew in 1914, just before the start of the war. It was a Benoist XIV and only seated one passenger. It was not until the 1930s that larger aircraft began the multi-passenger commercial flight industry. After that time, toy models of the famed planes started appearing. Vintage Boeing 747s and Douglas DC-7 airliners are prime examples.
Vintage Model Aircraft Kits
Model airplane kits give children and adults an interactive way to learn about flight. This was as true many years ago as it still is in modern times. Vintage model aircraft kits come with the pieces to build miniature versions of the popular aircraft from the early years of flight. Examples include an Airfix Concorde model aircraft and a vintage balsa airplane kit. Enthusiasts of the planes flown during World War II can find a large selection, as well. Every set varies in difficulty, and paying attention to the product description is important. Some kits require the builder to paint the pieces, and the kits often do not include the paint supplies for that part of the project. Other kits come with pre-painted pieces. Collectors need to keep in mind that opening a vintage model airplane kit diminishes the value.
Flying Vintage Model Planes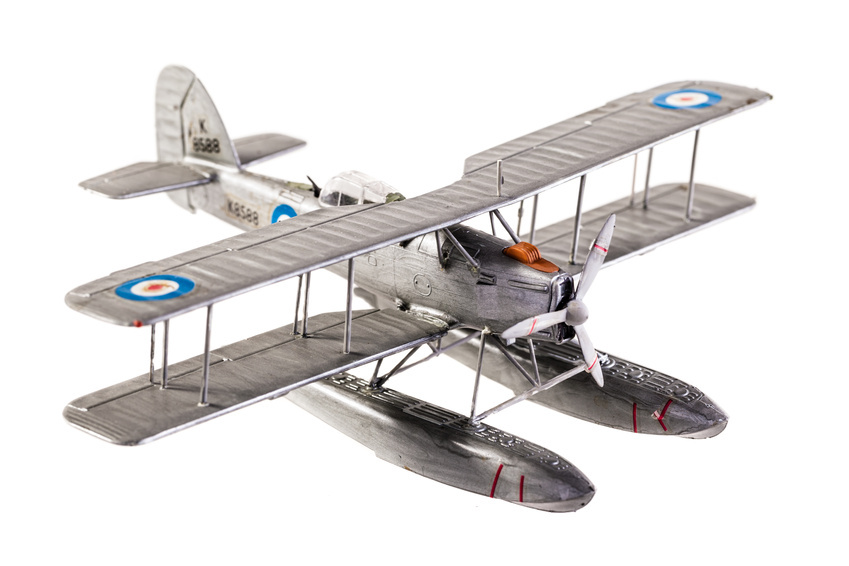 Collectors are not limited to static model planes. Flying aircraft models are available, complete with small, working engines that move the propellers. Shoppers can find complete model planes that are ready for display, or they can create their own planes with collections of old parts. Although the vintage models are not as sophisticated as modern models with GPS, remote controls, and auto-stabilisation technology, they are still fun to play with and make great collectables.