Sometimes, all you need is a splash of colour in a room to make it feel inviting and attractive and with wallpaper borders, you can get just that. These borders are strips of decorative paper that you can place around the ceiling, middle of the wall, or in a cove. They come in all kinds of styles, from sophisticated and elegant with gold scrolling, to fun and playful with cartoon characters.
Measure the Area
Rolls of wallpaper borders come in different lengths. To determine how many rolls are needed, measure the length of each wall, add them up, but be sure to subtract numbers for any windows or cabinets that would be in the way. Some wide wallpaper borders also may not fit in certain areas. Remember to get a little extra to overlap the ends of the wallpaper border together for a seamless look. It is also good to have extra on hand to fix any installation mistakes. Putting on wall borders can be tricky, and it sometimes takes a few tries.
Types of Wallpaper Borders

How you apply the wallpaper makes a big difference in what supplies you need, as well as how easy it is to remove later on. Self-adhesive borders easily come off by just pulling them off. A layer is left over on the wall and comes off with warm water and a glue remover. Installing this type is easy as well. Just remove the backing and stick onto the wall. Traditional wallpaper borders require a special wallpaper paste that you apply to the back. Another less extravagant option is wall border stickers. You can stick individual strips along a border rather than putting up a whole strip.
Children's Wallpaper Borders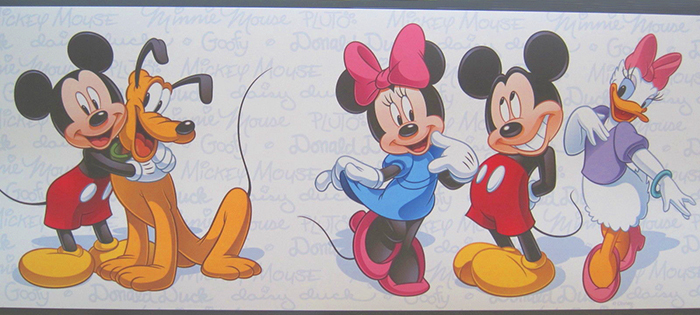 Using kid's wallpaper borders brightens up their living space and adds character to the room. Since children are short, consider putting the bedroom borders halfway up the wall and choose unisex colours like brown or green or designs like Winnie the Pooh wallpaper or one with animals or go gender specific like girl's wallpaper border that features princesses and fantasy creatures.
Decorative Wallpaper Borders
Anyone can bring sophistication into their home with intricate wallpaper borders framing the room. Place it along the ceiling under crown moulding, or paint the room two different colours and use the border as the centrepiece that divides the room.