False eyelashes can thicken and lengthen your eyelashes or act as statement accessories. Whether you want to enhance your eyes or create a splash with vibrant colours or glitzy designs, proper application is crucial. Choose a type of false eyelash that suits your needs and lifestyle, and know how to apply the eyelashes to your lids to ensure that they remain secure and blend with your natural lashes.
Types of False Eyelashes

Strip lashes mimic the length of natural lashes, but they are available in natural or glamorous designs. Pre-glued strip lashes come with adhesive bands for quick, easy application. Individual or flared lashes are bunches of false lashes that attach to your natural eyelashes for a unique, semi-permanent effect. Lash extensions offer the most natural look. Single false lashes attach to single natural lashes for increased length and thickness. This type of false eyelash lasts up to four weeks. Fashion lashes are strip lashes adorned with feathers, colours, glitter, and embellishments.
Choosing False Eyelashes
When choosing false eyelashes, decide whether you want a natural look or want to use your eyelashes to make a statement. For statement lashes, look for fashion lashes in interesting colours and textures, such as bright blue or green eyelashes or feather eyelashes. Lashes decorated with crystals add sparkle, but be careful when adding embellishments that could detach and enter your eyes. For a natural look, choose lashes that look realistic without being too dense or long. If your natural eyelashes are not black, consider brown lashes that better match your colouring. Lash strips do not create an unnatural line across the top of the lashes and are ideal for creating a natural effect.
Applying False Eyelashes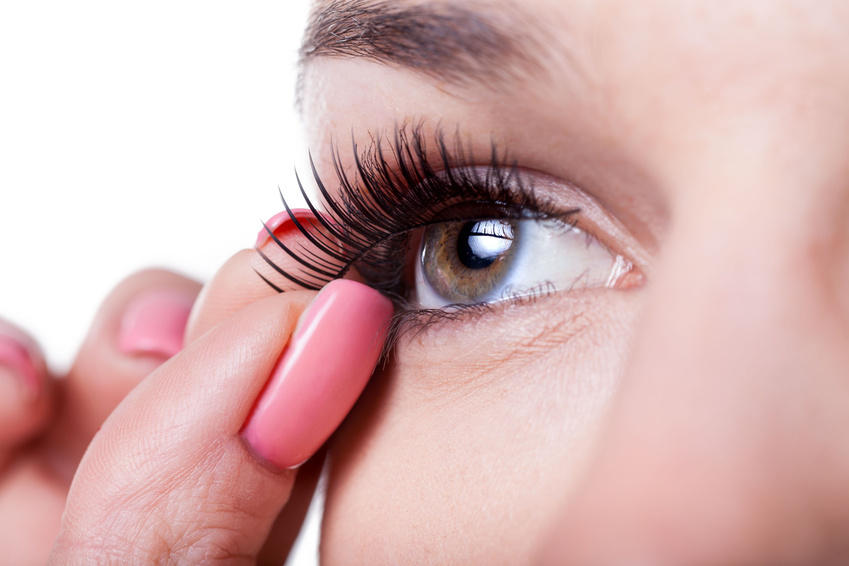 Always follow the manufacturer's instructions when applying false eyelashes. Prepare the lashes by gently bending them back and forth to soften them. This decreases the risk of the lashes detaching from your eyelid. Once the lashes are soft, check whether they fit neatly by placing them on top of your own lashes without applying glue. If they are too long, trim them to the desired length, taking care to trim both sets of lashes to the same length. Prepare your natural lashes by gently curling them using eyelash curlers. To apply the false eyelashes, paint the glue along their base using an orange stick. Use a conservative amount of glue; too much glue prevents the lashes from sitting against the eyelid. Use tweezers to drop the false lashes on your natural lashes and gently push them towards the lash line. Apply gentle pressure to the outer and inner corners to ensure that the false lashes stay in place. Once the lashes are in place, apply fine liquid eyeliner along the lash line and curl the lashes using eyelash curlers. Apply mascara to blend the false lashes into your own.