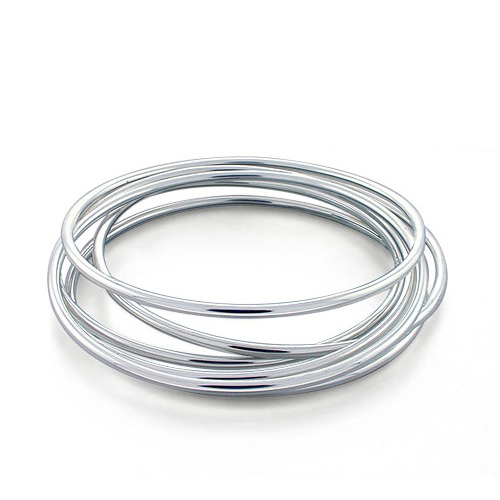 Documented in Egyptian culture as far back as 7,000 years ago, bracelets are an accessory that has long held a symbolic and decorative place in human culture. Bracelets can document and represent special moments in life or simply add a bit of colour and style to an outfit on a grey day. A recent trend that is once again transforming the bracelet is the rejuvenated practice of wearing stacked bracelets. These ornate and vibrant combinations of bracelets are catching on quickly, and many women may not be up to date on adding these pieces to their wardrobes.
Finding out a bit about how to wear stacked bracelets and the best bracelets to use for stacking can be a big help in deciphering this trend. It can also benefit those who are looking to capitalise on this trend to know the best retailers for finding and purchasing stacked bracelets. This typically includes local discount shops, department stores, and both novelty and fine jewellery stores. Alternatively, online marketplaces like eBay may have the distinct advantage when it comes to offering variety.
What Are Stacked Bracelets?
Stacked bracelets are not just one type of bracelet. In fact, the term 'stacked bracelet' can involve every sort of bracelet imaginable. Wearing stacked bracelets involves combining multiple styles and leveraging several different types of bracelets on one wrist or forearm in a 'stacked' fashion. This style of wearing multiple bracelets allows individuals to experiment with different textures and colours and is defined by a sense of whimsy and dynamism. Some women who wear stacked bracelets may wear just a few, while others may wear enough to cover most of the forearm.
Selecting the Best Bracelets for Stacking
Before assembling a stacked bracelet ensemble, those who are interested in this look might benefit from understanding which bracelets are most commonly used for stacking. Keep in mind, however, that the final selection is up to the wearer, and any type of bracelet can be added to the stack.
Bangles
Bangles are solid, circular bracelets that are typically one uniform piece that has to be slipped over the hand. Some bangles might feature a clasp that allows the wearer to snap it on at the wrist. Bangles come in an array of materials, from metal to plastic. Chunky, plastic bangles are a very popular choice for stacked bracelets.
Charm Bracelets
Charm bracelets are chain link metal bracelets with small, often symbolic, charms attached. Many individuals put a lot of effort into selecting and assembling charms for a charm bracelet, and they commemorate certain people, hobbies, interests, and events with these small decorative pieces. Multiple charm bracelets can be worn, but these bracelets are typically stacked with other types of bracelets.
Tennis Bracelets
Tennis bracelets, which are sometimes called in-line bracelets, are bracelets comprised of a series of linked gems. Tennis bracelets are most commonly made from some type of precious metal as the settings for the stones. Classic tennis bracelets feature diamonds, but today's tennis bracelets can involve more dynamically coloured gemstones or even fake coloured stones.
Magnetic Bracelets
A popular bracelet for many women today is the magnetic bracelet. The magnetic bracelet is believed by many people to deliver therapeutic benefits as well as aesthetic ones. Magnetic bracelets come in an array of metal tones, including copper, with the dark grey of hematite being particularly prevalent. Some magnetic bracelets leverage their magnets at the clasp, which makes them easy to slip on and off, but other bracelets may have a magnetic force in each link in the chain.
Statement Bracelets
Statement bracelets are typically large or ornate pieces that create a standout look. The emphasis of a statement bracelet might be in its size, or it might feature a particularly bold colour or decoration. Statement bracelets are often used in stacked looks to create a point of focus.
Cuffs
Cuffs are metal or leather bracelets that fit closely to the wrist or forearm. Metal cuffs usually have a narrow opening through which the wrist is inserted, while leather cuffs may feature a buckle or clasp. Cuffs are typically at least five centimetres wide and are a good way to create some volume in a bracelet stack.
Beaded Bracelets
Beaded bracelets are constructed from a series of linked beads that are most often circular and made from crystal or acrylic. Beaded bracelets can also be made with stones or precious and semi-precious gems.
How to Wear Stacked Bracelets
While wearing stacked bracelets has an impulsive feel to it, there are some guidelines that can be utilised to make sure the bracelets are on trend and you get the most out of the look.
Creating Contrast and Dynamics with Stacked Bracelets
The most essential part of wearing stacked bracelets is creating contrast and a dynamic look when selecting bracelets. Contrast is most often created via the texture and size of each bracelet. For example, a small beaded pearl bracelet might be worn next to a large, metal bangle with sharp angles. Contrast can also be created by wearing a series of cloth friendship bracelets in tandem with metals and leather. The great thing about wearing stacked bracelets is that it encourages experimentation, so women who want to wear this style can combine as many different items as they want in any number of styles.
Working Within a Colour Family
For those who want a more refined look, experimenting with bracelets in the same colour family can create a slightly more reserved feel when wearing stacked bracelets. For example, several thin bangles in shades of blue might be a good option for a woman who wants to look trendy without making a statement that is too outrageous. Approaching stacked bracelets in this way allows an individual to work the trend without coming across as too bold.
Controlling the Noise Factor
Of course, wearing several bracelets at once can cause a woman to jingle and jangle on every step, and this can cause distractions at work or just make a woman feel like she's on display in the wrong way. Friendship bracelets are a good option for counteracting the noise factor of stacked bracelets. These close-fitting bracelets are typically made from cloth, twine, or other soft materials and can be worn between metal and plastic bracelets to minimise the clanging. Alternatively, a woman might wear cloth bracelets exclusively and create her stacked look with these colourful choices alone.
Utilising Colour as an Accent
A good technique to use when stacking bracelets is to leverage a majority of bracelets in neutral metal tones, such as silver, yellow gold, or copper, and then use one large and brightly coloured bracelet as a statement piece within the set. This creates a dynamic look that is nonetheless a bit more refined than many stacked looks. A series of metal bangles and chain link bracelets could be worn with a statement bracelet in pink thrown in near the wrist.
Wearing Stacked Bracelets in Professional Settings
Individuals who want to wear stacked bracelets at work and in other professional settings have a few options before them. They can stick to a handful of thin, close-fitting bracelets, such as tennis bracelets and small bangles, to make a stacked bracelet look more polished, or they might consider using a nice watch in the stack along with a few narrow cuffs. In general, professional women should focus on thinner bracelets. Controlling the size of each piece is the best way to make sure stacked bracelets do not look too over the top.
Shopping for Stacked Bracelets
Consumers who are looking for the best options for finding and purchasing stacked bracelets can consider looking through some traditional brick and mortar shops. Discount stores, department stores, and fashion boutiques may have a bracelet selection, but it is typically limited by seasonal trends. Online sites like eBay typically have a much more diverse array of bracelets available for purchase.
Buying Stacked Bracelets on eBay
To begin the purchasing process on eBay, you can utilise the search bar found on any page on the site. This search interface allows you to plug in a keyword phrase and instantly begin looking through bracelet options. A general keyword term, such as 'bracelet', gives you an overview of the range of styles that are available, while a narrower search term, such as 'beaded bracelet', gives you more refined search results. eBay also makes related search suggestions that can further enhance your search experience.
Getting to Know the Sellers on eBay
Once you start looking at listings in detail, take a moment to vet the sellers associated with the listings you find most appealing. Click on the seller's name to review his or her page with past auction and feedback information. You can review this feedback from other customers to get a feel for the reliability of the seller. This process helps you feel confident that a vendor is offering quality products at fair prices through eBay.
Conclusion
Wearing stacked bracelets is an exciting trend that is bringing a lot of dynamism to women's daily ensembles. This unique style choice, which involves combining an array of bracelets in a variety of ways, can be worn in many settings, including at the office. When shopping for stacked bracelets, it can benefit women to have a thorough understanding of the style and some of the bracelets that are often used for this trend.
Once armed with this information, anyone looking for stacked bracelets can shop around at traditional retail shops, or they can leverage the much more comprehensive catalogue of items on the eBay site. On eBay, consumers can run a simple search to begin shopping immediately. With thousands of listings related to bracelets on the site, accessing what they need to create a dynamic stacked look is quick and easy. By just taking a moment to get to know a seller before completing the purchasing process, anyone can leverage eBay to compile a stacked bracelet combination that makes a real fashion statement.