The 3rd generation iPod Shuffle, manufactured from March 2009 to September 2010, is compact and extremely lightweight. Third generation iPod Shuffles are available on eBay, and you should learn about this iPod model's features and specifications and know how to evaluate the units on offer before you buy.
Third Generation iPod Shuffle Specifications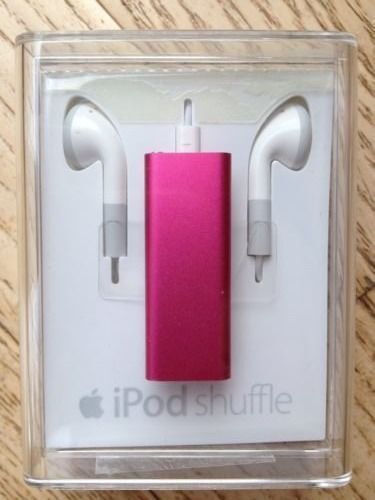 The 3rd generation iPod Shuffle measures 45.2 by 17.5 by 7.8 millimetres. The anodised aluminium model weighs only 10.7 grams, and the polished stainless steel versions weigh 17.2 grams. External controls consist of Shuffle, Play in Order, and Turn Off. It has a 3.5-millimetre stereo headphone jack. This iPod comes in 2 GB and 4 GB flash drive capacities and holds up to 500 or 1,000 128-kilobytes per second ACC format songs. The integrated lithium-polymer battery has a playback time of up to 10 hours, and you can fully charge the player via USB or power adapter within 3 hours. The power adapter does not come included, but you can buy it separately. It supports numerous audio formats, including Protected AAC, MP3, Audible, Apple Lossless, and WAV.
Third Generation iPod Shuffle Features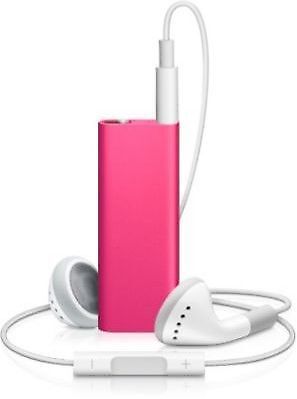 The 3rd generation iPod Shuffle comes with VoiceOver cues in a variety of languages and offers improved support for listening to audiobooks and podcasts. The control switch is on the top edge of the player, and you control addition features such as volume and playback using a remote control on the iPod Shuffle headphones. Several third party manufacturers also offer headphones with integrated iPod remotes, so you can upgrade or replace your headphones. This is purely a digital audio player, and it does not include additional features such as voice recording, FM radio, or photo or video playback. The player does not have a screen, so the VoiceOver feature lets you know the name of the artist and song title at the press of a button. You can also synchronise and navigate between playlists and files using the headphone remote and VoiceOver function.
Evaluating Third Generation iPod Shuffles
Subsequent iPod Shuffle generations have replaced the 3rd generation iPod Shuffle, so most available units are in refurbished or used condition. When buying a 3rd generation iPod Shuffle, ask the seller whether the device has suffered water damage and ensure that it switches on without problems. Replacement iPod batteries are readily available, so battery problems are simple to solve. Remember to factor the cost of a new battery into the buying price. Check for signs of damage or wear and tear. Cosmetic flaws may not affect operation, but it could indicate that the previous owner did not take good care of the device. Ensure that the iPod Shuffle comes with the basic accessories, such as the USB cable and headphones, and ask the seller about any extras included in the selling price.