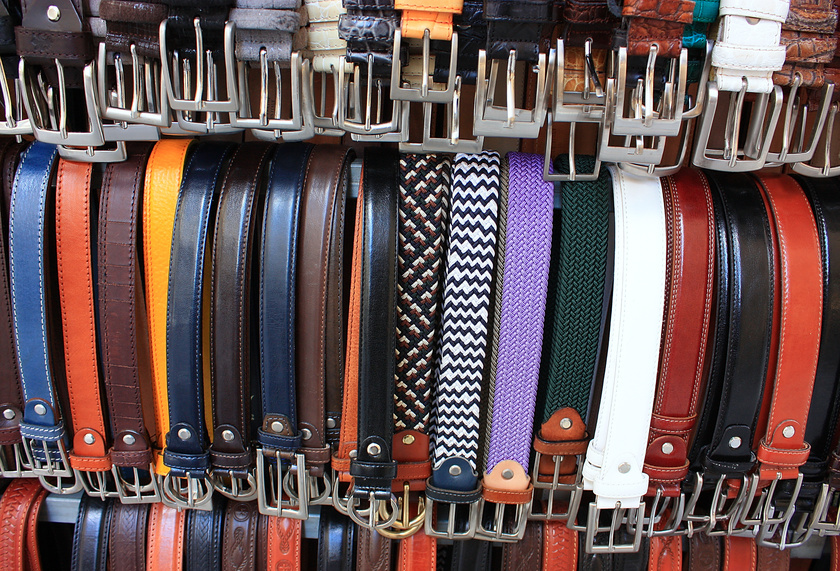 The term "leather belt" can be very misleading. It can be used to describe many different types of belts that vary in quality and price. All these belts look like a simple strip of leather with a buckle, but conceptual differences abound in their manufacturing process. Depending on the exact material, a leather belt can exhibit different levels of strength, durability and flexibility.
Synthetic Leather Belt

The synthetic leather or faux leather belt contains no leather at all. It is made out of polymer that gives the appearance and feel of leather. Their manufacture is very easy, which makes them highly affordable and accessible in all sorts of colours, designs, and patterns. Faux leather belts are a good choice for those who wish to swap different belts with their wardrobe. They are not very durable, but if you do not use them often, they can last for years.
Bonded Leather Belt
Bonded leather belts represent the most affordable real leather option on the market. These belts are created by pressing together leather waste scraps. The small leather fibres are glued together and treated to look like a single piece of leather. Very cost-efficient, the process results in a cheap alternative to genuine leather belts.
Genuine Leather Belt
Genuine leather belts contain higher-grade leather. They may still have layers of leather scraps, but only as a fill in the middle. The outer layers are top-grain leather, which increases its strength and durability. This type of belt is considerably cheaper compared to one made solely out of top-grain leather. With a little maintenance, a real leather belt can serve its purpose for a very long time.
Full Grain Leather Belt
The highest-grade leather belt, full grain leather belts are constructed out of top-grain leather, found only on the top layers of the animal's skin. This layer may contain blemishes, but that only adds to the belt's charm. In terms of durability, flexibility and strength, a full grain belt is unmatched. However, one can cost as much as several bounded leather belts. Full grain belts are a good choice for those who prioritise quality over quantity.
Formal or Casual

Leather belts are an essential part of men's formal clothing, and a few rules apply to choosing an appropriate one. The chosen men's formal belt should be same colour, contrast, hue, and tone as the shoes. In addition, it should measure between 3 and 4.5 cm wide and 3 mm thick. Men's casual belts are not that constrictive and do not need to be leather at all. Still, many casual leather belts can be an interesting addition to your wardrobe.