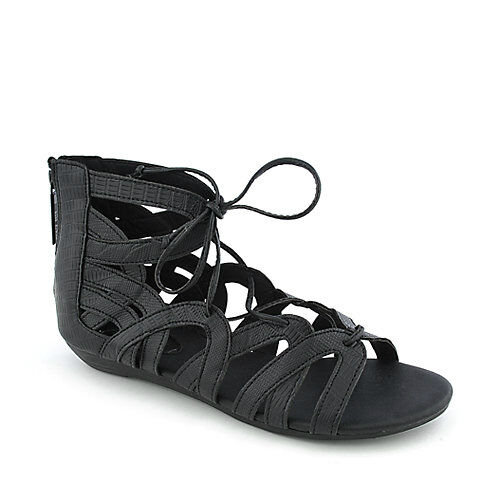 A common trend that has become increasingly popular is gladiator sandals. These are shoes that have a traditional look similar to those worn by ancient Romans. What makes them so unique are the different styles and their use of straps to support the heel. This increases comfort and provides a sense of elegance. However, depending on the shape of the leg, choosing the right pair of gladiator sandals can be tricky. This is because there are different manufacturers who are selling them at varying prices. These items can be purchased at numerous high street and online locations. The type, quality and price can affect the durability as well as look of the shoes. To leave the best impression requires understanding these realities when purchasing them. When searching for any kind of gladiator sandals consumers must consider a number of factors. This guide describes four aspects that must be carefully examined during the process.
The Different Types of Gladiator Sandals
Gladiator shoes and sandals are low cut and have an open front. This allows women to wear them at informal or elegant events. Moreover, the straps come around to connect with a single larger band on the back. This moves up the heel, to provide added support in the area of the Achilles tendon. These kinds of sandals have become popular with many different consumer demographics. This is because they are worn in a number of situations and offer flexibility regarding fashion choices.
Gladiator boots look like something that came out of movie set. They are open-heeled shoes which can move all the way up to the mid-calf or knee. Their unique features are the straps and back support which fit comfortably against the body, which helps the wearer to feel more relaxed. Like with the low-cut shoe, these can be worn in both formal and informal settings. For a lot of women, the type that is selected depends upon their personal tastes and comfort levels.
Matching the Gladiator Sandals and the Woman
The length and physical appearance of the wearer's legs has an impact on the type of sandal that is chosen. For women that have short and full legs, they should likely choose something that complements their body features. The best shoe is one that is more of a low cut and matches the pigmentation of the skin. Those who want to be a little bolder can try a gladiator boot that goes up to the mid-calf. The key is to select darker and more conservative colours in the process. This can help to show a sense of elegance without making an obvious attempt to draw attention. Allowing the wearer to exude a sense of confidence and style.
Those individuals who have slim or long legs should consider a different approach when it comes to gladiator sandal selection. This means choosing something that could go from the ankle to knee. The colour selection likely leans toward something more conservative, in order to avoid overwhelming the sense with something that is too bold or does not match many different outfits. A thin strap that bisects the foot in the centre creates a vertical line that has long silhouette running down the middle.
Gladiator Shoes Sizing
When purchasing shoes be sure to know your true size. Select manufacturers have their own sizing conventions so if you are unsure of your size, ask to try it on or ask the seller for the specific width and length dimensions. If the sandals have a heel to them you can ask the seller if there is arch support or if it is flat.
Outfits that Complement Gladiator Sandals
When purchasing any kind of gladiator sandals it can be important to plan ahead by choosing outfits to match. Long or short skirts, shorts, and even dresses can match gladiator sandals without overwhelming the outfit.
Further, the body type has an impact on the kind of sandals that are worn. There are certain outfits that enhance these sandals. For example, someone with a larger build may want to choose jeans, shorts or skirts that are worn with a low to medium cut shoe so they do not draw negative attention. Their colour selection should focus on something that is darker since darker colours are often slimming. Further, dark colours are rumored to enhance the physical features of the body and highlight a sense of style.
Someone with a more petite figure can wear different styles and colours provided that they are not too provocative and draw negative attention. The goal of coordinating gladiator sandals with an outfit is to have fashionable flair without directly drawing attention. The ideal approach is to use something that can enhance the physical features. For instance, women with skinny or muscular legs want to wear a gladiator sandal that is low cut or boot to accentuate their tone and definition. The colour selection is something that can match the outfit. This helps enhance the physical characteristics of her body and show that she has a sense of elegance. During the process of shopping for these kinds of shoes, these factors need to be taken into account.
The Price of Gladiator Sandals
There are many different manufacturers selling gladiator sandals and prices vary. To find the best quality without overpaying requires looking at how it is designed. Gladiator shoes that are glued rather than stitched together are usually less expensive. However, sandals that are stitched together are more costly to manufacture so the consumer should expect to pay more. Examining the straps, the quality of the leather, buckles, thickness, and height of the heel all help determine the quality. The best brands usually offer a product that is easy to put on and take off.
For example, when choosing a pair of gladiator sandals on eBay the person should study the price. Then, look at the thickness of the straps, the colour and if the buckles are easy to put on or take off. This helps consumers to determine if the product is something that meet consumer requirements. Moreover, there should be an emphasis on the quality of leather and the manufacturer. This provides insight that assists the individual in determining if the product is a good value.
As a result, prices vary from one manufacturer to the next. The key is looking at how the shoe is designed and deciding if this is this something that can meet the individual's objectives. When this happens, the person can select a brand that is in line with their requirements for quality, style and affordability. In the future, this ensures that they can accessorise and have something which can be worn on different occasions.
How to Find Gladiator Sandals on eBay
eBay has a wide selection of gladiator sandals to choose from. For example, while shopping you are able to select different types of leather including: synthetic, canvas, snakeskin, or suede. At the same time, there are an assortment of brands, colours and prices. These screens can be used to select different features in accordance with individual preferences. If you search for "Gladiator sandals" you might see thousands of options returned on the next page. However, if you are more specific in your search and type something such as "size 5 pink gladiator sandal" you should see fewer results.
Seller Feedback
However, before making a purchase be sure to check the seller's ratings. Also, it is advisable to study their refund policy. This simplifies exchanges in the event that the product does not meet certain specifications. For situation where the return policy is difficult to find, it is advisable to contact the seller directly to find out their procedures. Communication reduces any confusion and ensure that the product meets the predetermined requirements. The information for the seller can be found by going to their profile and clicking on the contact link. If this approach is utilised, the process of locating and selecting your new pair of gladiator sandals is often easier.
Conclusion
Finding the right kind of gladiator sandals can be challenging due to the various types, colours, features and prices. Moreover, the style must reflect both personal tastes and the events it is worn at. Wearing appropriate shoes involves knowing the various designs, compare it with their physical features, the outfits they will be wearing with the shoes and costs. Those who take these factors into account can find the right pair for them that matches both their sense of style and decorum.
Whether purchasing shoes at a local high street shop or on eBay be sure to buy something that you believe will last a while and be relevant for more than just one event. Buy the shoe in a size that fits your foot, not one you need to squeeze into. Lastly, if you are unsure about the fit you can ask the seller to provide the dimensions of the shoe and compare it to the dimensions of your foot. Gladiator sandals are statement pieces that, when worn properly, elevates the ensemble.