As a leading retailer of cordless phones in the UK for the past 10 years, we have accrued a wealth of knowledge that has helped our customers to make informed decisions before purchasing. This guide is a culmination of our experience and offers impartial advice on how to buy the right
cordless phone
.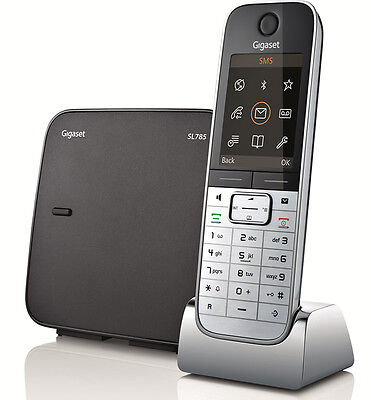 What to consider first?
Answering machine vs. Non-answering machine?
Unfortunately for those not interested in having a cordless phone with an integrated answering machine, most current models now come with one as standard. Those without are still available but tend to be at the budget end of the price scale; therefore, if you're looking for a high-specification model that doesn't feature a digital answer machine then you are likely to have to compromise. If you prefer non-answering machine models purely for aesthetic reasons then you could opt for a model that has a separate base station, such as the Siemens Gigaset SL785 (pictured) or the
Panasonic KX-TG 8622
; by doing so you will be able to keep the base hidden away.
It is also worth noting some of the benefits an in-built answering machine can bring: better record quality, more flexible playback, call screening, and even notification of new messages via SMS. And on most models it can be switched off if you prefer to use the 1571 service (or not receive voicemails at all).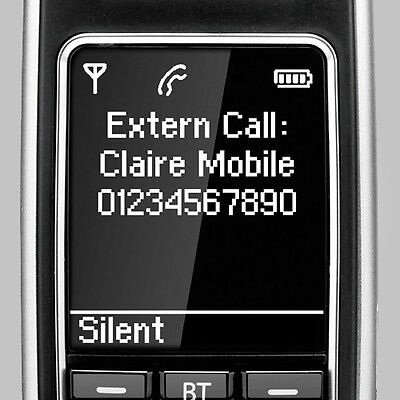 Caller ID itself is not a function of any cordless phone; it is a service provided by your network for which there is sometimes a subscription charge. All modern cordless phones are Caller ID enabled (some of the more advanced models feature additional services, such as Picture Caller ID or Talking Caller ID) so if you see the name and/or number of incoming callers on your current or previous phone then you will be able to do so on any new phone you buy. If you are in any doubt over whether or not you have Caller ID, simply contact your line provider for further details.
The ability to transfer calls can be extremely useful when using multiple cordless handsets in a large home or office, as is the intercom function (facility to make internal calls), which can be used to put callers on hold so you can speak to the person you are about to transfer the call to. This feature is available on all modern DECT phone sets with more than one handset so should not factor into your decision making; if you don't see this feature listed or mentioned anywhere in the product description, double check with ourselves and/or the manufacturer to confirm.
Whilst there is some truth in the saying 'you get what you pay for' when it comes to cordless phone range (with more expensive models typically making better use of their output power for a stronger signal) most DECT phones provide roughly the same coverage and the maximum you'll get whether you purchase an economy priced budget model or exorbitantly expensive top-range phone is always going to be up to 50 meters indoors, 300 meters outdoors.

Therefore, if range is an important factor when coming to your decision, opting for a more expensive model is no guarantee of better range. However, there are a number of
Long Range bundles available
that include a DECT repeater, which is a unit you plug into the mains power and can double the range from the base. Our advice would be to pick your phone first, then look for the long range bundle (if you can't find it or the phone you like isn't listed with a repeater, let us know and we can arrange it for you). It's also worth bearing in mind that if you're unsure whether you'll need a repeater, it is something that can be purchased separately and added at a later date.
Most digital cordless phones have a capacity for a total of up to 4 or 6 handsets so it is worthwhile balancing your needs for a certain number of handsets with a preference for quality or style; as it is quite possible to pick up a low-cost set with 4 handsets for roughly the same price as a higher-specification single cordless phone with an answer machine. It's also worth noting that many
additional handsets
are available to purchase separately, so can be added at a later date...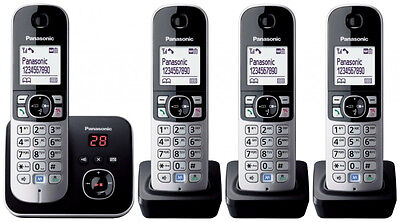 It is certainly worthwhile considering the reputation of the various manufacturers of cordless phones before ordering, and one the best ways to do this is by reading customer reviews. Unlike retailers (even honest ones like ourselves) that sell the products, individuals who have actually purchased are more likely to be unbiased and have felt compelled to say something about their product because it is good or bad. And whilst one individuals opinion may differ from another, if you take the time to read a few different reviews and cross-reference with other independent consumer forums (such as Which?) then it can give you greater confidence when purchasing. Our top 3 recommendations, based on years of customer reviews and our own use of their products, are for: BT, Gigaset, and Panasonic. But do your own research and find out what's right for you!
Price range
Deciding how much to spend can help narrow down the sheer volume of choice, and enable you find the best deal. We outline what you should expect to pay, and the difference between lower cost models in terms of value for money, quality, and features.
Budget (Single: £10-30, Twin: £30-50, Trio: £40-65)
Cheap and cheerful, a budget cordless phone is ideal for anyone who doesn't use their landline very often and just wants basic functionality. Most feature a mono display, a phonebook, and dependable battery life. And just because you're paying a lower price doesn't necessarily mean you have to lower your expectations (at least when it comes to sound quality) as there are a number of excellent choices available. Panasonic is one of the best manufacturers of cordless phones, and their
budget models
represent excellent value for money.
Mid-range (Single: £30-£70, Twin: £50-100, Trio: £65-£150)
With mid-range phones there tends to be a little more emphasis on design/style; most feature a colour screen and benefit from some advanced functionality (such as call blocking, room monitoring, Bluetooth, and even data synchronisation) that you would be unlikely to see in most of the budget models. The competition within this price range is quite stiff, which is good news for consumers as it means that there are plenty of bargains to be sought out. Purely for reliability, the German made
Gigaset cordless phones
would be our stand-out recommendation in this price range. You may not get as many features as a similarly priced model from Panasonic or BT, but all Gigaset phones come with a 2-year warranty and offer dependably high-quality sound as a result of HSP technology.
Top-range (Single: £70>, Twin:£100>, Trio: £150>)
For those looking for something a bit more special, there are a number of high-class models on offer. From Gigaset's state-of-the-art touchscreen
SL910A
encased in genuine metal to BT's
Home Smartphone
that runs on Android, these are more than just landline phones. Whilst there is not always much difference in terms of features (1,000 contacts rather than the 500 you would get for a phone half the price...) the reason for their higher price is down to production costs (design, quality materials, and expensive components), which is noticeable when you come to actually hold the handset. For those with expensive tastes and money burning a hole in their pockets, it's difficult to go wrong when choosing from the crème de la crème of the cordless phone world...
Cordless phone features
Basing your decision on what cordless phone to purchase by comparing features can be problematic with so little difference between model to model, and even between different manufacturers. Here we run through some of the more unique features that certain phones offer that set them apart from other models: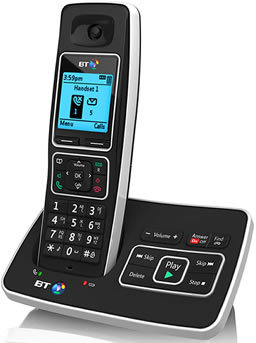 If you are persistently pestered by nuisance sales calls and it's time to buy a new cordless phone, why not think about selecting one with the facility to block them? BT recently released a whole range of new cordless phones with the facility to block incoming calls from withheld and international numbers. The
BT 6500
has been getting some great reviews not just for its call blocking abilities, but also for sound and ease-of-use.
If you're interested in call blocking, but not won over by BT's range, most mid-range Panasonic phones incorporate a call barring feature, which enables you to prevent calls from up to 30 stored numbers. And numerous Gigaset phones benefit from anonymous call silencing, and time control (which enables you to silence the ringer for all but your VIP contacts at certain times of the day or night) for a more peaceful home environment.
Big buttons/large display
For those struggling with sight and/or dexterity problems, the design of a lot of modern phones can be problematic when buttons are made small and neater for aesthetic purposes. And it can be difficult to tell from simply looking at a picture whether or not a particular handset will be suitable. Luckily there are a number of high-quality models available, ranging in price, and from a number of different manufacturers that have been tailored to meet the demand for cordless phones with larger buttons. Take a look at the:
BT 4500
,
BT Freestye 710
,
Doro Comfort 1010
, or the
Gigaset E500A
.
For those with home workshops, garages, green fingers, little fingers, old fingers, or simply careless fingers...choosing a robust DECT phone might be a sensible choice. Built to withstand rigorous everyday use, these models offer long-term durability. There are only a handful of models to choose from, which should make it easier for you to decide whether or not this is what you're after. Our vote is for the
Siemens Gigaset E495
, due to the consistently high customer reviews and positive feedback we have received since its release. For comparison, you can also have a look at the
BT Elements
, and the new
Siemens Gigaset E630A
.
For those with friends or relatives abroad, why not enjoy the benefit of cheaper calls via Skype on your landline phone with one of the dualphones from
RTX
. The base simply plugs into your phone line and your router/modem so you have the flexibility to make and receive calls on your analogue line as well as Skype. Extremely easy to set up and use.
If you buy any set of cordless phones that comes with more than one handset, then you should be able to transfer contacts from one handset to another when the phonebook has been updated. However, some models offer advanced phonebook settings, which offer greater convenience for managing a high number of contacts. Most of Gigaset's higher specification models, such as the S795, S810A, and SL400A etc. provide the facility to synchronise the address book on your phone with contacts on your PC or laptop and/or have Bluetooth functionality, which can also be used to transfer contacts quickly and easily. There are also a couple of models available that benefit from having a shared phonebook, which means that anytime you update the contact details on one handset the others are automatically updated as well; the Panasonic KX-TG8563 and the BT Aura 1500 both have this feature.
Conclusion
With so much choice available nowadays it pays to take a little time before purchasing so that you can make an informed decision and get the right product for you; and hope that if you have taken the time to read this guide then you will be better placed to do so.