In this guide I will teach you how to use YuGiOh cards and how to distinguish the difference between different YuGiOh sets and the different card rarities. I have learnt this from my experience as a yugioh card dealer on ebay so I decided to write this guide to teach people the difference.
The diagram below shows the different parts of the card and what they do.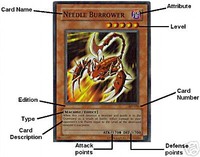 More Information
Card Number - the card number consists of a 3 digit letter code and the letter of the country of produce e.g. -E = England, -G = Germany, without a letter = US/Canada. The first three letters are an abbreviation of the card set the card is from e.g. MFC = Magicians Force, AST = Ancient Sanctuary, MRD = Metal Raiders.
Edition - There are three different types of edition in YuGiOh cards: LIMITED EDITION = mainly holofoil cards that appear at the beginning of an edition, 1st Edition, and Unlimited Edition = cards that do not have "1st Edition" on the card. Unlimited cards are made in large numbers so therefore are more common and tend to have a lower market value.
Rarity Information
Common - non holofoil
Short Print - non holofoil cards but not as widespread as common cards
Rare - non holofoil cards with a shiny silver card name
Ultra Rare - Holofoil card with a shiny gold card name
Super Rare - Holofoil card but without a shiny card name
Secret Rare - Holofoil card (with faint diagonal lines across picture) with a shiny silver card name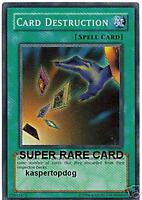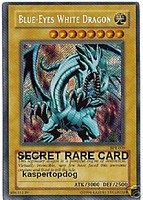 Thank you for reading my guide and I hope it was useful for you.
If you found this guide helpful please click on the tab below.