Please Note: This guide is only my recomendation of what you should look out for when buying a zippo lighter to avoid the fake chinese zippo's among others that are flooding ebay at the moment !! and is in no way meant to be disrespectful to other Genuine zippo sellers on ebay or otherwise. Thank you. alzjnr1
Hi.. My name is Alan and i have been an ebay member for 5 years and a zippo collector for 3 of those years so welcome to my simple guide to buying or collecting zippo lighters for the beginner...
If you are looking for good quality lighter that comes with a manufacturer's full lifetime warranty then you need look no further than a zippo or if you are just starting out wishing to collect zippo lighters as a hobby then you will be joining over 4 million other collectors worldwide.. (me being one of them)
Ok here is 10 things you can look out for when buying a genuine zippo lighter..
1. All standard inc' the slim every day use zippo lighters use lighter fuel "petrol" and not "butane gas" (except the multi purpose indoor /outdoor zippo lighter that is used for lighting stoves' camp fires' cookers' etc' etc')
2. All zippo lighters are now made in bradford. pa. usa.. and come unfilled when you first purchase them (some people think they come with fuel already) they also have a free lifetime (Mechanical) repair warranty so if it breaks zippo will fix it for free. Not all zippo's have the orange safety seal on the back of the lighter (safety seal is dependant on the country of release) so if you buy a zippo that do'es not have a safety seal on the back that does'nt mean it's not new or it's a fake !! As some people actually remove the seal as it can sometimes damage the finish on the zippo (especially brass) if it is left on for too long (collectors already know this anyway and some choose to keep the seal on the lighter for different reasons ie: increased value' etc' )
3. All zippo lighters made have a date code on the bottom and on the insert (date lighter was made ie: the month and the year..) And from 2001 zippo changed the way on which they dated All zippo's The month is on the left hand side (from A to L) ie: A = january B = february C = march etc' etc' and the year (from 01 to 10) on the right hand side ie: 01' 02 03' 04' All zippo's released between the year 1986 and the year 2000 have the date code in roman numerals.. Zippo's made between 1966 -1986 have a series of slash marks to determine the date of issue (see below)
4. Not all zippo designs are released worldwide (hence the collectable side of things)
5. Every zippo lighter is windproof and comes complete with a lifetime guarantee and filling your zippo instructions as standard.. So remember if it does'nt have the bottom stamp and the distinctive "zippo click" when you close the lid then it's not a genuine zippo and should your zippo ever need to be repaired and it's not 100% Genuine then Zippo will return it to you
6. If collecting zippo lighters you need to make sure the item is genuine and not a fake ?? see above (date codes) as the most copied zippo is the military themed one's supposedly dating from the VIETNAM war era' (more zippo's there than actual u.s. soldiers ??) but that's not to say that they are all fakes you just need to very careful .. The same thing applies to cheap chinese copies !! (most fake chinese scam auctions are either low price "buy it now" items with high shipping costs and using stolen listings and pictures !!) Or very low priced auctions (way below the zippo wholesale price not the retail price ??) and you need to wait upto 4 weeks for delivery of your item and by that time the seller has gone NARU and you can say goodbye to your cash as the neg's roll in.. So if you are in any doubt about the item you are thinking of buying then please ask the seller for more information on the item (mainly the date codes) if it does'nt say zippo on the bottom and the insert it's not a genuine zippo and then you can make up your own mind. (Remember check the sellers registered location and the item's location ??) as you will find the registered location and the items locations can be the biggest give away that your item will be a fake when it comes to vietnam and cheap chinese zippo's !! Also look out for private feedback or private auctions to hide the neg's
7. Zippo sometimes release limited edition themed lighters throughout the world with only a certain amount being released ie: only 3000 consecutively # pieces or in some cases the release is limited to a certain country (even more collectable) Collectable zippo's
8. There have been over 400 million zippo lighters produced since 1932 and currently there are over 4 million collectors worldwide so if you want to start a collection then choose a theme you would like As there are loads to choose from ie: advertising zippo' football' baseball' playboy' elvis' jack daniels' jim beam' etc' etc'
9. A new unused zippo should have a white wick and no black marks underneath the lid and will not smell of petrol.. Nor will the insert feel loose and remember the catalogue picture is not always the same colour as the actual lighter you will receive as there may be a slight colour variation...
10. Here Is Some Bottom Stamp Date Codes for All Standard Size Zippo's From 1966 to 2010.
1966 left side llll right side llll 1967 left side llll right side lll
1968 left side lll right side lll 1969 left side lll right side ll
1970 left side ll right side ll 1971 left side ll right side l
1972 left side l right side l 1973 left side l right side (blank)
1974 left side //// right side //// 1975 left side //// right side ///
1976 left side /// right side /// 1977 left side /// right side //
1978 left side // right side // 1979 left side / right side // (or date code error left // right / )
1980 left side / right side / 1981 left side / right side (blank)
1982 left side \\\\ right side \\\\ 1983 left side \\\\ right side \\\
1984 left side \\\ right side \\\ 1985 left side \\\ right side \\
1986 left side \\ right side \\ or 1986 left side G-L right side ll
1987 left side A to L right side lll 1988 A to L right side lV
1989 left side A to L right side V 1990 left side A to L right side Vl
1991 left side A to L right side Vll 1992 left side A to L right side Vlll
1993 left side A to L right side lX 1994 left side A to L right side X
1995 left side A to L right side Xl 1996 left side A to L right side Xll
1997 left side A to L right side Xlll 1998 left side A to L right side XlV
1999 left side A to L right side XV 2000 left side A to L right side XVl
2001 to 2010 left side A to L right side 01 - 10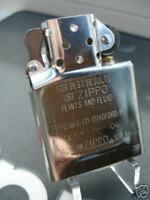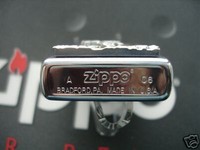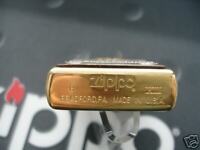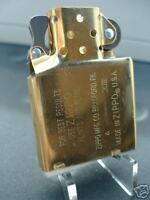 And remember ebay is a great place to buy or start your zippo collection and 99% of all sellers are honest and genuine so Thank you for taking the time to read my guide and i do hope it helps you in some way when you choose to buy a zippo lighter or start you collection..... Thank you alzjnr1
Update 29/09/06 Zippo bradford PA are laying off 121 workers due the massive increase in cheap fake zippo's hitting their business :-((