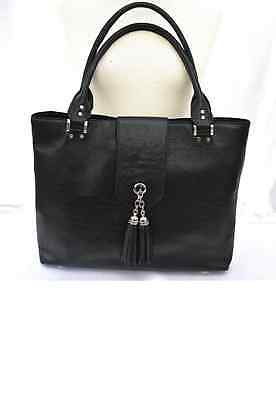 I am a self confessed shopaholic and one of my favorite hobbies is shopping for a new bag. Here are a few tips to help you chose a handbag for work that will last you a few years. I would like to share these with you after I discovered ebay buyer guides thanks to bzzagent!
1. Chose a chic and classic design. Something like a tote bag which is elegant and functional. Try to avoid 'fashion' handbags as these will look outdated the following season.
2. Size matters: keep in mind what kind of things you need to carry to wok. if its A4 documents or a tablet then make sure you chose a bag with that capacity. Handbags with a slightly rigid structure will make it easier to retrieve your items as will a bag with a wide neck.
3. Colours: my favourite has to be black, as it will match with most outfits and looks smart and elegant. Other options include brown or tan. I would suggest sticking with a darker colour as these are easier to maintain.
4. Fabric: If you can spend a little more i would recommend leather as this a durable fabric. I would avoid suede or material bags as these are a nightmare to keep clean
5. Do your research: make sure you check all seams, any zips, the lining material and the base of the bag. In addition pay attention to the handles as this is the part which will be prone to most wear and tear.
All in all I would try to spend a little more on my work bag as it will last a.few years and will stay looking good too. Happy shopping