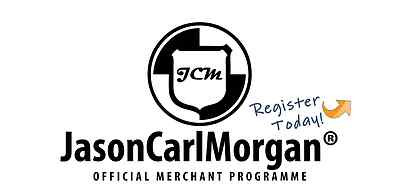 Official JasonCarlMorgan® Merchant Programme
This guide refers to the Official JasonCarlMorgan® Merchant Programme for which anyone with an eBay Account can Apply to Become a Merchant Seller and earn a Guaranteed 40% Commission selling over 10,000 Official JasonCarlMorgan® Products.
Frequently Asked Questions?
Is it free to join and what can I earn?
It's free to join, and we pay a 40% gross commission from every sale you refer through our program. We can help build both your eBay Seller Account and Feedback Score helping you to grow your business quickly at eBay.
How many products do you have and how are they distributed?
You get access to over 10,000 products exclusively manufactured and distributed by our company worldwide and a personally assigned Merchant Account Manager to help you along the way.
Who are you and what sort of products do you manufacture?
JasonCarlMorgan® is a trading name and registered trademark of Jason Carl Morgan Limited. We are based in the United Kingdom and our company designs, manufactures and distributes novelty products such as Car Stickers, Wall Stickers, Key Rings, Iron On Transfers, Craft Supplies and more under the trademarked JasonCarlMorgan® Brand. Our company manufacturers every product in-house and fulfills customer orders from it's third-party affliates directly from our fulfillment center based in the United Kingdom to thousands of customer's worldwide.
Where can I see the products that I would be selling?
You can see the type of products we sell at our Official Store
http://stores.ebay.co.uk/JasonCarlMorgan/JasonCarlMorgan-UK-Store-/_i.html?_fsub=3471163018&_sid=543346628&_trksid=p4634.c0.m322
Are there any additional benefits?
Yes, all of our Affiliate Seller's get Free Unlimited Access to Template Tool Premium, a Free eBay Basic Store Subscription (worth $19.95 per month) and we'll also help setup your eBay Seller Account to support Bulk Importing with eBay File Exchange allowing you to import hundreds of our well established products in minutes.
How do you process my orders?
As soon as you receive an order, you forward the details of your order through to us via a dedicated email address and we ship the order directly to your customer.
Do I have to pay for the products upfront?
There is nothing to pay upfront and you only pay for what you sell. You get paid directly by your customer to your own PayPal account and we invoice you for 60% of the gross sales once per month.
Who pays for the eBay fees and what do I earn?
You retain 40% of the gross sales, to cover any eBay fees .etc and earn around 20% net profit from all sales.
How long does it take to get started?
We can usually have your Merchant Account setup and running within about 24hrs. All you need to do then is work with your assigned Merchant Account Manager (via email or Skype) and choose the products you wish to sell on your eBay Seller Account.
Can I trade as my own business?
Yes, you continue trade as your own company. The service we offer is basically similar to Drop-shipping (you may have heard of this). Many eBay Sellers, sell products which are distributed by a third-party distributor. It saves the hassle of you having to purchase and store inventory or process and package orders yourself whilst earning a sales commission from the sales you refer through our program.
What makes you different to similar programs?
The main differences with our program is that as the sole manufacturer and distributor of our products we can guarantee our affiliates exclusive rights to sell our products with guaranteed minimum pricing. None of our affiliates compete on price with one another as we have set prices for each of products that we produce. By monitoring affiliate pricing through our program we can guarantee sustainable profits on which you can proactively grow your eBay Business.
Can I sell your products on Amazon or Etsy?
Yes, our program is compatible with eBay, Amazon or any third-party marketplace including your own Webstore (if you have one). If you haven't got one, we can provide a fully functional Webstore via our Webstores programme for just $9.99pm (more info at
http://stores.ebay.co.uk/JasonCarlMorgan/JasonCarlMorgan-Webstore-Programme.html
).
How do I get started?
If you'd like to register, simply fill out our registration form at
http://stores.ebay.co.uk/JasonCarlMorgan/You-Make-Money-Selling-Our-Products.html