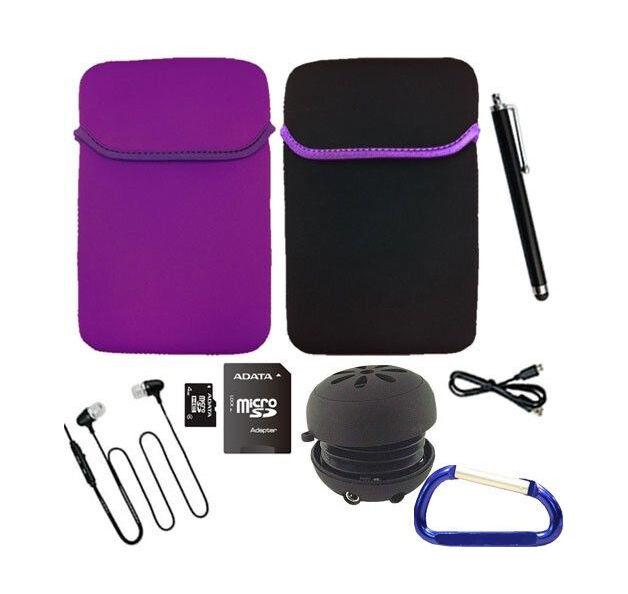 iPads, tablets, and eBooks have built-in speakers for listening to audio. These speakers rarely produce rich sound. Fortunately, there are several accessories available for improving your audio experience. Portable speakers allow you to share your music with friends; docking speakers charge the device while you listen to audio; and headphones enhance your personal experience. Headphones are also great while on the move or in public places.
To buy the best accessories to improve your audio experience, know what to look for in portable and docking speakers, and headphones. Understanding what specification to focus on and how to evaluate the products on offer simplifies the buying decision a great deal. In addition, the accessories chosen should be compatible with the device and easy to connect and use. iPad, tablet, and eBook accessories are available from computer and electronics shops, department stores, music shops, specialist retailers, and online from sites such as eBay.
Speakers for iPads, Tablets, and eBooks
With the wide variety of portable and docking speakers on offer, choosing the right ones requires some research. Knowing what to look for when shopping makes finding the perfect device easy. Remember to consider how the speakers are powered. Where possible, choose rechargeable models or buy standard rechargeable batteries and a charger to keep costs as low as possible.
Speaker Specifications
There is no standardised testing method for speakers. As a result, manufacturers' specifications are not always a good guide. The best way to test speakers is to listen to them, playing a wide selection of your favourite music or talking books. This way you can evaluate whether, for example, jazz sounds as good as rock. The speakers should have a good balance between bass, midrange, and treble; if one of these is too prominent, the speakers do not offer good music reproduction. Choose speakers with larger woofers for added bass. If you cannot test the speakers yourself, research the brands and models available. Read expert and customer reviews from trusted sources and use the experiences of others to guide your decision.
Portable Wireless Speakers
Portable wireless speakers are an excellent option as they are easy to connect and place at ideal distances and locations. Many connect using integrated Bluetooth, so ensure that the speakers chosen are compatible with your device. Some can also be connected to multiple Bluetooth devices, adding to their flexibility. Portable speakers can also be connected via standard audio cables.
Computer Speakers
Computer speakers also work with most tablets, so do not discount these speakers entirely. They tend to be larger than most portable types and could offer better sound quality. However, they are not particularly portable and are best suited to a stationary setting. Look for speakers with on-speaker controls where the connectors are easily accessed.
Docking Speakers
Docking speakers are most commonly available for Apple products. Look for a system that features a 30-pin dock connector, for devices released prior to the iPhone 5, or a Lightning connector, for devices released after September 2012. The connector plugs into the bottom of the device allowing the speaker system to select the highest quality audio signal automatically, charging your device in the process. Most systems are aimed at iPhone or iPod devices, but some can be used for iPads. If you find a dock designed for a smaller device and would like to use it for your iPad, research the availability and compatibility of dock extension products. Bear in mind that your iPad may not charge if you use an adapter and smaller system.
Headphones for iPads, Tablets, and eBooks
Headphones are the perfect option for listening to audio without disturbing others. They come in a wide range of styles and options and it is not always possible to test them before you buy. They can fit in or on the ear and some feature noise-cancelling features that let you listen without being disturbed by external noise. Most devices come with headphone jacks, but it is always wise to check the type of connections available before buying.
Headphone Specifications
As with speakers, manufacturers' specifications are not always helpful in making a decision, so the best way to test headphones is by listening to the sound that they produce. As many of them fit into the ear, hygiene concerns make it difficult to check headphones before buying. So, research is key: read customer and expert reviews from trusted sources to find the ideal headphones. In addition to considering sound quality, take the type and comfort into account. For accurate sound reproduction, avoid headphones with added bass or treble. These may sound great in the beginning, but they could become irritating with prolonged use.
Types of Headphones
Headphones come in a range of designs. The table below lists and describes the most common types.
Type of Headphones

Description

Fit loosely in outer ears

Often included with tablets

Compact

Relatively inexpensive

Fit in the ear canals

Feature silicone or foam eartips

Block external noise, so good for commuting

Produce good quality audio

May be uncomfortable

Canalbuds

Fit like a cross between in-ear and earbuds

Sits just inside the ear canal

Better audio reproduction that earbuds, but not as good as in-ear

More comfortable than in-ear

Sample outside noise and produce inverse audio signal to cancel noise

Excellent for travelling

Available in range of styles

Sit on ear

Use larger drivers

Headband can fit over or around the back of the head or can clip over each ear

Choose foldable design for greater portability

Fully cover ear or sit on ear

Better sound than lightweight version

Tend to be more comfortable

Closed design: block out external noise and keep music contained

Open design: allow noise and music in and out

Sound quality is better with open design

Take size of ears into account for a comfortable fit

Wireless

Work with Bluetooth , infrared (IR) , or radio frequency (RF) connections

Bluetooth is the most user-friendly option

Look for playback controls on headphones

Not connected to a device by wires

Earpads are connected to each other by wires
The list above is by no means exhaustive. Research headphones you are not familiar with to establish what others think of their fit and comfort. This information gives you an idea of whether they may work for you.
Headphone Features
Look for headphones with in-line controls to make it easier to skip tracks and adjust the volume while you listen. In-line control modules usually sit on the headphones' cable and are easier to reach than the device they are connected to. Fit and comfort are crucial when choosing headphones. Choose in-ear models that come with a range of earplug sizes to make sure you can adapt the plugs to fit your ear canal. If you decide on over-ear headphones, choose a set that fits snugly without exerting too much pressure on any part of the ear.
Headphone Safety
Never listen to loud music for prolonged periods of time. If you find that there is too much external noise for you to hear the audio, opt for in-ear or noise-cancelling headphones instead of simply cranking up the volume. Loud audio damages your hearing. It is best to take a break from headphones between listening sessions.
How to Buy iPad, Tablet, and eBook Accessories to Improve Your Audio Experience on eBay
Buying on eBay is simple. Type a phrase, for example, " Sony earbud headphones ", into the search field, which can be found on every page, to see the available listings. Refine your results through category and item feature selections. To narrow or expand the list displayed, use the advanced search function .
Before Buying on eBay
Before buying on eBay, learn about the item and the seller. Click on an individual listing to view the item listing page where you can find all of the information that you need. This includes details like the full item description, buying choices, payment options, postage and packaging costs, the terms of the seller's policy, and the seller's feedback information. Remember to add the cost of postage and packaging to the item's final selling price to work out the total item cost. If you have any questions about a listing, get in touch with the seller by clicking the " Ask a question" link.
eBay ' s seller feedback feature makes it easy to evaluate the seller before committing to a purchase. Click on the number next to the seller's username to see what other buyers think of his or her products and customer service. Take the number and type of products previously sold into account.
Conclusion
Most iPads, tablets, and eBooks feature media players than allow you to listen to audio or watch video on your device. The built-in speakers rarely produce the rich sound offered by third party products. When shopping for accessories designed to improve your audio experience, sound quality is one of the most important factors to take into account. Since speaker and headphone testing methods are not standardised you can bypass most of the numbers listed on the packaging. Trust your ears to make the best decision for you. If you cannot test the speakers or headphones, make use of reviews and information from trusted sources.
Depending on your needs, portability may be important when buying speakers. Take battery life and the type of batteries required into account, especially for wireless models. It is important to check the connection available to ensure that your device is compatible with the speakers chosen. Not all speaker docks are designed for iPads and tablets, but it may be possible to add an adapter to make the devices compatible with each other.
When choosing headphones, do not discount comfort. The shape and size of your ears may dictate the type of headphones that are most suitable. Consider where you intend to use them and look at noise-cancelling or in-ear models for noisy environments. eBay sellers offer a huge selection of speakers and headphones in a range of designs, sizes, and colours to improve your audio experience.