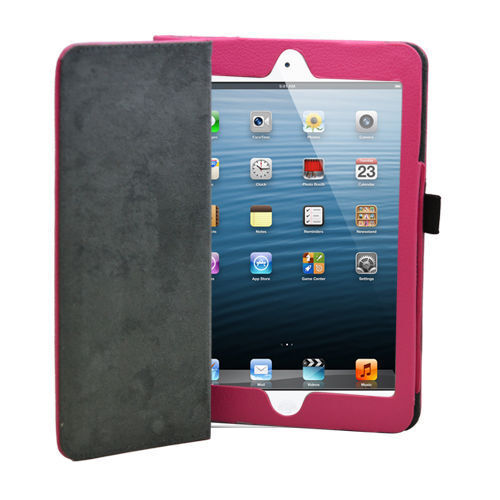 iPads, tablets and eBook readers are some of the most popular electronic devices on the market. They are able to perform many of the same functions as a laptop, but are smaller, lighter, and can be navigated quickly at a touch of a screen. Buyers have several options available to them while shopping for devices. Firstly, consider the software platform. The four primary platforms are iOS, Windows RT, Amazon, and Android. Each of these has different strengths and weaknesses and caters for different users. For example, iOS has a large number of apps available and Amazon provides access to a large virtual library of books. Size is also important; screen sizes range from 7 to 13 inches. Small products are lightweight, portable, and great as eReaders, although they are less suitable for playing games and watching videos. Shop for items with a high screen resolution and choose products with panel types that can provide the optimum brightness and strong off-angle viewing.
iPads, tablets, and eBook readers can be purchased from electronics shops, department stores, and online retailers. Marketplaces like eBay have listings for a wide selection of products, including older models that are no longer in production. With a bit of research, it is possible to purchase a device that provides great performance for several years.
Software Platform for iPads, Tablets, and eBook Readers
The high number of iPads, tablets, and eBook readers available can make it difficult to choose the best product. The buying process is made more difficult by the fact that new generations are released regularly and many brands create multiple versions of their signature models. Consider technical aspects, such as the software platform, to choose the most suitable items for the needs of the user.
As with laptops, desktops, and smartphones, iPads, tablets, and eBook readers are run by a software platform or operating system (OS). There are four primary platforms used by modern devices, including iOS, Android, Windows RT, and Amazon.
iOS
iOS is the software platform behind all of Apple's handheld devices, including iPhones and iPads . The system is notable for its enormous catalogue of apps and its ability to share media easily between devices. The interface for iOS is also easy to pick up and use.
Android
The Android platform also offers a significant number of apps, and users can find a wide selection of magazines, films, TV programmes, and games. Android also boasts the most versatile and highly customisable OS.
Windows RT
The Windows RT platform is the most difficult for new users to become accustomed to, although it has excellent support for films and TV programmes. It also has a built-in music streaming service.
Amazon
Kindle Fire devices use the Amazon platform and have the strongest support for books, making them ideal for users who need a strong e-reader. These also offer users the ability to stream films from a large catalogue. However, this platform does not have nearly as many apps as iOS and Android.
Size for iPads, Tablets, and eBook Readers
There are three primary sizes available. The smallest has a screen size of around 7 inches, while the largest is over 10 inches. Bear in mind that screen size is measured diagonally, just as it is on televisions. Screen size affects viewability as well as the speed and operating performance of the unit.
Small
Small devices are designed to be highly portable and can fit easily into a bag or even a large pocket. These items have a screen that is between 6 and 8 inches, making them easy to hold in one hand. They can be an ideal choice for reading e-books. They are also suitable for people who need to work while commuting. However, their small size means that they do not have the same amount of power as larger models. They cannot support the same level of screen resolution and may suffer performance issues with videos and games.
Medium
Medium devices are the type most commonly sold and are the ones most people think of when they imagine an iPad, tablet, or eBook reader. These products have a screen that is between 8 and 10 inches. They have a faster processor than smaller models, which means that they can handle basic operations more quickly and provide better performance on videos and games.
Large
Large devices constitute the smallest proportion of the iPad, tablet, and eBook reader market. They have screens that are at least 10 inches; some units even have 13-inch screens. Large models are sometimes called "hybrids," as they retain some features of laptops. For example, they may use the full operating system of a laptop or desktop and have processors that can match the performance of many computers. Despite their benefits, these units are more expensive than other versions, as well as being more difficult to transport.
Resolution for iPads, Tablets, and eBook Readers
Resolution measures the number of pixels that make up a screen. More pixels create sharper images, so a high resolution is ideal. Resolution is listed as two numbers. The first indicates the number of vertical pixel rows there are in the screen. The second indicates the number of horizontal rows. For example, a device with a 2560x1600 resolution screen has 2,560 vertical rows and 1,600 horizontal rows, for a total of over four million pixels.
Panel Type for iPads, Tablets, and eBook Readers
Along with resolution, the panel type can have a significant effect on the quality of the onscreen images. In particular, panel type determines how easy the screen is to view from off angles and how bright it can become. There are several panel types available, although the two options buyers should shop for are in-plane switching (IPS) and plane line switching (PLS). These provide the optimum performance and are noticeably brighter and easier to view than other panel types.
Storage for iPads, Tablets, and eBook Readers
The amount of storage can vary significantly from one product to the next. Basic models have 8 GB of storage and buyers can expect to pay extra for any model with greater capacity. It is also possible to supplement the built-in storage with a microSD card. These can contain as much as 64 GB storage and are relatively inexpensive compared to the cost of added built-in storage.
How to Buy iPads, Tablets, and eBook Readers on eBay
A range of iPads, tablets, and eBook readers can be purchased from the sellers on eBay. To find these items, begin a keyword search from the home page. For example, type " iPad 4 " into the search field to see all items tagged with those keywords. You may refine the results by adding new keywords or by clicking on any of the category links found on the page.
Read the Item Description
Take the time to read item descriptions to be clear on the specific item being sold. Look for a description from the seller and a specification sheet detailing the software platform, storage capacity, and other aspects of the device. Understand the price of the item and add delivery charges to your estimate of the final cost. You can also view photos. For factory new items, images available are usually stock photos.
Research Sellers
Research sellers before committing to a purchase to feel confident in your transaction. In item listings, check the feedback rating and the number of transactions the seller has completed. You can view more information by clicking on the seller's name. In full profiles, you can find information about specific aspects of the seller's performance, such as the accuracy of item descriptions and the quality of the seller's communication. Once you have received your iPad, tablet, or eBook reader, return to eBay to leave feedback about your experience. This helps sellers to improve their performance and also informs the eBay marketplace of the best sellers.
Conclusion
iPads, tablets, and eBook readers are versatile devices that can perform a variety of functions. They can be used to watch films, play games, browse the Internet, and handle many other tasks. Their small size and light weight makes them attractive and portable items. However, the high number of devices on the market can make it difficult to choose the best products for the needs of the user. There are several technical considerations to bear in mind while shopping, such as size. Small devices are easy to use as e-readers. Though they are highly portable and lightweight, they lack the processor speed of larger units. This means they are less suitable for watching videos and playing games. Large devices are more difficult to transfer, but can rival laptops in terms of performance. Some are even compatible with full OS software used on laptops and desktops.
Screen resolution affects the clarity of the image. Look for screens with a high pixel count for a crisp and attractive picture. It is also important to consider the panel type on a unit, as it affects the brightness of the screen and how easily it is to view from different angles. Select devices with IPS or PLS panels for the best performance. Lastly, choose a software platform. iOS, Android, Windows RT, and Amazon each have unique designs and cater for users with certain interests and needs.
Compare all available iPads, tablets, and eBook readers to find the best items. With a bit of research, it is possible to understand the technical details and find a great product on eBay.