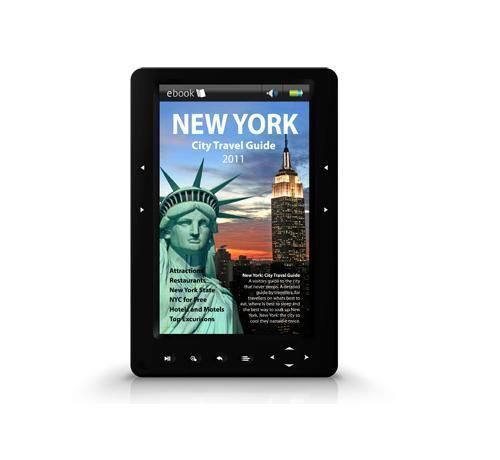 Electronic devices make reading a breeze, especially for consumers on the go. No more bulky books stuffed into purses, briefcases, or backpacks: electronic devices are sleek, slim, and lightweight. In most cases, a reader can download the latest bestsellers and popular books onto his or her electronic device, just with the touch of a button. Different devices may offer different ways to catch up on the latest novels, so a buyer should consider all the options and what else he or she may want to use an electronic device for before deciding on one.
For the consumer who wants a device that is strictly an eBook reader, there are some affordable options available. For the buyer who enjoys all the features that come along with owning an electronic device such as a tablet or iPad and wants more than a reader, there are many good options. Owning an eBook reader is also a great way for parents to keep children entertained, as several options offer a wide range of books for children as well as adults. The consumer can keep up with all of the latest and newest books on an electronic device or eBook reader.
iPads
An Apple iPad is much more than an eBook reader, but for a consumer who wants a larger tablet that offers more than solely reading, it is a solid choice. A consumer can read the latest bestsellers using the many reading applications that the iPad offers, such as access to Kindle and Nook online bookstores for an extensive reading selection. For the reader who enjoys a larger screen while reading new books, the iPad is a good option, and of course offers a wider range of features such as an Internet browser, a camera, media options, and everything that comes along with the convenience of a full size tablet.
Tips and Hints
To read all of the latest bestsellers on an iPad, first the user must download reading applications. These range from the Kindle application, which has the largest variety of affordable books, to the Google Play application and the Nook application, which have more limited selections. The Kindle application offers readers over a million books, and books can be downloaded to the device in seconds.
Once the reader has accessed the Kindle store, the books are divided into categories, and the user can search under new books to find the latest reads, or see what books are the top downloaded in the Kindle store, for a peek into the latest book trends. The iPad offers an application called iBooks, which allows a user access to the iBookstore, and books can be customised according to text size and font, or the brightness of the screen for a better reading experience.
A user can highlight sentences or words, or look up a word in the dictionary while reading a bestseller. A cool feature about the iPad is that the iPad can read a book out loud for a reader who cannot sit down and read but still wants to get through a book.
Tablets
Tablets are more than a reader, and offer a small computer in a tablet form. For a reader, there are a few tablets that are recommended when it comes to reading the latest bestsellers in style. The Google Nexus 7 offers a wide range of books including the Google Play store, which includes all of the latest bestsellers at great prices. The most popular tablets for reading and other things are the Amazon Kindle Fire and the Barnes and Noble Nook . These two tablets stand out because they are primarily for reading, but offer other options as well, such as movie watching, email, and Internet browsing.
The Nook and the Kindle Fire are both reasonably priced, lightweight, and offer the option to store thousands of books in the device. They are both good options for a reader who enjoys reading consistently. Long battery life and an easy-to-read screen make these tablets enjoyable to use.
Tips and Hints
For a consumer who wants to be in the know about all of the latest bestsellers available to read on the Nook or the Kindle Fire, he or she can simply sign up to be on an email list that sends emails whenever new books are available that the user is interested in. Another option is to scroll through the bookstores and see what is newly released and download the books which are desired.
The Kindle Fire offers users access to the Kindle library, which sometimes has bestsellers that Kindle users can download for free. This is a great way to catch up on recent bestsellers, especially for the consumer who is on a budget. The consumer can also tailor recommendations based on previous purchases or searches. Books in the Kindle store are divided into Top 100 paid and Top 100 free, so a user can search based on price.
eBook Readers
The most basic and affordable type of eBook reader is a simple E-ink reader, which offers the user the closest experience to actually having a book in his or her hands. A black and white screen mimics the look of pages, and it offers a non-glare screen so the user can read books in any type of light without a glare.
Some of the most popular brands of eBook readers are the Amazon Kindle PaperWhite, the Kobo Glo, which has an illuminated backlight to make nighttime reading less straining, the Nook Glowlight, and the Sony Reader. Though E-ink readers do not offer all of the features that tablets or iPads do, they are perfect reading companions for users who only want devices to read on.
Tips and Hints
On some of these eBook readers, buyers have the option to check out bestsellers from their local library. This saves money, and it is a fun way to read all the latest books. No more checking out heavy books; consumers can simply have the books downloaded to their eBook readers. Users should check with their local library for book selection. There is an application called OverDrive which is used in conjunction with library books to make checking out library books an easy process.
As with the Kindle Fire and the Nook, these brands offer the reader a wide selection of books, as well as all of the latest bestsellers from the same well-known bookstores that a tablet reader can access. For the reader who is interested in harder to find books or recent bestsellers, the Kindle store is a good option because it carries over a million titles including some titles that are exclusive bestsellers that a reader can only find in the Kindle store.
A buyer also has the option of using the Kindle Lending Library to read over 100 New York Times bestsellers for free, new and current. When it comes to reading bestsellers on an eBook reader, there are some great options available for the avid reader.
Reading Bestsellers on Electronic Devices
There are good options for reading the latest books on all of the electronic device choices. A reader should select the device that is most compatible with his or her own needs as well as price range.
| | | |
| --- | --- | --- |
| iPad | Tablet | eBook Reader |
| | Kindle-Amazon bookstore | Kindle-Amazon bookstore |
| Kindle application | Nook-Barnes and Noble bookstore | Nook-Barnes and Noble bookstore |
| Nook application | Google Nexus-Google Play store | Check out books from local libraries |
| Google Play application | Check out books from local libraries | Sony eBook Reader-Sony eBookstore |
The different brands of tablets and eBook readers offer different ways and prices when it comes to purchasing or borrowing bestsellers. It all depends on what the reader wants.
How to Buy iPads, Tablets, and eBook Readers on eBay
For a bibliophile who wants the ease of taking thousands of books on the go, an electronic device is a great option. If you love reading or you travel frequently and do not want to be weighed down with a ton of heavy books, a lightweight, portable eBook reader or tablet makes reading a breeze. There are many options to choose from on eBay. Simply navigate to " iPads, Tablets, and eBook Readers", and narrow your choices based on which type of device you would like. You can also search by price range, or type in keywords for a more relevant search using any internal page, such as " Kindle Fire".
The best way to find the most relevant reading device for you is to know what you are looking for. If you want a tablet that offers all of the features that a computer does as well as great reading applications, then an iPad or full-sized tablet may be perfect for you. Find the right tablet or eBook reader by shopping from Top-rated sellers on eBay, and make sure you comparison shop for the perfect device by comparing what the devices offer, how much they cost, and what the features are before you decide on one. If you are buying a used device or a refurbished one, ensure it is in good condition and look at many images before you purchase, to make sure it looks good and all flaws are noted in the seller's listing.
Conclusion
There is nothing more convenient than reading a large bestseller on a lightweight reading device. It is satisfying to not have to run out to the bookstore every time a bestseller comes out that a buyer is interested in purchasing. A new book can be downloaded to any type of device and the buyer can begin reading a bestseller in seconds. Thousands of books can be stored in a device for reading on the go and while travelling, and portable devices are a great way to get kids interested in reading and take books on the go.
There are even options for reading on a budget for the user who still wants the satisfaction of reading all the latest authors, but without the price tag that comes with some books. Options like checking out books from local libraries or using Kindle's built-in Lending Library make reading affordable and fun. A buyer can enjoy reading the latest and most interesting books and will love all of the features an electronic device offers, to make reading a more pleasurable and simple experience.