Hi my name is James Gilbert and here is another simple guide which I have given you which I hope is helpful!
This is a groundbait we have been using on our match circuit for many years to great effect for carp and bream. It is simple to make and more importantly it is cheap.
The first things you need for the process are:
Bait Box
Kettle
Clingfilm
4 mm hard pellets. ( Buy in bulk to make it cheaper )
Directions
Fill the bait box to just below the rim with pellets. If you want four pints of groundbait use a four pint bait tub.
Boil the kettle
Cover the pellets in the bait box with boiling water to just cover the pellets. ( Health and safety says be careful with the kettle. Boiling water bloody hurts)
Cover the bait box with clingfilm.
Attach the lid.
Then leave the pellets for at least a couple of hours, and for best results leave them overnight.
When you open the bait box you will now have a cake of soaked pellets.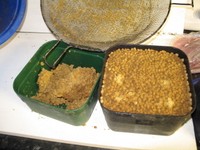 Boiled pellets on right and part of the cake for putting through maggot riddle on left.
This is then pushed through a maggot riddle and you are left with a groundbait that is basically broken down pellets.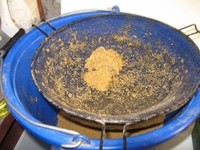 Push the pellet cake through the maggot riddle.
If you want a finer mix push it through again. If you want paste then add some water. Its great for the feeder or loose in shallow water or as an initial ball of groundbait.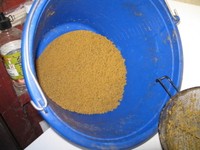 The finished groundbait ready for bagging up on.
At Ian Heaps I had just under 290lb and fed 22 pints of this mix in 6 hours made into a slop and a slightly stiffer mix as paste on the hook so it does work.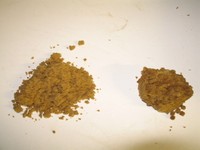 From pellets to groundbait. Nice and simple!
It's cheap and simple and this is so very often the best way.
Please feel free to vote if this guide has helped you in any way or you think it may help others.
Thanks James
Gillysworms