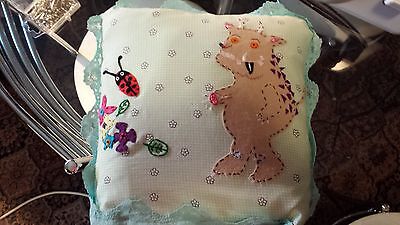 applique cushion
When creating a cushion I have tried to use felt and the hand stitch around the edges. I ended up with a bumpy lumpy finish. This last cushion I made for a friend, I tried to stop this problem and make the piece alot nicer. I would recommend using a fusible Web. There are many varieties and all work well. It keeps the felt in place and allows for a much neater finish and is well worth the extra money for a more complete look to the piece.
I also tried a few ways to add the Web, the one that worked best for me is to add the Web before you cut out the felt. There is some wastage but this way you can be sure it goes to the edges and saves time with less fidley small pieces.
Once the Web is on the felt ( simply press with an iron, so easy!) Cut your pieces and then place on the fabric you are using as the back ground. You can press everything on in one go then. I like to finish with obvious hand stitching as I like this look but the Web is sturdy without this hand stitching- that's personal choice. Although if it's for children who pick and play hand stitching will add more security to the piece.
Then sew up in to a cushion. Easy, clean and so much more finished than without.