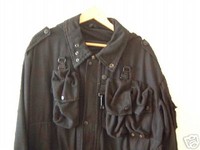 hi lads,we all love our clothes,dont we?whats the perfect coat for us lads i hear u say?a vintage si,a mig-how about an ots marsh parka?
as we know the lads at goodnorth have been producing a copy of an army parka now and its an exact replica more or less except for the material id say and the obvious ots branding-heres where the problem arises lads!!
you've no doubt seen the ads for them on here with ots,cp in the title......well i won one last week and received it the other day,i nearly ripped the packaging in two,i was like a kid on xmas morning......until i realised there wasnt any labels identifiying this monster as an ots product-surely some mistake i thot-maybe its a "grey"one with the labels taken out,i got in touch with the seller(who shall remain nameless) and was told maybe id misunderstood the ad!!
yeah!!very common mistake when the ad has ots in the title and mentions mille miglia in the description(dont know why that ones in there but hey!)
in my humble opinion the coats description was misleading so please check lads if you're bidding on a genuine ots or a genuine army surplus(which is what i got!!it should never have been placed in the ots or cp section but in the army/military section instead-please ask the seller for full details of the coat before bidding as im out of pocket nearly £90 cos of a cleverly constructed ad
see enclosed pic for whats not an ots marsh parka but may have ots/cp in the title
happy hunting and keep it fake free and honest lads