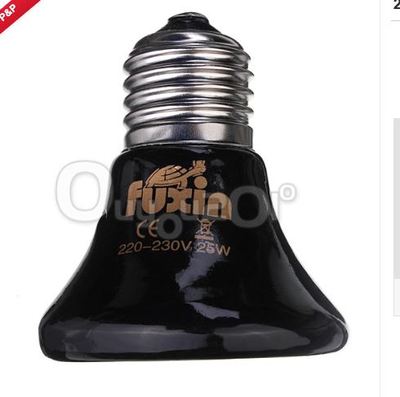 cheap heater, (but only in price)
having kept reptiles for well over 30 yrs, I nearly always use the ceramic overhead heater bulbs, always preferring the branded products, however over the last few years I have been trying the cheaper unbranded ones, I first tried the flatter, longer type, that looks more like a cooker ring on a stalk, they were poor, giving less heat out, not impressed,
,then tried the ones in the pic, ( there's a few differing names, but all identically made as far as I can see) they are well made but a lot smaller than most others, so I had my doubts,,,,
instant improvement,!!!! same or probably a little more heat than any of my branded ones, a little 50w is heating my 3fthigh x3ftwide x18inch arboreal set up to 30 degrees basking VERY easily, (its probably off on the thermostat more than its switched on !(in my living room)the branded ones could do this, but they were on more of the time,
so, more economic,
also, they last seemingly at least as long , , I had 1 branded bulb that lasted 4 year, but all the others were dead within 6 month to 2 year,
I have had 3 of these "cheap ones " and they have lasted well over a year so far,
so to sum up, smaller, hotter, and last just as long, for around 3 times less,
downfalls? postage time, so buy a few, get 3 for the price of a branded with no performance loss,,,,,
WHY PAY MORE FOR LESS?