Your Passion Is Our Promise… Authentic Autographs, Fine Art & Antiquities
The Declaration of Independence
Unsigned Document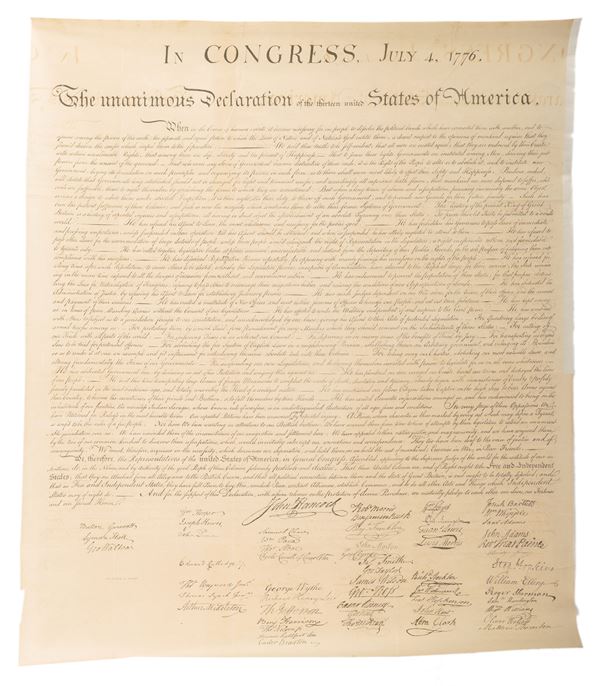 (JG Autographs watermark does not appear on the actual item, only our online scan)
About this Item:
The Declaration of Independence, Peter Force copperplate engraving, printed in 1848, with remarkably exact renditions of the signers' hands. One of the best representations of the original manuscript Declaration, perhaps as few as 500 copies issued. This Force printing, the second edition of the first exact facsimile, remains one of the best representations of the Declaration as the manuscript looked over 150 years ago, prior to its nearly complete deterioration – very little of the original is legible today.
Peter Force (1790-1868), noted archivist and historian who compiled 'The American Archives,' originally planned as a series of more than twenty folio volumes publishing the most important original materials from American history, from the 17th century through 1789. Authorized by Congress in 1833, the first volume was published in 1837. The project was abruptly canceled in 1853 by Secretary of State William Learned Marcy, and Force ultimately sold his enormous collection of documents to the Library of Congress for $100,000.
By 1820 the original Declaration of Independence (now housed at the National Archives in Washington, D.C.) showed serious signs of age and wear from handling. John Quincy Adams, then Secretary of State, commissioned William J. Stone to engrave an exact copy of the original onto a copper plate. In 1823, Congress ordered 200 official copies printed on vellum. Fewer than 40 of Stone's printing on vellum are known to have survived, with at least 21 of those housed in institutions and public collections. "These copies are characterized by the legend engraved in the left superior portion of the document which reads, 'ENGRAVED BY W.I. STONE for the Dept. of State by order,' and on the right superior portion 'Of J.Q. Adams, Sec. of State July 4, 1823.' This legend was removed after the parchment copies were struck and in the lower left quadrant, the engraver placed his name, 'W.J. Stone, SC WAShnn'" (Coleman, 98). All subsequent exact facsimiles of the Declaration descend from the Stone plate. In 1843 Congress commissioned Force to compile and publish 'The American Archives.' Perhaps using the Stone's original plate at first, but then most likely a copy plate, Force prepared prints of the Declaration of Independence on special thin rice paper. Congress authorized the printing of 1500 copies of 'American Archives,' but subscriptions for the elaborate edition were disappointing, and in the end many fewer copies—perhaps as few as 500—were issued. Most, including this copy, were folded and bound into 'Volume I, Series Five,' published in 1848.
This authentic, original document, with a finished size of 26" x 29" is a copperplate engraving on thin rice paper. As indicated it had been folded down to 8" x 13.625" and the fold marks are visible. Overall in fine condition with stated fold marks, moderate cracking and professional restoration along its edges.
More About Us And Our Committment To You:
JG Autographs, Inc. has been a leader in the autograph field since the mid 1990s. From the beginning, the idea was simple: sell top-quality, 100% authentic autographs and fine collectibles.
Today, nearly twenty years after the founding of JG Autographs, we continue our commitment to provide you with the finest authentic Autographs, Art & Antiquities. JG Autographs, Inc. is a leader in providing authentic autographed items and memorabilia to private collectors, dealers and galleries all over the world. Our impeccable reputation stands behind our products and company.
Our Guarantee
At JG Autographs, Inc. every autograph comes with our lifetime Letter of Authenticity (LOA / COA) stating our guarantee that, for the lifetime of the item, we stand behind the authenticity of the item. Our Letter of Authenticity takes that guarantee one step further by containing an image(s) of the exact item which the letter is accompanies. Each LOA is hand signed by our President. Collectively, these measures prevent the misuse of our LOAs and protect the integrity of our authentic autographs we sell. Autographs purchased from JG Autographs, Inc. accompanied by our LOA will maintain the respect they deserve in regard to any and all future concerns on authenticity.
The Uniqueness of Our Products
JG Autographs, Inc. prides itself on selling 100% authentic autographs and memorabilia. We carry a broad range of products in hundreds of varying categories of collecting. Our category diversity includes film and television, military, models, music, notables, politics, science, space and aviation, sports and the arts. Whether you are a history buff, fan of modern film, television, art or music or enjoy collecting material from your favorite home town team or sports legends, we carry it all. Our collectibles make for fantastic additions to long standing collections, great starting points for new collectors looking for trusted authentic material, and make for a truly unique gifts for that special person in your life or corporate gift for a special client.
Useful Information
All autographs sold are hand signed. We do not sell reproductions of autographs.
All autographed items, as well as our fine vintage collectibles, come with a Full Letter of Authenticity
All prices are firm. We do not discount prices on a per request, per customer basis.
We offer a 100% satisfaction guarantee. Any time can be returned for any reason within 14 days of receipt.
We are registered dealer #147 in good standing with the UACC