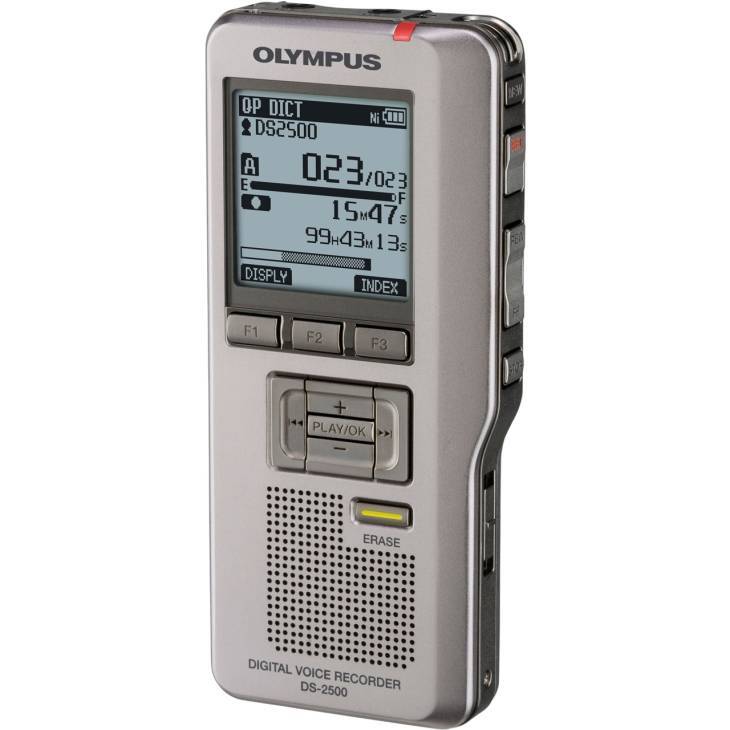 A dictation machine is a helpful tool for individuals who require audio recordings for the intent of later transcribing audio recordings. Dictation machines are commonly used in the medical and legal professions. When purchasing a dictation machine, whether for personal or professional use, there are a number of features that should be considered standard and other added features that enhance the use of the machine but are not pertinent to the machine's basic operation. The buyer should consider a dictation machine that has digital recording capabilities, is portable, and is small enough to fit in a briefcase, or even a jacket pocket.
Dictation machines can be purchased from any electronic retailer that specialises in audio recording equipment or office equipment. However, the selection at most retail locations is restricted to the space available to display and store merchandise. Shopping online for dictation machines yields greater variety. Likewise, an online platform such as eBay includes extensive listings for various types of dictation machines, audio recording devices, and accessories.
1. Digital Capabilities
Analogue recording devices require cassettes. As this type of recording device has waned in popularity, it has become harder to find cassette tapes for analogue dictation machines. When buying a dictation machine it is best to look for a one that that has digital recording capability. With a digital dictation machine, the recordings are either saved directly onto the hard drive in the device, or on a flash drive.
Digital recordings can be played back repeatedly without affecting the quality of the recording. A dictation machine that uses a cassette eventually loses sound quality as the physical tape is stretched. Over time the integrity of a recording on a cassette tape is compromised due to replaying the recording over and over again. Additionally, a digital playback, from the perspective of a transcriptionist, is very precise.
2. Portability
If the user is always on the go, but constantly preparing recordings for transcription, they need a dictation machine that can easily travel with them. The size of the dictation machine is presented in the product specifications for the machine. Based on the measurements of the machine, the buyer can determined if the machine would fit in a pocket, a briefcase, or a purse.
3. Computer Integration
It is important that the dictation machine has the capability to seamlessly integrate with a desktop computer or laptop. A dictation machine with a USB can directly connect to a computer, allowing for the easy uploading and downloading of audio files. Because there are various types of audio files, including MP3, WAV, or AIFF, the buyer should first determine which format is compatible with their computer.
Additionally, should any software be required, it will be stated in the product description. Make sure that the software on the dictation machine is compatible with the computer's operating system. The user should allow for time to learn to use the new software. Most audio files can be easily played using any music or video programme, however these programmes do not allow one to edit the audio file.
4. Editing Capabilities
There are two types of audio editing: editing that takes place using the audio device and editing that is performed on files uploaded to another device or computer. If the user would prefer the convenience of editing the audio file on the dictation device, they should ensure that the dictation machine has on-device editing as a feature. On-device editing includes bookmarking specific passages, keyword searches, and keyphrase searches. All of the these editing features and more are available once the file has been uploaded to the computer, however, some may find it necessary to edit the audio files before they are uploaded to a laptop.
5. Sound Quality
The sampling rate of a recording determines the sound quality during playback. Most basic dictation machines or digital recorders record at a rate of 44 kHz. This rate is acceptable for simple audio playback and for personal use. For clearer sound, a higher rate such as 96 kHz is required. For legal recordings that require accurate transcriptions, a buyer should consider a dictation machine with a higher sampling rate. Additionally, an external microphone enhances the sound quality and limits external noise interference.
6. Features of Dictation Machines
The following table details the various features that are found on digital voice recorders. Not all recorders have the same set of features, and it is important to discern which features are most useful when searching for a dictation machine.
| Feature | Description |
| --- | --- |
| SP and LP | Short Play (SP) offers higher audio quality and Long Play (LP) allows for longer recording time at reduced quality |
| Backlight | Screen is backlit, allowing for ease of operation even in low light |
| Memory or Record Time | Can be on a hard drive or expandable flash cards; measured in recording time rather than capacity (MB) |
| Playback File Support | Types of files supported include ACT, ASF, WAV, or MP3 |
| Docking Station | A charging and USB docking station for connecting to a computer |
The buyer should carefully review all of the features listed for the dictation machine to ensure that the dictation machine suits their needs. Typically, the more features offered by a specific model of dictation machine, the higher the price.
7. Battery Life
The recording time in relation to the memory is just as important as the available battery charge. Most contemporary dictation machines are rechargeable. The more that the dictaphone is used for recording and playback, the quicker the battery drains. The buyer should note specifics like how much recording or playback time the user can get off a single charge. This information is included in the product specifications.
8. Microphone
The microphone for a dictation machine is either external or internal. External microphones make for better recordings, however, an external microphone is considered an extra accessory. Should the dictation machine be set up in a fixed location, like in a meeting room, an external microphone may be a better option, particularly if the machine is required to record meetings.
9. Dictation Machines Accessories
The buyer should consider what accessories are available for both the transcriptionist and the person who is making the recordings. A transcriptionist requires speakers or headphones to listen to the recordings while they are performing the transcription. There are dictation machines that can be operated using foot pedals. A foot pedal allows for a transcriptionist to quickly and easily stop and review recordings. A foot pedal is considered an extra feature, and it typically purchased separately.
A remote control can serve the same purpose as a foot pedal in most cases, however, it is more practical for a transcription to operate a dictation machine hands free. A remote for a transcriptionist is included as part of the headphone set to control the headphone volume as well as the playback on the machine.
10. Memory Capacity
The higher the memory capacity of a dictation machine, the more recording time allowed. Most dictation machines specify capacity in recording time, rather than file size. Therefore it is important for the buyer to note the minimum recording time, to ensure that it is suitable for their purposes. It is possible to extend the recording time on a dictation machine, but the machine must come with expandable slots. As previously mentioned, recordings made at a higher sampling rate have better sound quality, but the file size is much larger.
How to Buy Dictation Machines on eBay
To find dictation machines on eBay, you may want to start by first conducting a general search for dictation machines from the homepage. Dictation machines are also referred to as 'dictaphone' or 'digital voice recorders'. When conducting a general search on eBay, you may want to try various searches with different keywords until you find the type of dictation machine you are looking for. For example, digital voice recorders could also be considered a digital dictation machine, as well as a dictaphone. Additionally, Dictaphone is a popular brand name of dictation machines, so the search for a dictaphone may yield brand-specific results.
Once a dictation machine has been located that meets your initial price and specifications, it is important to review all of the details listed by the seller. Should you require certain features that are not listed, contact the seller directly to obtain more information. It is recommended that you select a top-rated seller who has a track record of positive reviews from other buyers. You can learn more about the seller by visiting their profile page.
Conclusion
When considering the purchase of a dictation machine, any professional or personal preferences should be be taken into account. Should specific features be required, only shop for machines that offer these specific features. Because analogue devices that use cassettes are becoming obsolete, the buyer should stick to digital dictation machines.
Dictation machines can go by many names. A search for a dictation machine may yield results for dictaphones, voice recorders, digital voice recorders, and digital dictation machines. All of this type of equipment is designed for a similar purpose, with similar technology, regardless of the name the device goes by. When searching for a dictation machine, the buyer should consider a pocket-sized device that can connect via USB and has sufficient memory capacity. Some devices allow the user to edit the audio file, while others require that the file first be uploaded to a laptop. The buyer should also consider investing in an external microphone. Buyers can find a selection of dictation machines of all sizes on eBay.