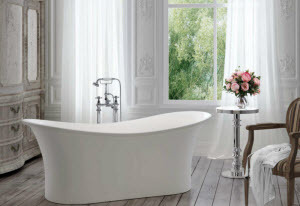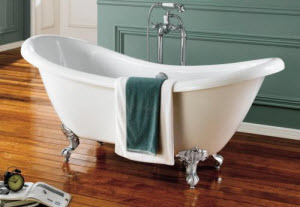 Latest trends - freestanding baths
Freestanding baths are fast becoming the lust-after bathroom fitting with many homeowners choosing to remove their built-in bath and replace it with a freestanding tub and walk-in shower.

Elegant and sophisticated, a freestanding bath will give you that spa retreat feel. It can be placed in the centre of the room, making it a focal point, as well as easier to clean. A freestanding bath will help to create the illusion of space, particularly where it has legs and the floor can run uninterrupted. It can also make it easier to update a bathroom; flooring can be changed, walls painted, wallpapered or tiled over again without the hassle of working around a built-in bath.

Thanks to technology, as you'll see below, you can achieve this luxurious look without a hefty price tag, with acrylic baths costing a fraction of their cast iron brothers.

We've got 4 tips to help you choose the right freestanding tub for you:
1. Decide where you want to place it in your bathroom and measure carefully. Think about the installation and how you're going to hide the plumbing.
2. Research the pros and cons of different materials. Baths come in a range of materials including, acrylic, ceramic, cast iron and stone. If you choose a heavier tub, such as cast iron, check that your floor can support it.
3. Find the right fit for the person who'll use it most.
4. Choose the right style for your bathroom. A traditional bathroom suits a bath with smooth curves and edges – an oval or slipper bath is perfect. If you have a modern, contemporary bathroom, choose a more rectangular shape with sharper edges.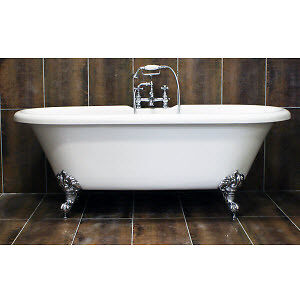 Traditional style roll top
This traditional style
acrylic roll top bath
with ball claw feet is proof that you can get all the style without the big budget.
Price £199.99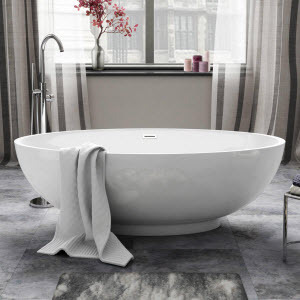 The minimal simplicity of this bath is perfect for a contemporary monochrome bathroom, teamed with stone or marble tiles.


Price £544.99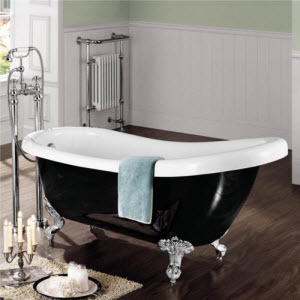 This
elegant traditional bath
is raised at one end giving wonderful back and neck support for the ultimate bathing experience.
Price £299.99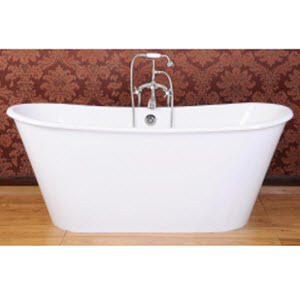 The
Parisian
is one of the most popular 'bateau' style freestanding baths. This one is made from cast iron, hand finished and undercoated ready for you to paint whatever colour use please with a good emulsion paint after fitting. Change the colour as often as you like.
Price £1,649.00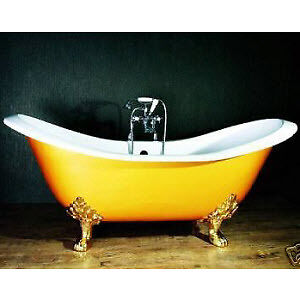 Bathe like royalty in this deliciously decadent double slipper cast iron bath with gold ball claw feet. For those who want to create a drama in their bathroom.

Price £950.00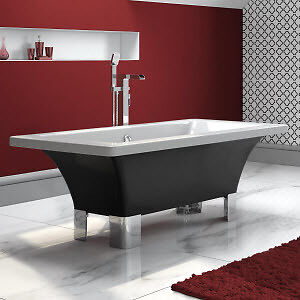 Modern clean lines with freestanding taps make this
bath
the focal point of the bathroom. Being elevated on chrome mirrored legs creates an airy feel around the tub.
Price £289.99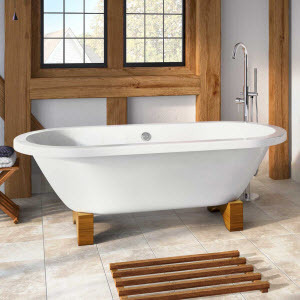 This
elegant oval bath
rests on natural wooden supports (different wood finishes are available) which would look perfect in a bathroom with other wood fittings and furniture, creating a relaxing Scandinavian spa feel.
Price £279.99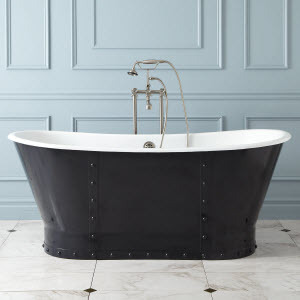 This cast iron
roll top bath with rivets
and freestanding taps has a sturdy solid appearance and would suit a large bathroom with plenty of space around it.
Price £1850.00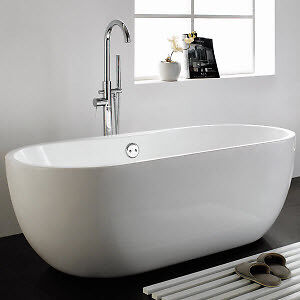 This simple oval design would fit well into any contemporary bathroom. The central waste mean that you can place the taps to suit your plumbing and have a bath for two!

Price £429.99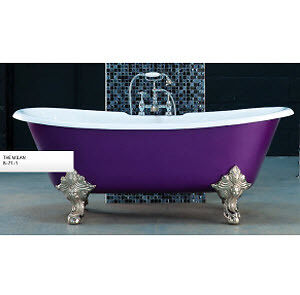 Purple cast iron roll top
The graceful luxurious lines of this classic roll top cast iron bath captures the subtle elegance of a bygone era. The ornate claw feet provide just the right amount of drama and look stunning in an open plan, loft style room. This bath can be customised with different feet and taps.

Price £1595.00