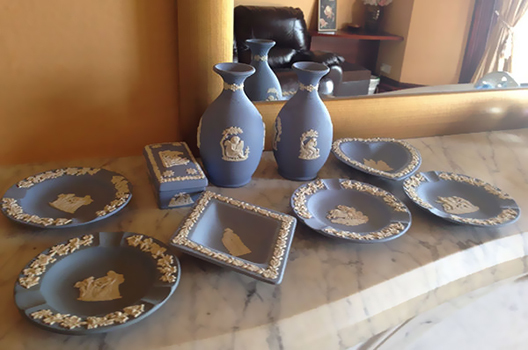 Wedgwood Jasper is a type of stoneware that features a smooth texture, matt finish, and beautiful colouring. It was developed in 1774 by Josiah Wedgwood, a renowned English potter. Considered to be of high quality, Wedgwood items have continued to popularise and are widely collected by many. The oldest Wedgwood jasperware tends to be the rarest, and thus, the most sought after.
Queen's Ware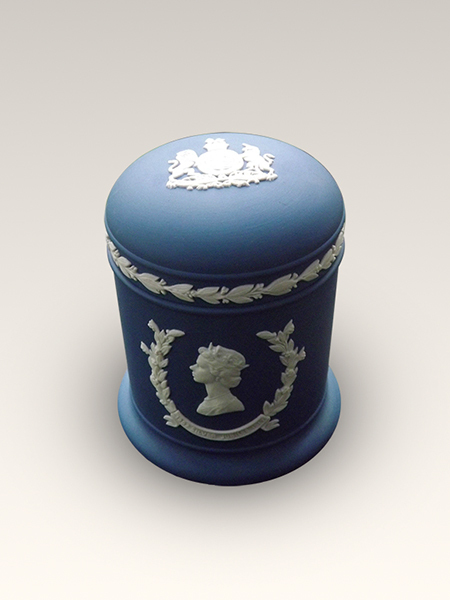 In the summer of 1765, Josiah Wedgwood completed his first commission for Queen Charlotte. Pleased with his work, the Queen gave Wedgwood permission to dub the collection "Queen's Ware"; this Wedgwood jasperware collection, referred to as "a complete set of tea things", consisted of unique cream-coloured earthenware pieces, including a dozen coffee cups, six fruit baskets and stands, six melon preserve pots, and six hand candlesticks. Following the sale, Wedgwood jasper rose in popularity, and soon royalty from across Europe was demanding Queen's Ware; in 1770, Josiah Wedgwood received a request from the British ambassador of Russia, Lord Cathcart, to manufacture a large service of Queen's Ware for Catherine, the Empress of Russia. Wedgwood Queen's Ware became available to the public from 1858 until 1875. Because it was made previously made for British nobility, it was highly coveted and has continued to remain so given its rarity. Each Wedgwood piece was hand painted and embossed.
Fairyland Lustre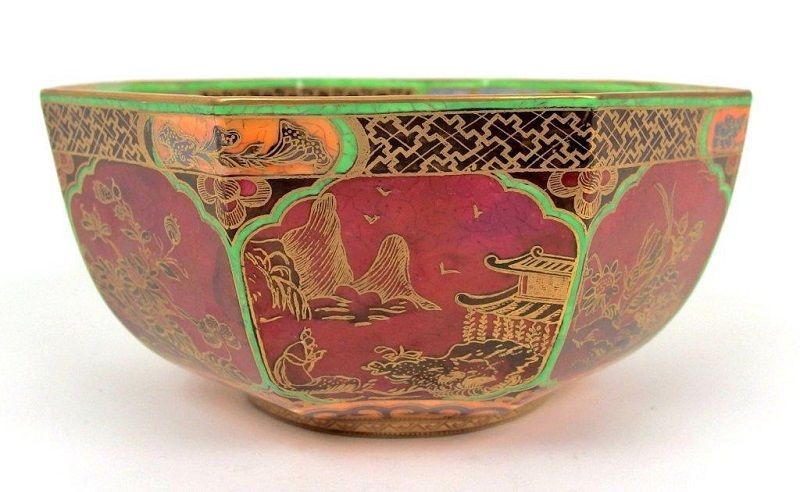 A Wedgwood potter by the name of Daisy Makeig-Jones, who began her career in 1909, created the Fairyland Lustre design. Most of her work spans between 1916 and 1941; however, production significantly decreased in 1931, given the global recession. After 1931, only 14 of the 101 Fairyland Lustre designs remained for sale; those from the 1920s are the most sought after. This fine bone china line quickly gained popularity for its unique look, which differed significantly from traditional wares; blacks and oranges were typically used as background colours before being decorated with fairies, elves, goblins, and ghosts of varying bold colours and sizes. Wedgwood pieces were then enhanced with an iridescent lustre glaze. The Fairyland Lustre line consisted of Wedgwood jasperware vases, bowls, jars, pots, and trays, each of which was fashioned from a desirable pattern and an unusual colour combination.
Anti-slavery Medallions
Josiah Wedgwood was known for more than just his artwork; he was a famous abolitionist of his time, and is perhaps most remembered for his "Am I Not a Man And a Brother?" inscribed anti-slavery Wedgwood medallion. This 18th century medallion featured the cameo of an African American gentleman against a white background and quickly gained popularity amongst abolitionist groups. It also helped bring public attention to abolition. Hundreds of medallions were donated to raise awareness. The design proved so popular, that large-scale copies were often duplicated on wall hangings.