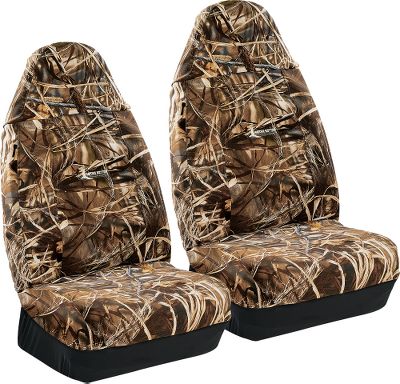 Car seat covers are some of the most popular car accessories because they can protect the original fabric of the seats. Moreover, car covers can enhance the look of a vehicle, especially when it comes to an old one. Choosing car seat covers is a matter of preference and the good news is that buyers can choose from a large palette of designs, colours, and patterns.
The process of buying new car seat covers can be a daunting one especially for those who have never done this before. The vast variety of options make it difficult to choose, but fortunately, there are methods to find one's way through the multitude of possibilities. Seat covers can be bought in specialized auto stores as well as online. Being well informed about some of the crucial things that should be taken into account when purchasing car seats can help users make the right choice every time.
1. Function of Car Seat Covers
The main function of car seat covers is that of covering and protecting the seats of a vehicle. Moreover, they can prove to be an excellent choice for those who are not content with the colours or patterns of their existent car seat covers and would like to change them with something that suits their taste. Car seat covers slip over the existing seat and they can minimise the effect of wear and tear. This is a good option for drivers who wish to take advantage of a high resale value for their vehicle in the future. Many users prefer to attach the seat covers as soon as they buy a new car. There are seat covers available for both the back and front seats and buyers can either tie them onto the seat or slip them over. Most seat covers come with elastic straps or ties in order for the users to be able to fasten them securely and easily.
2. Types of Car Seat Covers
Buyers who are looking to buy new seat covers for their vehicle can choose from a wide range of models and styles. There are numerous styles available in specialised stores, both online and offline, and some seat covers can even be custom made, so there are styles that fit all seat types. The main two types of seat covers are slip-on seat covers and tie-on seat covers. Slip-on seat covers resemble a fabric tube that can be easily slipped over the seat and secured with an elastic bottom whose function is to prevent the cover from sliding off. Tie-on seat covers are typically more open and feature several bands that help the user wrap the cover over the existent seat and tie it on the bottom or in the back of the seat. Other styles of seat covers include bench-seat style, split-style covers, and bucket-seat style for individual seats.
When it comes to the colours and patterns one can choose from when buying seat covers, the options are truly countless. From solid colours to bold stripes and animal prints, anything is possible and the choice largely depends on the preferences of the vehicle owner. Some may opt for camouflage covers in order to obtain a rugged effect for their car, whereas others may prefer classical patterns in solid colours such as grey, brown, red, or black to obtain a more traditional look for their car.
3. Benefits of Car Seat Covers
There are several benefits of opting for a seat cover for a vehicle. One of the main reasons for which car owners opt for these accessories is extending the life of their vehicles. The reasons for doing so are not only related to plans of selling the vehicle in the future, but also to the fact that replacing the upholstery in a car can be very expensive. By choosing to cover the original seats with an inexpensive set of covers, buyers can avoid excessive wear and tear to the upholstery. Besides protecting the seats from daily wear and tear, seat covers can also help prevent damage from beverage or food spills. This is especially important for those who have small children.
Another potential benefit of using seat covers is improving the look of a car in the case of buyers who are not content with the colours and patterns in their car. Moreover, seat covers are a good option for those who buy a second-hand car and wish to refresh its look in order to get that like-new feeling that is so appealing in a vehicle.
4. Fabrics Used for Car Seat Covers
Car owners can opt for several fabrics when buying seat covers and the ease of maintenance is a crucial factor to consider. As seat covers are typically used daily, they require regular maintenance and buyers should keep this in mind when shopping for this type of car accessories. One of the most popular options for seat covers is leather,, or faux leather, as it looks good and is also very easy to clean. Those who prefer utility to style may opt for vinyl seat covers, which are waterproof and can be cleaned rather easily. Vinyl car seat covers may not look as good as leather or upholstery, but they are an inexpensive option that is worth keeping in mind. Neoprene is an alternative to vinyl and it falls into the low maintenance category. This fabric has a strong resistance to water and moisture and it comes in a large palette of colours.
Buyers who are looking for less traditional fabrics for their seat covers may have a look at sheepskin or faux sheep skin fabric. This kind of fabric may be more expensive and more difficult to maintain, but it may provide a vehicle with an original look. Acrylic fur seat covers fall into the same category and are a good option for car owners who live in colder climates. The downside of buying fur seat covers is the fact that this type of fabric tends to accumulate dust rather quickly and thus it requires a high level of maintenance.
5. Advantages of Custom Car Seat Covers vs. Universal Ones
Custom seat covers are a good choice for those who cannot find seat covers that are suitable for their car. Whether it is size or design that one is not content with, custom seat covers are available from a large number of sellers. These seat covers are customised for specific car models and one can browse through as many styles as possible in order to find an appealing product. Buyers should however keep in mind that custom car seats may be slightly more expensive than universal ones.
How to Find Car Seat Covers on eBay
If you are looking for a place to purchase seat covers for your car, you can do so on eBay.. This is a good place to browse through thousands of models and this allows you to find the seat covers of your dreams with ease. By choosing to shop for seat covers on eBay,, you get quick and easy access to an impressive selection of items available from sellers from all over the world.
It is simple to start searching for seat covers on eBay as all you need to do is type the words 'car seat cover&' into eBay&'s search bar and you immediately get several pages of relevant results. Alternatively, you could add more terms to the search in order to find what you need quickly. For example, if you are interested in faux leather seat covers, you can type the words 'faux leather car seat covers&' into the search bar. In the majority of cases, you should get a large number of results, so try to refine them according to your personal preferences.
By shopping for seat covers on eBay you can get some great deals when buying several items on eBay. Seat covers can be bought individually or as part of a set. Some sellers even offer bundles that include seat covers and other useful car accessories such as mats. Read the product description to make sure the item you buy is right for you.
Conclusion
Seat covers are essential car accessories for those who wish to preserve the upholstery of a new vehicle in mint condition. Seat covers can prevent damages and improve the looks of the car interior in some cases. There are several crucial things to take into account when shopping for seat covers, including their function, benefits for a specific car, design, and more. Car owners have their preferences when it comes to seat cover designs and fortunately there is something for every preference on the market.
A good way to shop for seat covers is to browse through as many models as possible in order to find the ideal one for a particular car. eBay is an excellent place to do so because it has a wide selection of car accessories available from a multitude of sellers and it offers a user-friendly search system that makes buying new seat covers a pleasant experience.